Hip-hop around town with 3 events on Friday
HOMEGROWN HIP-HOP fans get to pick from three different events on Friday, making for some tough decisions -- or creative scheduling -- depending on how ambitious you are.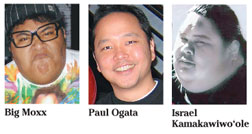 Starting things off is KTUH DJ Jake "Jake the Snake" Miyasato, who hosts "On the 1: Flux" at the University of Hawaii at Manoa's Hemenway Courtyard from 7 to 10 p.m. This all-ages event is free and will feature performances by Creed Chameleon, DJ Observ, Audible Lab Rats, the Spacifics, Rhyme Da Old Man and Adrenaline the Truth.
Over at the Hawaiian Hut, Real Ish Entertainment presents "The 808's Greatest Hip-Hop Spit-Off," with DJs Gio, Babyface and Chavo on the decks and live sets by Big Moxx, Alva A., Devious, Mizz Rivera, Papi Jahngy, G.T.S., T-Qron, Caution and the K-Town Boys.
And after temporarily closing for renovations, Tropics Diner has reopened in the Ward Farmer's Market and will host "Hip-Hop at the Trops" starting at 10 p.m. Tempo Valley will be in the house, and the Spacifics will migrate here after performing at UH. Cover is $3 for ages 18 to 20; 21 and over get in free ...
LOOKING FOR something a little more mainstream?
Head into Chinatown for an evening of hip-hop with a West Coast lean, as DJ What?! makes a guest appearance at Indigo's weekly "Get Fresh!" party. The Philippines-born, Los Angeles-raised What?! grew up a B-Boy before gravitating to the decks and joining the world-famous Beat Junkies crew as well as reggae collective Channel Rock. He'll be joined by fellow L.A. resident DJ Tetris.
Just around the corner at NextDoor, Chicago's DJ Heather will be the featured guest at "Pacific Standard" ...
ALSO ON Friday, the Brothers Cazimero take part in the 2007 "Hana Hou Concert Series" at the Hawaii Theatre.
If you haven't been to Aloha Tower Marketplace lately for their regular Wednesday gig at Chai's Island Bistro, this is another opportunity to see the brothers perform. I'm also a big fan of the Hawaii Theatre -- if you haven't been there yet, why not check it out this weekend?
Tickets for Friday's 8 p.m. concert are $33; the Makaha Sons will play during the next installment of the series on April 27 ...
FORMER HAWAII resident and stand-up comedian Paul Ogata checked in last week from Southern California, where he was getting ready to leave for Hong Kong with fellow comic Shecky Wong.
While browsing Apple's iTunes Music Store, Ogata discovered a custom iPod playlist created by actor Jim Carrey. Among the 23 songs Carrey lists as his favorites is "Somewhere Over the Rainbow (What a Wonderful World)," by the late Israel Kamakawiwo'ole.
"You gotta love it," Ogata wrote via e-mail. "That song is even in a new Strawberry Rice Krispies commercial. Solid."
The former morning drive radio jock and one-time Wave Waikiki promotions director returns home March 23 to headline "The Asian Kings of Comedy" at the Hawaii Theatre ...
SATURDAY'S PICKS: Sound|House introduces a new monthly this weekend. "Breathe" is a 21-and-over party featuring a mix of the local house scene's top talent. DJs Ira, Byron the Fur, Akio, Rayne, Cryptik and Badmouth are among those signed up to spin ... "The Dock Sessions" celebrates a year of monthly shows at Don Ho's Island Grill with live performances by the Hell Caminos, Busekrus, Dubphylum and Amity Street. Doors open at 9:30 p.m. ... And after four weeks of preliminaries, the "Maxim Search Party" will hold its final round of competition at Pipeline Cafe. Last year's national winner, Elly Mercado, will be in town to make an appearance ...