---
ENTER TO WIN!
Munch musubis for $1,000 prize
L&L Drive-Inn is looking for a few competitive musubi lovers ready to celebrate St. Patrick's Day by scarfing down as many corned-beef musubi as possible in five minutes. The record stands at eight.
The third annual Green Corned Beef Musubi Eating Contest will be held from 11 a.m. to 2 p.m. at Kahala Mall.
Top prize is $1,000.
The musubi, created by L&L founder Eddie Flores and executive chef Raymond Cheng, consists of a piece of corned beef topped with sauce over a block of rice (turned green by colored dried shrimp flakes) and wrapped in nori.
It will be on sale for noncompetitive eaters at select L&L locations on St. Patrick's Day.
To sign up for the contest, call 951-9888 or visit www.hawaiianbarbecue.com.
---
K-DRAMA MUSIC FEST RETURNS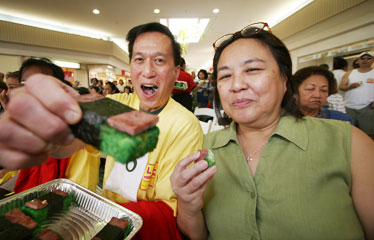 ---
HOME & GARDEN
Workshop offers remodeling tips
The next "Remodeling Made Easy" workshop during the Koko Marina's "Savor Your Sundays" series will focus on spring cleaning.
Learn to organize your home inside and out and simplify your life, 3 to 6 p.m. Sunday, when professionals from Dream Closets Hawaii, Diversified Exterminators, Algae & Mildew Busters, One Hot Garage Organizational Systems and Pacific Home will be on hand to show you how.
Following these how-to seminars, enjoy traditional Irish music at the Marina Courtyard from Two Hearts and Whiskey Starship (Celtic dancing), in celebration of the upcoming St. Patrick's Day holiday, sponsored by Retirement-Coach.
Visit www.Kokomarinacenter.com.
Landscaping award seeks nominees
The Outdoor Circle is asking for nominations for its annual Beautification Awards in three categories:
» Residential Landscaping (design, maintenance, appropriate planted items and overall aesthetics)
» Government, Corporation, or Business Landscaping (design, maintenance, planted items, overall aesthetics and community value)
» Tree or Tree Setting (group of trees) in any area (general character, maintenance, overall aesthetics and community value)
Nominations will be accepted through April 13 and can be submitted via e-mail, regular mail or fax. Each entry must be accompanied by a detailed description as well as photographs. Judges will not make site visits. Entries will be judged from submitted photographs by a panel of landscape industry professionals and Outdoor Circle board members.
The winners will be honored on May 19.
Call the Outdoor Circle at 593-0300 or visit the Web site, outdoorcircle.org.
Hawaii orchid wins international show
A Hawaii-nurtured orchid has received the Grand Champion award at the 62nd Miami International Orchid Show.
Claiming the prize was its grower, Patrick O'Day of Hawaiian Orchid Source in Honolulu. The Grand Champion designation is reserved for the best overall orchid in the show.
O'Day, who bought the plant 12 years ago when it was 7 years old, named his plant "Rochelle" after his wife and admits that he himself is shocked with its impressive growth. The fragrant, bushlike plant stands 5 feet high and weighs 200 pounds. It contains 70 spikes sprouting an estimated 1,050 flowers, twice the size of award-winning plants of this species.
O'Day shipped the plant to Florida via FedEx courier using two-day service. Like "Rochelle," the shipping fee was exceptionally large at around $500.