---
FAST FACTS HAWAII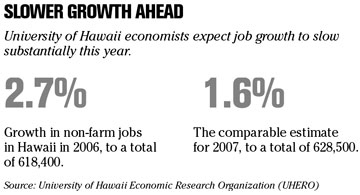 ---
Roberts hires ex-Island Air exec
Neil Takekawa, former president and CEO of
Island Air
, has been appointed president of
Roberts Hawaii Inc.
The company said yesterday that Takekawa will oversee the executive management team at Roberts Hawaii, along with its strategy, operations and drive to profitability.
Takekawa replaces former president Troy Iwamoto, who resigned from the company in the summer of 2005. His father, Robert Iwamoto Jr., then assumed a larger role in the company's operations, and will continue on as the company's CEO.
Takekawa resigned as president and CEO from Island Air in April 2005 after 32 years with the company, shortly after its parent, Aloha Airgroup Inc. was sold.
Roberts Hawaii, which owns a fleet of more than 1,000 vehicles, operates sightseeing tours and school bus transportation on all four major islands, as well as dinner cruise sales and the Magic of Polynesia.
A&B buys Texas shopping center
A&B Properties Inc. has acquired a new Texas shopping center for $13.6 million.
The company bought the 43,600-square-foot Royal MacArthur Center on 8.4 acres in Las Colinas from Dallas-based MacArthurRoyal L.P. on March 1.
A&B, the real estate subsidiary of Alexander & Baldwin Inc., also owns Preston Park, an office complex in Plano.
The acquisition was funded with 1031 tax-deferred proceeds, said Stanley Kuriyama, A&B Properties chief executive officer.
A&B's commercial portfolio, including the Royal MacArthur Center, consists of about 5.4 million square feet of leasable retail, office and industrial space. The company owns about 89,000 acres in Hawaii and is the state's fourth largest private landowner.
Occupancy trending downward
Statewide hotel occupancy dropped 6.3 points to 74.4 percent in January, reflecting a 5.7 percent decline in visitor arrivals, according to a report by
Hospitality Advisors LLC
.
The decline was offset by higher revenue per available room, known as RevPAR, as the statewide average daily room rate rose 9.3 percent to $198.30.
All categories of lodging in the survey, generally properties with 20 or more rooms, were affected by the decline.
"The softening that began in the market in 2006 has become much more pronounced in January," said Joseph Toy, president and chief executive officer of Hospitality Advisors.
On average, Oahu occupancy fell 8.6 points to 75.7 percent, while room rates were up by 9.4 percent to $167.69; Big Island occupancy fell 6.3 points to 69.8 percent but rates rose 8.9 percent to $205.97; Kauai occupancy dipped 1.3 points to 69.1 percent but rates were up 9 points to $202.82. Despite a 4.3 point drop, Maui's occupancy was the best in the state at 76.5 percent with a $255.44 room rate, up 8.7 points from a year ago.
---
RIM exec drops chairman's post
NEW YORK » BlackBerry maker
Research In Motion Ltd.
said yesterday that co-CEO Jim Balsillie will surrender the chairman's post as the mobile device maker disclosed it needs to cut roughly $250 million from past earnings reports due to improper accounting for backdated stock options.
Balsillie and co-Chief Executive Michael Lazaridis have agreed to pay RIM up to 5 million Canadian dollars each, or about $4.25 million apiece at current exchange rates, "to assist RIM in defraying costs" from the options investigation and restatement, a company news release said.
The Waterloo, Ontario-based maker of the popular handheld Internet device said a special committee determined that all options granted prior to Feb. 27, 2002, were accounted for incorrectly but did not find intentional misconduct on the part of any director or officer.
Balsillie has voluntarily stepped down as chairman, and Dennis Kavelman will be moving from his position as chief financial officer to become the chief operating officer of administration and operations. Balsillie will remain co-CEO with Lazaridis and will also stay on as a director.
---
BUSINESS PULSE