RAINBOW BASEBALL
'Bows sweep
Hawaii dominates Chicago State in the five-game series, but its next foe, Arizona, will be tougher
Hawaii must change gears for a tough challenge from Arizona after dominating one of the weakest teams in Division I college baseball last week.
UH took advantage of 17 walks and five wild pitches by Chicago State yesterday to complete a sweep of their five-game series. The Wildcats probably won't issue that many free passes total in the three games they play against the Rainbows at Les Murakami Stadium this weekend.
Host UH routed the Cougars 16-1 as 791 watched yesterday. Winless Chicago State (0-11) was hapless throughout the series, as Hawaii (14-6) outscored the visitors 66-9.
Only one of the 14 position players who batted for Hawaii yesterday failed to reach base via a hit or walk, and starter Matt Daly (1-0) pitched five strong innings for the victory.
Eli Christensen had three hits, including a two-run single in the fourth inning that gave UH a 12-0 lead.
Justin Frash doubled in two runs in a four-run first inning, and he was among five UH batters to walk consecutively in the second inning, when the Rainbows added five more runs.
Meanwhile, Daly was perfect through 3 2/3 innings before Jon Wilson reached on an error by third baseman Frash. Thomas Creal's clean single broke up Daly's no-hitter in the fifth, and helped the Cougars score their only run, which was unearned.
CSU moves on to the Big Island for four games against Hawaii-Hilo starting tomorrow.
The Rainbows host Arizona (13-5) in three single games Friday through Sunday. The Wildcats won two of three games against Eastern Michigan over the weekend.
UH's task is to stay sharp after sweep
When two baseball teams that are not on the same level meet, the outcome is usually ugly for the losers.
But the winners have to be careful. Bad habits can be contagious, focus can get fuzzy. A malaise can fall upon a wildly victorious ballclub, linger, and set it up for a bushwacking by its next, more competent, opponent. Cruise control doesn't work on trickier roads.
That clear and present danger lurks for Hawaii (14-6) after its five-game domination of Chicago State, capped by yesterday's 14-1 romp at Les Murakami Stadium.
Arizona (13-5) is next up for UH, and the Rainbows know a letdown can be disastrous. It was less than two weeks ago when they were manhandled by Wichita State, and the Wildcats will definitely be closer in ability to the Shockers than the sad-sack Cougars.
"We're going to have to go and try to get our intensity back during the week and hopefully we'll be ready for Arizona," said UH shortstop Eli Christensen, who busted out of a season-long slump with an 8-for-14 series, including three hits and two RBIs yesterday.
Matt Daly, who retired the first 11 Chicago State batters, was sharp despite having to wait longer than usual between innings. The Cougars walked 17 Rainbows, including five in a row in the second frame; while that meant more than enough run support, it also tested Daly's concentration.
"Sometimes that can take you out of your focus. But I really tried to do my best to stay focused and right when I got on the mound, get after it the best I could," Daly said.
He was as sharp as the Cougars pitchers were wild, striking out six while never reaching three balls on a batter.
"I thought the last inning he lost it just a tad. The rest of the way he was solid. He was locked in. He was good," Hawaii coach Mike Trapasso said. "He's throwing well and it was a good outing for him. He went five innings and pretty much put the game away."
The Cougars flailed away at Daly's fastball for just two singles and an unearned run in five innings. Meanwhile, the Rainbows walked around the bases, every now and then drilling a hit when they got a decent pitch to go after. Justin Frash's two-run double in the first supplied all the offense UH would need, but plenty more came. Truly offensive was the five bases on balls in a row in a five-run second, to follow up the four-run first.
"When balls start sailing to the backstop, I don't know what you can say about that," Trapasso said. "It was a long weekend. Five games in four days, I don't know if we'll do that again anytime soon."
As he said it, Trapasso looked and sounded more tired after five wins than he did after the three losses to Wichita State. But he will be re-energized quickly, and the players are pumped.
"We got accomplished what we wanted to for the weekend," he said. "We got everybody involved. We got a lot of guys involved. Everybody pitched and we got five wins. So now we can go back to work and get ready for Arizona."
---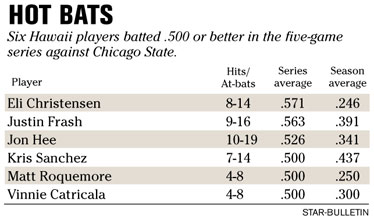 ---
The Rainbows batted .411 for the series, so few at-bats were wasted. The hot hitters stayed hot, guys broke out of slumps, and subs made the most of their chances.
"I learned a lot this series about my swing. It was good to get in and really work on things," said outfielder Ryan Asato, a part-time player who went 5-for-11 with four doubles. "You just take the same approach every at-bat. Looking for type of pitch, location."
Cougars coach Vern Hasty called Hawaii a "Top 25 team," and said he wants to bring his squad back in two years, promising to have more pitchers who can throw the ball over the plate.
"Obviously we weren't playing a great club," Trapasso said. "But we were focusing on ourselves and what we needed to work on from last week, and I do think we made strides."
Short hops: UH relief pitcher Tyler Davis played left field in the ninth inning of yesterday's game. "He was begging me from the fifth inning," Trapasso said. "He's actually one of our better outfielders. When we had so many injuries (in the fall and preseason), he was out there for us in intra-squad scrimmages." ... Chicago State outfielder and Mid-Pacific graduate Chris Goya finally got his first hit of the season Saturday, a triple. But Goya pulled a hamstring on the play and was out yesterday. ... Trapasso said he will probably return to his regular starting rotation of Ian Harrington (3-3, 3.12), Mark Rodrigues (4-1, 3.16) and Josh Schneider (2-1, 1.97) this week. Arizona counters with Preston Guilmet (3-0, 2.50) and Brad Mills (4-1, 3.18), with Sunday's starter undecided.