| | |
| --- | --- |
| | To Our Readers |
---
Redesign offers faster access to news
Welcome to our new format, designed to help you get your news more quickly and easily.
Think of it as "Newspaper Meets the Web Site." We offer you options -- summaries or entire stories -- and will not "jump," or continue, stories from one page to another.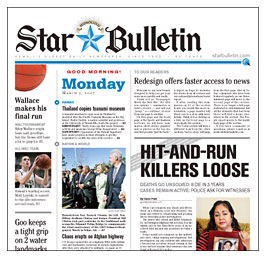 On this page and the front page of the Sports and Business sections, we will have summaries, short stories, graphics and/or photos on the top stories that provide "just the facts." A digest on Page A1 includes key stories from all sections and our national/international news report.
If after reading the summaries on A1 or the section fronts you would like more information, a page number will direct you to a story with more details. Think of it as clicking on a link on the front page to a story inside the section.
The Today section will have a different look from the other sections, but no story will jump from the first page. Also in Today, columnists who have been featured regularly on our Entertainment page will move to the second page of the section. There is no longer a full page dedicated to entertainment, but all the elements that had been there will find a home elsewhere in the section. The People report moves to the inside back page of the section.
If you have comments or questions, please e-mail us at newlook@starbulletin.com.
Frank Bridgewater
is editor of the Star-Bulletin. Call him at 529-4791. He can be reached at
fbridgewater@starbulletin.com
or write to 500 Ala Moana Blvd., Suite 7-210, Honolulu, Hawaii 96813.