BOOKS
The surfin' sleuth
Writer Chip Hughes uses life experience to color a book series
The thing about living in Hawaii and then reading a novel set in Hawaii -- as opposed to a novel ABOUT Hawaii -- is that you're always unconsciously checking to see if otherwise oblivious details are right. Are locations in the right place? Does the pidgin English ring true, or is it insufferable? Does it simply feel right, or are there unknown bumps and knots in what should be a smooth surface?
"Wipeout!"
by Chip Hughes

(Island Heritage, 2007)

200 pages

Paperback, $7.99
Surfing might have been invented in Hawaii, and the detective story might have been invented in England, but there's no reason a surfing-detective series can't be set in the islands.
Mysteries are all about the hidden, while literature about Hawaii tends to be all about the surfaces. But we should be glad Chip Hughes' character has set down literary roots here, as the series is an interesting sidelong glance at the state of the life in modern Hawaii.
In "Wipeout!" detective Kai Cooke is suckered in by a beautiful -- and dangerously pregnant -- blonde whose husband, a big-wave wannabe, has disappeared in the fearsome Waimea shorebreak on Christmas Eve. Is he dead? On the lam? The wife and the insurance company want to know, and are willing to pay Kai big dollars to find out.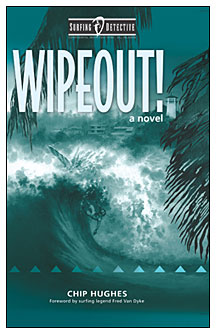 The search takes Kai around the islands, from Chinatown dumps to swank Lanai hotels, as the vague scent of tainted drug money gets stronger. We could say more, except that laying out a road map is a sure way of ruining the pleasures of a mystery.
As in all mystery novels, the solution is of secondary importance, actually in third place, behind characterization, observation and style. Cooke has some ethical flaws, not the least of which is a stronger sense of duty to clients than to the women in his life, and when they cross, he's fairly flummoxed, which is a rich place for a hero to be.
Hughes gets the flavor of Hawaiian lifestyles nailed down, except maybe his Panglossian view of native Hawaiian motivations. On the other hand, every local person in the book is trying to earn enough money to survive, and this subtextural fixation with finances rings true.
"Wipeout!" is a lot of fun, and doesn't overstay its welcome, leaving you curious about the next volume in the series. It's smart that way.
Let's put author/surfer Chip Hughes in the straight-back chair and shine the desk lamp in his face. OK, tough guy, spill it.
Question: Why use surfing as a way to set up a mystery?
Answer: Surfing is Hawaii's gift to the world. It made sense, then, that a mystery series attempting to capture the local flavor of Hawaii would has a surfer-PI.
I thought first of having him be a sailor, but it just didn't click. With surfing it was bingo. Plus, I had started surfing again, after a long lapse since the 1960s.
Q: Is this so-called "Surfing Detective" Kai Cooke a real guy, your avatar or a product of your overheated imagination?
A: I had a student once who had the same first name, stature and brown hair and eyes as my fictional detective. My student was an extremely nice fellow -- bright, polite, sensitive, attractive. If any of the "Surfing Detective" mysteries are ever made into movies -- I wish! -- I would lobby for him to play the lead.
Q: And the other featured performers?
A: Mrs. Fujiyama, the lei seller: I have had the good fortune to know several admirable Japanese-American women. Amazing organizers -- they get things done, nothing is lost on them, they watch over their flocks like hawks. One of these women was a kind of mother figure for me. Mrs. Fujiyama is certainly that for Kai.
I have an attorney/jazz pianist friend who tells the saltiest jokes this side of Panama. That's Tommy Woo. Anyone who knows the jazz scene in Honolulu would recognize him. He is not, however, Chinese. That comes from my Lanikai neighbor.
Alika Kealoha is based on some strong and noble Hawaiian people I have had the good fortune to know. The surfing-Atlas side comes from big-wave riders I have observed on the North Shore. Frank O. Sun is based on a real-life drug lord. And Summer and Leimomi are composite characters.
Q: Do you think about surfing as much as Kai does?
A: No. I mostly think about surfing when I'm thinking about Kai thinking about surfing. But when I get up from my desk and go see the waves in person, I find them incredibly beautiful and I want to be out in them!
Q: How do you build a book?
A: I start with plot ideas hastily written out, then a detailed outline and character profiles, like blueprints for a building. I always know how the book will end before I begin. In some ways you write a mystery backward, starting with the solution and then developing the problem. I solicit suggestions from my faithful in-house editor -- and my wife! -- Charlene. Later, the books benefit the input of colleagues and from Island Heritage editor Kirsten Whatley.
Q: Do you ever surprise yourself with plot twists?
A: Yes, when I'm really cooking and something happens that's not in the outline. I try to resist it but it keeps nagging me. Kai's girlfriend, Leimomi, wasn't in the outline. When she cropped up I kept trying to make her go away. But she wouldn't. So I left her in.
Q: Do you travel to research a recognizable Hawaii?
A: There's another mystery series by Jeff Shelby that features a surfer who lives in San Diego. I first learned to surf in San Diego, and I really liked the place but I'm so happy I eventually moved to Hawaii, because these islands really make the series. Kai hopping from one gorgeous surf-washed gem to another never fails to stir my imagination.
Q: The Surfing Detective even has his own Web site, surfingdetective.com. Which covers "surfing" in both meanings of the verb.
A: Lucky me! My brother-in-law, John Michener, owns Mediaspring in Los Osos, Calif. Starting up my site was therefore easy and inexpensive. He arranged everything, including an online shop where folks can buy books and T-shirts.
It was harder getting a trademark for the Surfing Detective logo. That took several years and several hundred dollars and filling out lots of complicated government forms.
Q: Will Kai eventually go off riding into the sunset, or Sunset Beach?
A: Yes, I see Kai, the consummate loner who is always unlucky in love, eventually getting weary of his failed relationships. One day he's going to want to settle down. But when that happens it will bring the end of the series.
The mystery, then, is how to get from here to there. You're free to go, Hughes. If that's really your name.