---
FAST FACTS HAWAII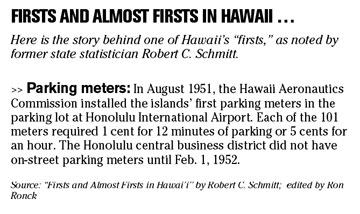 ---
Crude comments often overheard
Loose-lipped wisecrackers beware: Keep crude comments out of the office, because your co-workers are listening. One in three employees reported hearing sexually inappropriate remarks in the workplace last year, according to a recent survey.
Improper sexual comments were the most frequent type of ridicule reported, followed by ethnic and racial slurs, remarks based on age, sexual orientation and disability.
Men were twice as likely as women to hear all types of workplace disparagement, said Tom McKinnon of Novations Group, the consulting firm that conducted the national telephone survey.
People feel more comfortable making inappropriate remarks among their peers, such as men to other men, he said.
"It's written off as boys will be boys," McKinnon said. "It's not about the intent of the comment, it's about how it's perceived by other folks."
Those targeted, however, were often less likely to hear such comments.
Nearly 35 percent of employees ages 18 to 34 overheard age-based comments, compared to only 11 percent of workers over age 55.
Demeaning office chatter, no matter the intention, can harm productivity and employee well-being, McKinnon said.
The survey of 610 Americans was conducted in February.
Not all rich kids are spoiled brats
Not all rich teenagers want to pattern their behavior after spoiled celebrity heirs and heiresses. Instead, the majority of these well-to-do teens expect to work for what they want, according to a recent survey from
The PNC Financial Services Group Inc.
Four out of five teens said they are willing to work for those things they want to buy, and 63 percent between the ages of 18 and 20 have a full-time or part-time job.
Only one in five believe they deserve to be rich because their parents are rich, while more than half said this wasn't the case.
"The results demonstrate that, even if these teens were born with a silver spoon in their mouths, they don't expect life to be handed to them on a silver platter," said Bruce Bickel, a senior vice president at PNC Wealth Management, a member of the PNC Financial Services Group.
Affluent parents overwhelmingly want to instill money sense into their children, according to the survey, with 90 percent believing in the importance of teaching the value of money through hard work. However, affluent parents fall short in practice.
Only 28 percent of parents have discussed the meaning of the family's wealth with their children, while 11 percent avoid the topic altogether.
The study surveyed 210 wealthy teenagers and 272 affluent parents with children under the age of 18. The adults had annual incomes of $150,000 or above with at least $500,000 of investable assets.
Low pay often perception, not reality
Nearly half of employees feel that they're underpaid, a new survey shows, but less than 22 percent actually are. The real culprit behind paycheck dissatisfaction: impressive job titles.
"We found that 30 percent of respondents were likely over-titled, leading many to feel underpaid when in reality an inflated job title was the real issue," said Bill Coleman, senior vice president of compensation at Salary.com Inc., which provides on-demand compensation information.
Coleman also pointed out that 15 percent of respondents were actually overpaid for their jobs, based on a comparison of their responses to the company's database.
Still, three out of five employees plan to look for a new job in the next three months, the survey said, which may surprise HR professionals who believe only 36 percent are job hunting.
Nearly three-fourths of employees said they've updated their resumes, compared to only 32 percent estimated by HR professionals.
Eight out of ten employees reported surfing online job postings, while HR estimates that only 40 percent have done so.
Salary.com surveyed 11,852 employees and 311 human resource professionals for the annual survey.
---
BUSINESS PULSE