Public charter school could share space
Halau Ku Mana might use classrooms at a campus in Aina Haina
Public charter school Halau Ku Mana could soon have two sites: It recently secured a 30-year state lease to build a new campus in Makiki and is also nearing an agreement to occupy two empty classrooms at Wailupe Valley Elementary.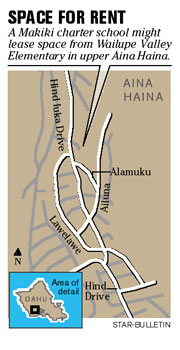 The extra classrooms in Aina Haina could be used for storage and as a computer room for some 20 Halau Ku Mana students, said school Director Keola Nakanishi.
The charter, which has relocated three times since its launch in 2001, needs to move out of its current Paradise Park site in Manoa by June 30, when its lease expires.
The school plans to start the 2007-08 year in Makiki by setting up a tent and seven trailers -- all of which probably will not have security systems -- on five acres next to the Hawaii Nature Center.
"Weather and security are significant issues for computers," Nakanishi wrote in an e-mail, adding the school needs to raise about $300,000 to install an alarm system and build the campus.
The state Department of Education needs to determine the terms of the proposed Wailupe lease before an agreement is signed, said Randy Moore, acting assistant superintendent for business services. A preliminary agreement calls for a 25-year lease.
Nakanishi said the partnership also could benefit Wailupe, which has been losing funds under the Weighted Student Formula because of declining enrollment, because costs of utilities and campus maintenance would be shared by the schools.
A DOE study on consolidation released last year found that Aina Haina Elementary could take all the students from Wailupe Elementary, which has a capacity for 208 students but has only 114 this year. The DOE, however, says the deal should not be viewed as a way to prevent Wailupe from possibly being consolidated in the future.
Some parents who have young children at Wailupe remain concerned about having older students from Halau Ku Mana on campus, said Ronn Nozoe, complex area superintendent for the Farrington/Kaiser complex.
But he said Wailupe's community council voted to welcome the estimated 100 charter students, from sixth through 12th grades, and more than half of the parents surveyed backed the move.
"If there's space that is not being used, then why not share with another entity?" Nozoe said. "To engage in a partnership like that is a good thing."