HiLIFE
High expectations
An infectious musical really hits home for the casts at three local high schools performing it
Joshua Busse understands the dilemma that Troy Bolton faced in the Disney Channel's smash hit "High School Musical." Troy was conflicted over his desire both to be in the spring play with his girlfriend, and to fulfill his duties as star player on the basketball team. As a senior at 'Iolani School, Busse had to forgo his last season on the swim team to participate in the school musical.
'High School Musical'
'Iolani School: 7 p.m. Thursday to Saturday at Hawaii Theatre. Tickets are $12. Call 528-0506.

Nanakuli High School: 7 p.m. Friday to Sunday and March 9 and 10 in the school's multipurpose building. Tickets are $8 advance, $10 at door; students $5, children $3. Call 668-5823, ext. 351.
"It was kind of scary," Busse said last week during rehearsal. "I've never really been in theater, so it's kind of a big risk for me to give up something I know pretty well and try something totally new."
The resounding popularity of "High School Musical" inspired three schools on Oahu -- 'Iolani, Kamehameha and Nanakuli -- to perform the play this year, and audiences have responded with enthusiasm. At least one night of 'Iolani's production was sold out a week in advance.
Led by director Rob Duval, who moved to Hawaii from Los Angeles in July, the 'Iolani production opens at Hawaii Theatre Thursday. "It was a little intimidating because a lot of people have very high expectations, and they want to see something similar to the film," said Duval, who recently directed "Lend Me a Tenor" at Diamond Head Theatre.
But in the end he knew they would stand on their own -- with or without a popular movie and soundtrack preceding them.
"They're highly motivated," he said of the 47 students chosen from the 127 who auditioned. "I tried to give them a day off (on the weekend), but they took the initiative to get a group together to rehearse themselves."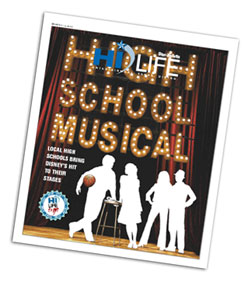 Jonathan Lee, a 16-year-old who plays Ryan Evans, a young man desperate to be a star, said there's a reason for that. 'Iolani can be a stressful place, and singing and dancing with friends "is kind of a reprieve from that."
Lee and Busse lead 18 other boys in the cast, improving the harmonies significantly, said Duval. Aside from their work ethic, singing is probably the cast's strength. 'Iolani's orchestra and band members will accompany the vocalists.
"I think it was interesting that we chose this play, because we've always chosen classical musicals before," said Ashley Higa, 17, who plays Sharpay Evans, the drama queen who doesn't appreciate competition for attention.
She admitted having "mixed feelings" about the modern material, but was pleased that the play would attract lots of children. It helps that the directors -- including 'Iolani alumni Manny Dayao as musical director and Katherine Jones as choreographer -- are young and open-minded, and willing to let the students suggest alterations to sometimes corny, unrealistic dialogue.
To see a different approach to the play, 'Iolani students recently attended Kamehameha Schools' production, and walked away impressed -- with the performance and the sets.
"It raises the bar for us," said Busse. "Just the fact that other people are performing it ... you really do want to stand out. You want to represent your school well."
Fellow cast member Sara Tsukamoto, 17, agreed. "It was a total inspiration for us to work harder," said the veteran theater performer. "Mostly what we took away was their energy."
Nanakuli High School also performs "High School Musical" this weekend with fewer students -- 30, to be exact -- and resources. In fact, a couple of girls have to play the roles of Troy's "jock" friends.
"We make do," said Robin Kitsu, who has been the performing arts director for 16 years. In the old days, productions were held outside, often in the rain, and "you were just hoping nobody would get electrocuted because you had portable lights," Kitsu laughed. Now at least they can use the multipurpose room, which has a stage.
Kuuipo Johnson, a 16-year-old junior at Nanakuli, won the part of the drama teacher. The most challenging aspect of preparation has been "getting into my character, because I never watched the movie completely, so my view of what the character should be is completely different from my friends'," she said. "I'm making up my own way of doing it, yeah?"
What she enjoys most is being able to go all out. "There's no limits on how dramatic you can be."
Since the cast started rehearsals, "a lot of the shy people are really breaking out," said Natasha Nendonca, who has participated in musical theater since the seventh grade. Playing the slightly nasty Sharpay has been more than a little fun because she gets to shove her sister Nikita, who plays Sharpay's nemesis, Gabriella. "When you push your sister, you know it's a fun show," she laughed.
But there's also a serious message, for anyone who cares to look. "The story is about different cliques and how you should not discriminate," said Nendonca. "It's a popular show, and I know people are going to enjoy it, because we're enjoying doing it."