Isle talents mix it up with East Coast artists
WAIKIKI PLAYS host to a hip-hop summit of sorts this weekend, with some of Oahu's up-and-coming talent getting together with five independent artists from the East Coast.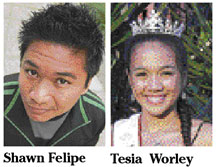 The 808 Scene Zine has partnered with Exclusive Music Studios to present "The Hawaii Hip-Hop Exchange" at Lulu's Waikiki on Saturday. Doors open at 10 p.m. for the 18-and-over crowd, and the night is all about live performances and collaborating with like minds.
After performing at NextDoor on Thursday, Philadelphia rapper ICON the Mic King will be joined by New York (by way of London) MC Yarah Bravo. Fellow New York artists Creature, Marvelous and Preachermann will also be at Lulu's, as will local artists Caution, Mr. Furious, Local Boyz Eternally, I.B.L. and I.A.
Cover for "The 808 Hip-Hop Exchange" is $12 at the door, but you can save $2 by ordering online at musicmatchbox. net or calling 551-6712 ...
LOOKING FOR something different on Friday after the monthly "First Friday" events in Chinatown?
Head over to the ARTS at Marks Garage for "The Late Night Comedy Spot," hosted by Shawn Felipe. The monthly showcase features a rotating lineup of stand-up comedians, and its 10 p.m. start allows for plenty of time to enjoy the rest of the neighborhood before settling in for a few laughs.
Tickets are $12 at the door; call 550-8457 ...
BEING A beauty queen is tough work. It's not enough to be poised and pretty -- there's a ton of behind-the-scenes preparation that goes into a few minutes of smiling and waving onstage.
Fundraising is also important, especially if you're lucky enough to move on to a national competition like Makaha resident Tesia Worley. The reigning Miss Hawaii Teen America will host a party at Hawaiian Brian's on Saturday to help offset her expenses; Ten Feet, Crosswind and the Makaha Sons have all agreed to perform from 11 a.m. to 2 p.m. Tickets are $20.
Miss Hawaii USA Chanel Wise could also use some help for her national pageant. She'll be at Rumours Nightclub on Monday night, raising money to help pay for all the outfits she'll be required to wear while on the mainland ...
IT'S BEEN a couple of months since Xyloh opened its doors in the space formerly occupied by Zen (which was formerly known as Reign).
At first, I was told it would be a private club, open only to those lucky enough to receive a coveted VIP membership card. But the public will have a chance to get inside this weekend, when Livewire presents "2AM" on Saturday.
DJs PSI and Technique will start things off, followed by a special guest set by Andy Moor. The 26-year-old British DJ has been spinning records since he was 13 years old -- and that's after he had already mastered six musical instruments by the age of 11!
Winner of "Best Trance Track" at the 2006 Trance Awards, Moor has established himself as one of the world's top club DJs. He's also worked on remixes to songs by the likes of Britney Spears, Paul Oakenfold and Arthur Baker.
Doors open at Xyloh at 9 p.m. Saturday; 18-and-over are welcome, with a $15 cover in effect. And while the alcohol stops flowing at 2 a.m., the party will keep on going until 5 in the morning ...
MORE OPTIONS: Holokai Grill opens at the Waikiki Beach Walk this weekend, with a grand-opening party from 5 to 8 p.m. Friday. Pali, Melveen Leed and the Ka'ala Boys will perform, and a portion of the $25 ticket price will benefit the Waikiki Community Center ... Artist Groove Network celebrates its first anniversary at the W Honolulu's "Wonderlounge" on Friday ... Hierarchy Entertainment and the Candy Shop present "The Sweet Life" at Indigo on Saturday. DJs Mike D and Babyface will be on the decks ...