---
FAST FACTS HAWAII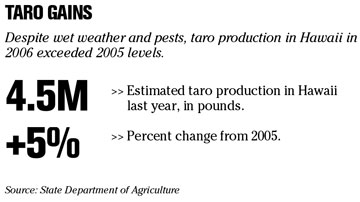 ---
NATION
Longs to close 31 stores on mainland
WALNUT CREEK, Calif. » Pharmacy chain
Longs Drug Stores Corp.
said yesterday it will close 31 stores in four Western states this year while opening or moving up to 30 other outlets and remodeling 40 more.
The store closures will eliminate the drug store operator's presence in Colorado, Washington and Oregon, where the company has a total of 23 stores. California will lose eight locations.
The company has no plans to close any of its 32 Hawaii stores, said Farra Levin, Longs Drugs spokeswoman. The company faces increased competition in the Hawaii market with the anticipated opening of the first Walgreen Co. stores on Oahu.
Longs announced the mainland closures yesterday when it also reported that profits for the fourth quarter slid to $26.94 million, or 71 cents per share, from $35.42 million, or 93 cents per share, during the same period last year. The earnings fell 2 cents short of Wall Street analysts' expectations, according to a survey by Thomson Financial.
CompUSA closing 126 stores
MINNEAPOLIS » CompUSA is hitting "delete" on its Minnesota stores.
The Dallas-based computer store chain is closing 126 stores, including all four in Minnesota, over the next three months.
The restructuring will leave CompUSA with 103 stores in 39 states. A spokeswoman for CompUSA said there are no plans to close its Hawaii stores.
The company is closing underperforming stores or those in saturated markets, according to spokeswoman Jessica Nunez.
The privately held company is owned by U.S. Commercial Corp., which will be making a $440 million cash infusion as part of the restructuring, Nunez said.
Mortgage rates lowest this year
WASHINGTON » Rates on 30-year mortgages fell for a second straight week to the lowest level since the beginning of the year.
Mortgage giant Freddie Mac reported yesterday that 30-year, fixed-rate mortgages averaged 6.18 percent this week, down from 6.22 percent last week.
The decline pushed rates down to the lowest point since the 30-year mortgage was at the same 6.18 percent the week of Jan. 4.
Rates on 15-year, fixed-rate mortgages, a popular choice for refinancing, fell to 5.92 percent, down from 5.97 percent last week.
Five-year adjustable rate mortgages edged down to 5.93 percent, compared with 5.96 percent last week. One-year ARMs were unchanged at 5.49 percent, the same as last week.
WORLD
Japan inflation back to zero
TOKYO » Japan's core consumer price index posted its first flat reading in eight months in January, the government said today, adding to speculation that the central bank may put off another interest rate increase until this summer.
The Ministry of Internal Affairs and Communications said the core index, which excludes volatile fresh food prices, was unchanged last month from its year-earlier level.
January's on-year inflation figure was the weakest since May 2006, the last time the core CPI was unchanged on-year. According to the monthly report, the core index had been rising between 0.1 percent and 0.3 percent on year since June, with the December CPI at 0.1 percent.
Signs that consumer price inflation has yet to firmly take root are likely to boost speculation that the Bank of Japan would likely hold off on interest rate increases until parliamentary elections in July. The government is reluctant to stifle a nascent economic recovery.
---
BUSINESS PULSE