| | |
| --- | --- |
| | Newswatch |
---
ROUTE RENEWED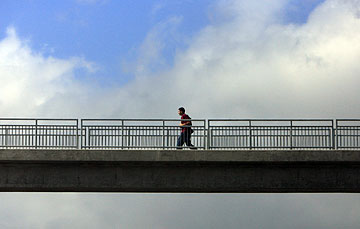 Journalism camp taking applications
Interested high school students can apply for a free journalism program put on by the
Asian American Journalists Association
.
"J Camp" is a free six-day training camp that will bring together a multicultural group of high school students from across the nation to sharpen their journalism skills and work together in a unique learning environment. The curriculum consists of interactive workshops, hands-on training and field trips.
It will be held July 27 to Aug. 1 at the University of Miami in Florida.
Applications must be received by April 13. For more information contact Kimberly Mizuhara, (415) 346- 2051, ext. 102, or visit aaja.org.
The program is open to all young journalists, not just Asian Americans. Applicants must be freshmen, sophomores or juniors this school year. There is no fee to apply, and all costs -- airfare, lodging and meals -- are covered. AAJA will select about 42 participants.
Program aids Hawaiian teens
The U.S. Department of Education has awarded the Native Hawaiian Scholars Program $878,000 to prepare 500 Hawaiian teenagers for college over the next three years.
Participants must be native Hawaiian, enrolled at a public school in Hawaii and scheduled to graduate between 2008 and 2010.
Interested students can download applications at www.collegeconnections.org/nhsp or call 737-8955 on Oahu or (866) 233-0777 from the neighbor islands for more information.
The program is run by College Connections Hawaii, a nonprofit organization of teachers, tutors and counselors who work after school to help local students prepare for college.
Cancer information day planned
The public is invited to hear local cancer research experts speak from 9 a.m. to 3:30 p.m. March 31 at the John A. Burns School of Medicine, 651 Ilalo St., Kakaako. The Cancer Research Center of Hawaii is sponsoring the second annual Cancer Research Information Day. Admission is free. Free parking with validation will be available in Lot C at Ilalo Street and Forrest Avenue. For more information, call 275-3011, visit
www.crch.org
or e-mail
inquiries@crch.hawaii.edu
.
---
SHINING STARS
---
English teacher wins short-story contest
Rob Taylor
of Honolulu, a college English teacher, has won the Paper Journey Press 2007 New Talent Short Story competition for his "Migrations and Other Stories." He won $500 from Wake Forest University Press, which publishes offbeat fiction and poetry. He has also won the 2005 Oahu Arts Center contest and the 2006 Lorin Tarr Gill writing contest.
---
The Hawaii Institute for Public Affairs gave its fourth annual Hooulu Leadership Awards to Donald G. Horner, president and CEO of First Hawaiian Bank; Micah A. Kane, director of the state Department of Hawaiian Home Lands; Ted T. Tsukiyama, attorney and mediator; Carol H. McNamee, founder of the Hawaii chapter of Mothers Against Drunk Driving; and Tom Coffman, a writer, film director and producer.
---
Scott E. Hovey Jr. and Anosh Yaqoob were awarded first place as a team in the "Best Advocates" category of the National Native American Law Students Association's Annual Moot Court competition. Hovey, of Honolulu, and Yaqoob, of Salt Lake, are second-year students at the William S. Richardson School of Law at the University of Hawaii.
Yaqoob also won second place in the "Best Oralist" division. Another UH team of Moani Crowell, a Big Island resident, and Greg Schlais of Pauoa made it to the top eight in rankings.kui
---
"Shining Stars" runs Mondays through Thursdays.
| | |
| --- | --- |
| | Police, Fire, Courts |
---
[COURTS]
Teacher pleads not guilty in drug arrest
A Kailua teacher pleaded not guilty yesterday in U.S. District Court to federal charges stemming from a shipment of 2.2 pounds of cocaine and 900 Ecstasy tablets she allegedly received hidden in a toaster oven.
Bronwyn Marie Kugle, a resource teacher at Kaelepulu Elementary, was indicted Feb. 22 along with co-defendant Jesse Badillo on several charges including conspiracy, attempted distribution and being a drug user in possession of firearms.
In a search of her Ulumawao Street home following her arrest on Feb. 13, authorities also found a revolver, ammunition and a glass smoking pipe.
U.S. Magistrate Judge Kevin Chang set a detention hearing for Friday.
Mirikitani disbarred for 2001 conviction
The Hawaii Supreme Court disbarred Andrew K. Mirikitani, an attorney and former city councilman, from the practice of law, effective Feb. 20.
The disbarment resulted from his "committing a criminal act that reflected adversely on his honesty, trustworthiness, or fitness as a lawyer and engaging in conduct involving dishonesty, fraud, deceit, or misrepresentation in violation of the Hawaii Rules of Professional Conduct," the Office of Disciplinary Counsel announced yesterday in a press release.
Mirikitani had been prohibited from practicing law since 2001, when he was convicted of federal charges in a kickback and extortion scheme while he served as a councilman. He gave more than $26,000 in bonuses from his Council salaries account to two staff aides in exchange for kickbacks.
He was sentenced to four years and three months at a federal prison camp and is currently on supervised release.
Child porn suspect in parents' custody
A 23-year-old Oahu man facing federal charges of possessing child pornography was released yesterday to the custody of his parents pending trial.
Ryan Kim Yoshida was charged Friday with possessing compact discs that contained downloaded images of minors engaging in sexually explicit conduct he had received via e-mail and through a file-sharing program.
Yoshida admitted that he knew the files depicted children engaging in sexual conduct. He also admitted to establishing Internet relationships with two minors whom he believed were 15 and 16 years old.
U.S. Magistrate Judge Kevin Chang set a preliminary hearing date of March 15 yesterday.
20 years handed down in 'ice' drug ring
A 31-year-old man was sentenced to 20 years in federal prison for his role in a drug ring that conspired to distribute more than 100 pounds of crystal methamphetamine in Hawaii.
A federal jury convicted Scott Stadnisky of Milpitas, Calif., in February 2006 of conspiring to distribute, and possessing with intent to distribute, 50 grams or more of methamphetamine.
U.S. District Judge Susan Mollway considered Stadnisky's lengthy criminal history and the amount of drugs in this case as determining factors, said U.S. Attorney Ed Kubo.
According to information that surfaced during court proceedings, Stadnisky was the source of large amounts of methamphetamine shipped from California to Hilo.
Co-defendant Daniel Lynn Meyers, who was also convicted, is awaiting sentencing. Hilo residents William Clifford and Sloane Paglinawan pleaded guilty earlier and received sentences of 110 months and 87 months, respectively.
---
WINDWARD OAHU
Death of woman is classified as homicide
Police have opened a homicide investigation in the death of a 34-year-old woman whose partially clothed body was found Sunday afternoon near Kahana Bay. The Medical Examiner's Office ruled her death as a homicide and found the cause of death as blunt force trauma to the head. Her body was found face down on the beach.
The woman was a homeless person who lived in the area, police said. Her name has not been released pending notification of relatives.
LEEWARD OAHU
Man is accused in extortion scheme
Police arrested a 48-year-old Makakilo man for allegedly stealing construction tractors in an attempted extortion scheme.
Over the past week, three construction tractors were stolen from different construction sites in Honolulu, police said.
Detectives and Crime Reduction Unit officers followed leads to the suspect and his alleged extortion scheme to return the tractors for money, police said.
The suspect was arrested at an Akaula Street address at 5:25 p.m. Monday on suspicion of two counts of first-degree extortion and first-degree theft.
HONOLULU
Accident leaves boy critically injured
A mo-ped rider was critically injured last night in an accident in Kaimuki.
The rider, a boy about 16 years old, was taken to the Queen's Medical Center in critical condition.
Preliminary reports from police dispatch indicated the teen was hit by a car. The accident occurred at 6:50 p.m. at Waialae and 13th avenues.
Suspect is sought in Waikiki robbery
Police are asking for the public's help in identifying and finding a man caught on surveillance video Monday at a Waikiki bank.
Police said the man, who appears to be in his 30s, entered the bank at about 2:20 p.m. and approached the teller with a demand note for money.
The man is described as 5 feet 6 inches tall, 140 pounds, with brown eyes and short black hair, wearing a white T-shirt with a blue design on front and dark shorts. Anyone with information is asked to call CrimeStoppers at 955-8300 or *CRIME on a cell phone.