---
WIZARDLY WAYS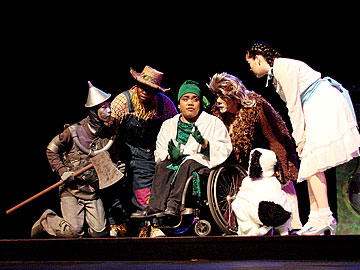 Mid-Pac student wins Shakespeare contest
Jacob Friedheim, a junior at Mid-Pacific Institute, won the State Shakespeare Competition, performing a monologue as Shylock from "The Merchant of Venice."
Jacob, 17, son of Jay Friedheim and Michelle Tucker, will represent Hawaii at the national competition at the Lincoln Center in New York in April. He'll compete against 58 state winners for a trip to England, including a visit to Stratford on Avon, Shakespeare's birthplace, and a chance to meet members of the Royal Shakespeare Company.
Runner-up was Francische Aaron Antonio of Kapolei High School; second runner-up was Sam Bui of Hawaii Baptist Academy.
The competition, held Feb. 17 at the University of Hawaii, involved students from 19 high schools presenting monologues and sonnets before a panel of judges. Call 951-9129.
[ MORSELS ]
Japanese cuisine showcased at KCC
Kapiolani Community College hosts a guest chef from Japan for a free cooking demonstration, noon to 2 p.m. tomorrow in Ohia Room 118.
Yoshinori Matsusaka, the school's 2007 Guslander Distinguished Visiting Chef, owns a number of restaurants, his flagship being Kankawa in western Japan. He also owns Kinojin and Uoyoshi in south Osaka, as well as the upscale Le Hannari.
He is also a painter and calligrapher who has shown his work at Le Salon and Millet exhibitions in France, as well as the prestigious Nika-ten Exhibition in Japan.
Call 734-9513.
Wine tastings
Executive Vineyard:
Shidler College of Business Alumni Association wine tasting and silent auction benefits the college, 6 to 9 p.m. March 13, Stan Sheriff Center, University of Hawaii-Manoa. Tickets are $60 in advance, $75 at the door. Call 956-6044 or e-mail
alumni-shidler@hawaii.edu
.
Wine, Cheese & Chocolate: Accents Gallery hosts a free wine tasting to promote its art lines, which include jewelry and Romanian glass stemware, 5 to 7 p.m. March 7 at the gallery, 3520 Waialae Ave. Wines from HASR Wine Co. may be tasted and ordered at a discount at the event. Call 737-8018.