---
FAST FACTS HAWAII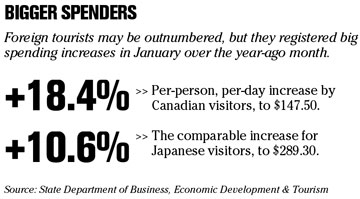 ---
HAWAII
Re/Max franchisor in Hawaii is sold
Denver-based
Re/Max International
is acquiring Re/Max of California & Hawaii, the franchisor of 17 independently owned and operated offices in Hawaii, which currently has 193 affiliated agents.
Terms of the sale weren't disclosed, however, the purchase represents the largest single expansion by Re/Max International since the franchise company was created in 1973.
Sid Syvertson and Steve Haselton, the founders of Re/Max of California & Hawaii, created in 1982, decided to retire and sell the franchise back to the international firm, said John Harris, principal broker and owner of Re/Max Honolulu. The sale is expected to close by mid-April.
Re/Max of California & Hawaii combined have 448 independently owned and operated offices and more than 10,000 affiliated agents. Re/Max International, which has more than 120,000 affiliated agents in 67 countries, has named Adam Contos the new regional director for Re/Max of California & Hawaii.
Kona Hooters open again
Just over a month after the county shut it down for not having the correct permits, Hooters in Kona has opened its doors again.
The restaurant made the necessary modifications to get its electrical, plumbing and building permits, and opened for dinner Thursday night.
The Kona Hooters kicked off a grand opening in early January, only to be closed by county officials a week later for violating building permit laws. Frank Chopski, Hoowaii's vice president of operations, said the closure was due to miscommunication with the county.
The second Hooters to open in Hawaii, the Kona outlet occupies some 10,000 square feet in the former Chart House restaurant on Alii Drive. The first Hooters has been at the Aloha Tower Marketplace for more than a decade.
Both belong to franchisee Hoowaii Inc., owned by brothers John and Robert Pardini of California.
[HAWAII INC.]
NEW HIRES / PROMOTIONS
» The Hilton Hawaiian Village has announced the following promotions:
Lee Ann Reilly
to human resources manager from employment manager;
Dani Anderson
to employment manager from human resources benefits coordinator;
Jonathan O'Kane
to assistant beverage manager; and
Frederick Erick Jaro
to assistant restaurant manager for Tapa Cafe from assistant room service manager.
Reilly joined Hilton in 2001 as administrative assistant in the human resources department and has more than 25 years experience iin the service industry. Anderson joined Hilton in late 2004 as an administrative assistant and served several internships and workshops in human resources since 2002.
O'Kane joined Hilton in June 2006 as a management trainee in the Hilton Professional Development Program and is a 10-year veteran of the food and beverage industry. And Jaro started his career as an intern in the Hilton Grand Vacation Co. marketing department and joined Hilton in 2003.
Also at the Hilton, Sharon Weddle has been appointed activities director. She previously served as marketing retail store manager for Hilton Grand Vacations Co. and has 30 years experience in the service industry.
» Starwood Hotels & Resorts Hawaii has named Fred Orr as general manager of the Sheraton Princess Kaiulani. He will oversee planning and implementation for the property's renovation project scheduled for 2009. He recently served as managing director of Sheraton Moana Surfrider and Sheraton Princess Kaiulani for six years and has worked for the Sheraton Corporation since 1968.
» Central Pacific Bank has hired Joji Seta as senior vice president and deputy manager for the bank's Japan team. He previously served as senior vice president for Bank of Hawaii's international client banking and is a 32-year veteran of the banking industry.
» Kyo-ya Management Co. Ltd. has named Mark Taylor as vice president of design and construction. He will oversee planning, design and construction of all renovation and improvement projects for Kyo-ya's properties. Prior to joining Kyo-ya, he was owner and consultant for The Taylor Group International LLC.
» Hawaiiana Management Co. Ltd. has announced the following new hires and promotions: Patricia "Patty" Dykstra has been promoted to director of the firm's new commercial properties group. She joined Hawaiiana in 2000 and has more than 11 years experience in the property management field. Bill Pearson has been hired as management executive. He previously served Management Consultants Inc. as site manager for Naval Base Hawaii and Pearl Harbor Naval Shipyard and is a 20-year veteran of the U.S. Navy. Letitia Rodrigues has been hired as management executive. She previously served Metropolitan Management and has been a small business owner for more than 25 years. Ron Kobashigawa has been hired as management executive. He has more than 30 years experience in the property management field.
---
NATION / WORLD
Freddie Mac to avoid subprimes
WASHINGTON » Mortgage giant Freddie Mac said yesterday it will no longer buy those high-risk home mortgages that it deems to be the most vulnerable to foreclosure. The surprise move came amid a deteriorating market for subprime loans affected by slumping home prices and rising interest rates
The government-sponsored company, which is the second-biggest financer of home loans in the United States, said it will begin using stricter standards for mortgages that it buys -- including limiting the use of loans requiring less documentation of the borrower's status than conventional mortgages. The goal is "to help ensure that future borrowers have the income necessary to afford their homes," McLean, Va.-based Freddie Mac said.
The changes will take effect Sept. 1.
Toyota picks Elvis's home town
TUPELO, Miss. »
Toyota Motor Corp.
's Highlander sport utility vehicle should start rolling off the assembly line at a new, $1.3 billion plant in northeast Mississippi by 2010, company and state officials said today.
The Mississippi plant will manufacture 150,000 Highlanders a year. It also will create 2,000 badly needed jobs in an area with an economy that has slowed because of losses in furniture manufacturing positions.
"As Elvis would say, 'Only fools rush in,"' Ray Tanguay, executive vice president of Toyota Motor Engineering and Manufacturing North America Inc., said during the company's announcement at Tupelo High School.
Elvis Presley was born in Tupelo.
---
BUSINESS PULSE