| | |
| --- | --- |
| | Newswatch |
---
CLEANSING SWEEP

A two-day simulation tests oil-spill response off Oahu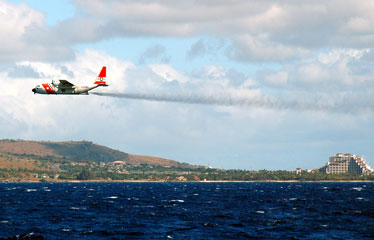 ---
Man faces charge of child pornography
The FBI arrested a 23-year-old Hawaii man yesterday on charges of possession of child pornography after searching his home Thursday.
Agents arrested Ryan Kim Yoshida after recovering compact discs containing child pornography, according to an FBI special agent's affidavit attached to the criminal complaint filed in federal court.
Yoshida admitted to FBI agents that he received files of still images and movies with minors engaged in sexually explicit conduct over the Internet through e-mail and via a file-sharing application, the affidavit said.
He also admitted to establishing Internet relationships with individuals he thought were 15 and 16 years old.
Yoshida said they exchanged nude images of themselves, engaged in sexually explicit conduct using a Web camera and chatted about day-to-day matters, the affidavit said.
The FBI's Internet Images Unit in Maryland started the investigation.
2 Chinese arrested in sex trafficking case
Two women are being held in Honolulu for their alleged involvement in human trafficking in which Chinese women were allegedly being transported from China and other foreign countries to American Samoa to engage in prostitution.
On Thursday the FBI arrested Kueiling Chen and Lili Zhang, both Chinese nationals who live in American Samoa.
The women were charged with conspiring to violate the Mann Act by allegedly participating in transporting the women. Chen's husband, Fu Sheng Kuo, and Zhang's husband, Shengji Wang, were also charged as part of the conspiracy of violating the Mann Act.
Wang and Kuo had been arrested in October on federal charges of human trafficking arising out of their prostitution business, the FBI said in a news release.
Grant application deadline nears
The Hawaii Community Foundation is offering more than 100 scholarships for college and graduate students. The application deadline is Thursday.
Criteria have been specified by each donor who created the scholarship, but most applicants must be Hawaii residents, demonstrate financial need and plan to attend accredited two- or four-year colleges or universities as undergraduates or graduates.
Applicants also must be full-time students, demonstrate academic achievement and exhibit good moral character.
To apply online, visit www.hawaiicommunityfoundation.org. Students may request a copy of HCF's "Scholarship Seeker's Guide" by calling 566-5570.
The Hawaii Community Foundation is a statewide charitable services and grant-making institution, and a steward of more than 400 donor funds, including more than 100 scholarship funds.
| | |
| --- | --- |
| | Police, Fire, Courts |
---
CENTRAL OAHU
1 person dies, 2 hurt as vehicle hits tree
A woman died and two people were injured last night when a small car crashed into a tree in Mililani.
Police dispatch said the woman, in her teens or late 20s, was pinned inside the vehicle.
An Emergency Medical Services supervisor said two people were taken to the Queen's Medical Center. The male driver was in serious condition, and a male passenger was in critical condition.
The accident occurred at 8:21 p.m. at Lanikuhana Avenue and Lea Place.
The EMS supervisor said the car was smoldering.
Traffic stop leads police to stolen cars
Officers noticed a man driving erratically in Central Oahu at about 4:40 p.m. yesterday and pulled him over.
The man told the officers that he was chasing his daughter's car that had been stolen earlier, police said.
Police put out an all-points bulletin, and the car was seen getting onto the H-2 freeway from Mililani heading toward Wahiawa.
Police found the car in Wahiawa. After a brief foot chase, officers caught the driver, a 23-year-old Honolulu man, and arrested him for investigation of auto theft and drug offenses.
Police then noticed two women on cell phones in another vehicle nearby. The women were acting suspiciously, police said.
It appeared they were going to pick up the driver of the stolen car, police said.
Police then learned that the car the women were sitting in had also been reported stolen.
Police arrested a 20-year-old woman in the driver's seat on suspicion of car theft. They also arrested a 24-year-old woman who was sitting in the passenger seat for investigation of second-degree unauthorized entry of a car.
Illegal narcotics were found in both cars, police said.
HONOLULU
Firefighters douse blaze at Makiki school
Fire investigators are looking into how a small fire started at Lincoln Elementary School yesterday morning.
At 9:11 a.m. a fire was discovered in a storage room in Building E of the Makiki campus. Firefighters were able to extinguish the fire nine minutes later, said fire Capt. Debbi Eleneki.
Classes were in session, and resumed at about 10 a.m. It is uncertain what started the fire, but school Vice Principal Mary Mouna said the storage room contained mostly cleaning supplies. There were no injuries, Mouna said, because the school was evacuated in less than two minutes. The school has fire drills every month, and a fire drill was expected sometime that day anyway.
Loose surfboards spur search by helicopters
Rescue crews launched two helicopters off Diamond Head yesterday after two abandoned surfboards were found in the area.
No one had reported anyone missing to police, said fire Capt. Sigmund Oka.
Firefighters continued searching for about three hours, "just in case nobody made a report and somebody lost their board and they're still swimming," Oka said.
At about 4 p.m. a resident reported to ocean safety officials that a board was floating about 100 yards offshore on the Koko Head side of Diamond Head. Officials were able to recover the board, which had a broken leash.
Firefighters launched helicopter Air One at 6:10 and noticed a second board floating a mile away toward Waikiki, about 150 yards from shore.
Firefighters said the surf was not big and the wind was not strong in the area.
The U.S. Coast Guard joined the search at 7:30, launching a HH-65 Dolphin helicopter.
At 9 p.m., firefighters and Coast Guard continued to search the area.
Suspect, 23, accused of hiding in ceiling
Police arrested a 23-year-old man who allegedly hid in the ceiling of a restaurant early today.
Police said that at about 2:58 a.m., Kalihi patrol officers were sent to investigate a burglary alarm at a seafood restaurant on Kalihi Street. Officers saw a man crawl out of the building's window, police said.
After seeing the officers, the suspect went back into the building in an attempt to hide, police said. Officers went into the restaurant and found the suspect hiding in the ceiling, police said. He was arrested on suspicion second-degree burglary.
Man, 40, arrested in neighbor's assault
Police arrested a 40-year-old man after he allegedly assaulted his neighbor.
Police said that at about 8 p.m. on Tuesday, the suspect attacked a 39-year-old man on Keeaumoku Street for no reason.
The victim said he was choked and passed out. He was taken to the Queen's Medical Center, where he was treated for several closed fractures and head injury, police said.
The victim did not report the incident to police until yesterday. Police then arrested the suspect for investigation of second-degree assault.
Woman, 44, accused of faking money order
Police arrested a 44-year-old woman who allegedly tried to cash a counterfeit money order last night.
Police said the incident happened at about 7:15 p.m., at a business on Kaheka Street.
Officers arrested the suspect on suspicion of second-degree forgery.
WEST OAHU
Fire nears resort, so guests evacuate
A brush fire scorched 25 acres behind the Makaha Resort Golf Club's three-story complex last night.
An employee, who asked not to be named, said, "It was pretty scary because the trades were blowing towards the rooms."
The fire came within 150 to 200 feet of the complex.
The fire was reported at 5:45 p.m. yesterday and was contained at 7:30 p.m.
The hotel, formerly the Sheraton Makaha Resort, which was at 60 percent capacity, evacuated 254 guests.
Employees were evacuated to the main lobby and parking lot, but the lobby was cleared at about 8:30 p.m. and guests were moved to the parking lot.
Hotel employees called surrounding condominiums for vacancies in case guests chose not to stay because of the large volume of smoke that filled the rooms, an employee said.
NEIGHBOR ISLANDS
Kona police hunt for beach assailants
Kona police want the public's help in finding suspects involved in several assaults at Hookena Beach Park Jan. 27.
Some campers at the park reported a group of men in their 20s allegedly assaulted them at the park. The assaults were first reported at 7:32 p.m., and the victims went to Kona Community Hospital.
At 8:05 p.m. other victims at the beach requested an ambulance.
Police and an ambulance arrived at Hookena Beach Park at 8:37 p.m.
Six assault victims filed police reports that night. The next day, three more victims filed assault reports stemming from the same incident.
Kona police have identified possible suspects based on witness descriptions and tips from the community, and continue to pursue those leads.
Police have been conducting surveillance at Hookena using uniformed and plainclothes officers. They also have made several arrests at the park unrelated to the assaults.
Police are continuing their investigation into the nine misdemeanor assaults. They ask anyone with information about these cases to call officer Darren Cho at 326-4646, ext. 253.