| | |
| --- | --- |
| | Island Mele |
---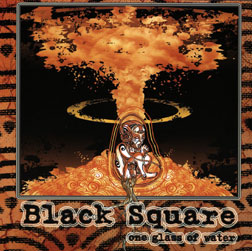 One Glass of Water
Black Square
(Black Square Music - no serial)
The effectiveness of music as a conduit for educational messages and encouraging political awareness is immediately evident in this powerful new album by Black Square. A majority of the songs on this all-original album have the catchy uptempo rhythms and blaring horn section punches of mainstream party-hearty ska, but the group's resident lyricist, Josh 86, writes primarily about topics more cerebral than sex, drinking and the pursuit of women. There's even a song here that speaks out against the popular playa attitude of treating all women as a "one-night thrill."
Other songs denounce the glorification of random violence in Hawaii's local "moke" culture, racism in general, eco-cide, the concept of "freedom as a by-product" and America's relative lack of interest in addressing the many problems that are devastating sub-Saharan Africa.
"December 7th," the only song Josh 86 didn't write, turns out to be an indictment of the shameful imprisonment of American citizens of Japanese ancestry during World War II.
There's also some lighter material -- autobiographical, perhaps -- about swaying "to the sound of Chris Murray on guitar," leaving messages on answering machines and the daily grind of life in modern America.
Songs that are written to deliver political or religious messages are often painfully didactic and musically bland, but Black Square rocks throughout. Whatever the topic may be, relatively light or politically charged, island ska fans will find Black Square worth hearing.
---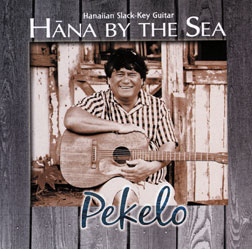 Hana By The Sea
Pekelo
(Pekelo Music - PMCD-006)
Pekelo Cosma's first album in a decade comes a few short days after the 2007 Grammy Awards, and would be a perfect and popular contender for best Hawaiian music album in 2008. Cosma is an accomplished slack-key guitarist, but as he also sings in the old Hawaiian style, this beautiful collection of songs, inspired by his beloved home district, incorporates two of Hawaii's musical traditions.
Cosma's instrumental work is exquisite -- first and foremost on guitar, but he also plays acoustic bass, tipple and pahu (in accordance with traditional Hawaiian etiquette, he acknowledges the people who loaned him their instruments as well as the two guest musicians who play electric bass on several selections). His voice has the quavering quality that also defines him as a staunch traditionalist.
All but one of the songs on this self-produced album are originals; most are written and sung in Hawaiian. It's unfortunate that Cosma omits English translations, or at least a synopsis of the songs' meanings and contexts. It's understandable that he would keep personal kaona (hidden meanings) to himself, but there would be no harm in sharing a little general information with the mainstream, English-speaking audience.
"Na Wiliwili Eha" is an exception. Cosma introduces the song in English and says that it is about "the pain of the wiliwili trees." He elaborates on this just before the fade by explaining that an introduced species of gall wasps is devastating the wiliwili. With those few words, English-speakers are able to appreciate the song as a mele ku'e (song of resistance).
Cosma makes his most effective political statement with "Cry for a Nation," a powerful indictment of the overthrow of the Hawaiian government in 1893, and the subsequent building of "castles on the beaches" while native Hawaiians "are left homeless and ignored." What does the future hold for Hawaiians, he asks, "now that we're in foreign hands"?
Cosma lightens the mood immensely with the title track. Sung entirely in English, it's a joyful ode to the place he loves best, and he sings it in a zesty engaging style. Bravo, Pekelo!
John Berger
, who has covered the local entertainment scene since 1972, writes reviews of recordings produced by Hawaii artists. See the Star-Bulletin's Today section on Fridays for the latest reviews. Reach John Berger at
jberger@starbulletin.com
.