The party's ready to get started at Lotus Soundbar
BUSINESS IS about to pick up at Lotus Soundbar. Ever since its soft opening in November, both tourists and locals alike have flocked to the Waikiki nightclub for quality music spun by the likes of
Andy Caldwell
,
Paolo Mojo
and
Dimitri Yerasimos
. Now that
Ramyt Islam
and owner
Paul Shih
are comfortable with the crowds, they're ready to introduce a semiregular party on Saturdays.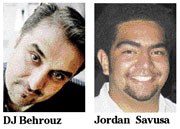 "What I plan (to do) ... is incorporate some other varieties of music that aren't necessarily being offered up at clubs at the moment," Islam said via e-mail. "This event will offer our patrons downtempo, bossa nova, trip-hop and jazzy atmospheric drum-n-bass.
"I'm hoping to expose our customers to a variety of electronic music, help them to expand their horizons musically."
For now, "The Vybe" will remain a monthly event until Islam gets a better handle on coordinating the travel plans for his favorite globe-trotting turntable wizards. One of his all-time favorites, DJ Behrouz, will be the first to make a return trip to the islands to play at the new party.
"His charisma ... in addition to his amazing skills as a DJ and history of playing spectacular sets in Honolulu, have basically helped me pick him as the perfect candidate for this event," Islam said.
Doors open at 9 p.m. Saturday for the 21-and-over crowd at Lotus; call 924-1688 for VIP reservations ...
AFTER a successful run on Fridays at the Living Room, Architechs Hawaii has decided to move to another venue.
Starting tonight, the crew teams with Carbn Foundation to host "The Alchemist Lounge" at E&O Trading Company. You might remember reading about the venue in this column last year, when Partymasters Hawaii gave it a go as "The Spice Lounge. " Artist Groove Network relaunched the night with its current name in December.
This time around, DJs Delve and XL will be on the decks, and a "stylishly relaxed" dress code will be in effect. And don't sleep on the $3 Crown Royal and Grey Goose shot specials all night ...
MORE PICKS for Friday: Speaking of Artist Groove Network, check out the W Honolulu early on Friday for a new monthly comedy showcase. David Lee, Tony Rivera, Elroy Ruiz and Jordan "The Friendly Samoan" Savusa will perform from 9:30 to 10:30 p.m. Call 781-6194 ... Fifth and Vogue Entertainment present "February Cherry: The Pisces Wild Birthday Bash" at Don Ho's Island Grill. If that's your sign, you get in free before 11 p.m. ... Head to Just One on South King Street for "Mixed Tape Friday," featuring live performances by local hip-hop artists for the 18-and-over crowd ...
LOCAL HIP-HOP will also represent on Saturday, as Alliance, Xprmnt and Prototype host "Definition" at Ala Moana Beach Park.
This all-ages event will take place from 11:30 a.m. to 4 p.m. near the park's concession stand, and organizers have designed it to be all about freedom of expression. Open mics and turntables are a given, as is an open dance floor and open canvas display. KTUH DJs Bone and Jake the Snake will also be on hand ...
ALSO ON Saturday: Russell Tanoue returns to Indigo for another installment of "Beautiful," with DJs Ms. Angel and Jahson the 45 Revolver joining forces with Positive Regime ... Pipeline Cafe hosts the launch party for Freshstyle Clothing Company, with Big Mox on the mic and live performances by Assault Squad Riderz and Off the Rock ... Kurious Productions and 808Spot get a little edgy this month with their monthly "Zummanity" party; guests are asked to wear white, and the night is being called "Blow" ...