---
FAST FACTS HAWAII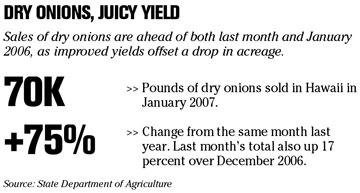 ---
HAWAII
Horizon matches Matson increase
Horizon Lines Inc.
said yesterday it would raise its fuel surcharge 2 percentage points to 19.5 percent for its mainland, Hawaii and Guam routes to match the increase announced earlier this week by
Matson Navigation Co.
The new surcharge from Horizon will go into effect on March 11, the same day as the new fee by Matson.
"This fuel surcharge adjustment is the result of a recent upward trend in fuel costs," said Horizon, which is the second-largest shipper in the islands behind Matson.
The increases follow three consecutive decreases since late last year.
[HAWAII INC.]
AWARDS / CERTIFICATIONS
»
Dole Plantation
has donated $5,000 to help the
Waialua High School Robotics Team
attend the 6th annual FIRST Robotics Competition taking place March 2007 in Trenton, N.. Waialua High School has been participating in this national event since 1999.
» Finance Factors has donated $10,000 to the Junior Achievement of Hawaii. Through its programs, Junior Achievement of Hawaii teaches students in kindergarten through 12th-grade about business, economics and the free enterprise system.
» The state Office of Hawaiian Affairs awarded the Moanalua Gardens Foundation a $5,000 community based economic development grant. The grant will be used to revise a strategic plan for the nonprofit environmental educational organization, based on a business model for the foundation.
» Dealers Financial Services LLC has announced Hawaii Mitsubishi as the MILES Program 2006 top national intermediate market producer. The Military Installment Loan and Educational Services program was created to provide junior enlisted service members an opportunity to purchase a quality vehicle at a fair price with financing from the U.S. Bank.
» The American Society of Civil Engineers has awarded the Younger Member Forum of the Hawaii Section of ASCE with the Public Service Award for 2006. The award is presented to organized components within the ASCE who have contributed significant energy to enhance the recognition of civil engineering as a respected profession through public service.
» The John D. and Catherine T. MacArthur Foundation has awarded Bishop Museum a $290,000 grant over 18 months to study climate-change planning and mitigation to help stem the threat of global warming. The museum is one of eight institutions worldwide to receive part of the foundation's $5 million investment in studying how species and habitats are affected by climate change and ocean acidification.
---
NATION / WORLD
30-year rates lowest in 6 weeks
WASHINGTON » Rates on 30-year mortgages fell this week to the lowest level in six weeks.
The mortgage company Freddie Mac reported yesterday that 30-year, fixed-rate mortgages averaged 6.22 percent this week compared with 6.30 percent last week.
Rates on 15-year, fixed-rate mortgages were at 5.97 percent, down from 6.03 percent last week. Five-year adjustable rate mortgages slipped to 5.96 percent from 6.01 percent.
One-year ARMs dropped to 5.49 percent from 5.52 percent last week.
A year ago, rates on 30-year mortgages stood at 6.26 percent while 15-year mortgages were at 5.89 percent, five-year adjustable rate mortgages averaged 5.96 percent and one-year ARMs were at 5.32 percent.
Music patents cost Microsoft $1.52B
SEATTLE »
Microsoft Corp.
must pay $1.52 billion in damages to telecommunications equipment maker
Alcatel-Lucent SA
for violating two patents related to digital music, a federal jury ruled yesterday.
Microsoft said the patents in question, which govern the conversion of audio into the digital MP3 file format in its Windows Media Player software, are legally licensed from a Germany company, Fraunhofer-Gesellschaft.
In 2003, Lucent Technologies Inc., which last year was acquired by Alcatel, filed 15 patent claims against Gateway Inc. and Dell Inc., and Microsoft was later added to the list of defendants. The PC makers are still defendants.
Microsoft plans to appeal the jury's decision.
Hedge-fund rules will stay as is
WASHINGTON » The Bush administration and top financial regulators pledged increased vigilance over hedge funds today but stopped short of proposing any new regulations to control the trillion-dollar industry.
Instead, the President's Working Group composed of administration officials and various market regulators put forward a set of guidelines they said would enhance information about the largely secretive investment pools.
One of the biggest hedge fund collapses to date came last September, when Amaranth Advisors lost a stunning $6 billion because of bad bets on natural gas prices.
Google rolls out business software
SAN FRANCISCO »
Google Inc.
yesterday begins selling corporate America an online suite of software that includes e-mail, word processing, spreadsheets and calendar management, escalating the Internet search leader's invasion on to technological turf traditionally dominated by
Microsoft Corp.
The expansion threatens to bog down Microsoft's efforts to persuade corporate customers to buy the latest version of its market-leading Office suite.
Google's software bundle, to be sold for a $50 annual fee per user, won't topple the status quo right away, but AMR Research analyst Jim Murphy said it's only a matter of time before it becomes a major player.
---
BUSINESS PULSE