Hokule'a leaves Majuro
Micronesia circuit realizes goal of cementing cultural ties
MAJURO, Marshall Islands » The double-hulled canoes Hokule'a and Alingano Maisu departed Majuro today after a three-day stay to continue their trip through Micronesia, then on to Japan.
Hokule'a Capt. Bruce Blankenfeld said the stay was shorter than he would have wanted, but arriving in Japan by May is important for crew members on later legs of the journey, to avoid the typhoon season.
"It's not a matter of being inhospitable," Blankenfeld said before leaving this morning (yesterday morning, Hawaii time). "It's thinking of the guys on the other end."
Hokule'a is the lead canoe on this 750-mile leg west to Pohnpei, the first stop in the Federated States of Micronesia.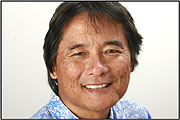 FOLLOW ALONG
» Follow the voyage of Hokule'a at the Polynesian Voyaging Society web site at: www.pvs.hawaii.org

» Star-Bulletin reporter Gary Kubota is sailing with Hokule'a and will respond to selected reader questions from the canoe via satellite hookup, when possible. Email questions to hokulea@starbulletin.com

The weather is calm for most of the year for the more than 2,000 islands, atolls and islets of Micronesia, an area traveled by Spanish explorers in the 1500s, then traders en route to China.
But once the Hokule'a turns northwest toward Japan, there are more risks of encountering storms, especially from June through December.
The crews' main goal in Micronesia is to deliver a canoe to Satawal, the home of renowned navigator Mau Piailug, who taught Pacific way-finding to a generation of native Hawaiians and inspired a renaissance in canoe voyaging in Hawaii.
The Hawaii sailing voyagers are scheduled to make eight stops at islands or atolls through Micronesia: Pohnpei, Chuuk, Pulap, Satawal, Woleai, Ulithi, Yap and Palau, in that order. Some of these islands, including Satawal, are so remote they can be visited only by boat. A cargo ship with goods visits Satawal about once a month.
Micronesia, once known as the Caroline Islands, have been controlled by larger nations successively over the last 125 years -- first Spain, then Germany, Japan and the United States.
The vessels will be crossing through three island nations -- the Republic of the Marshall Islands, the Federated States of Micronesia and the Republic of Palau -- once held as strategic trust territories of the United States under a United Nations mandate after World War II.
For the Hawaiian voyaging canoes, the Micronesian islands are part of the reason for the journey, to pay homage to a sister civilization that helped Hawaiians rediscover their ocean navigation tradition.
The Hawaiians once built voyaging canoes, but had lost touch with the navigational skills to travel thousands of miles across the Pacific.
Because of its remote location, some islanders in parts of Micronesia, such as Mau, retained the way-finding skills to sail long distances to trade with other islands.
Micronesians and Polynesians developed these skills and sailing canoes as they migrated across the Pacific.
Based on archaeological digs and DNA evidence in the last 15 years, many anthropologists believe the Pacific islands were settled in two major waves of migration, both of them made possible by settlers on sailing canoes.
The 62-foot-long, double-hulled canoe Hokule'a, similar to voyaging canoes built on the edge of Polynesia, is designed for long-distance ocean voyages and extended sail times of more than a month, if necessary.
What it lacks in speed compared with sailing canoes found on some Pacific islands it makes up for in stability, endurance and carrying capacity, including 2,500 tons of drinking water and 2,500 pounds of food.
Anthropologist Ben Finney, a founder of the Polynesian Voyaging Society, said that when the Hokule'a was being built more than 30 years ago, some people wanted the vessel to have triangular sails that were aerodynamically more efficient and extended from front to back of the boat.
But he and general designer Herb Kane, also a founder, supported the idea of keeping the vessel as seen in drawings and remnants of voyaging canoes centuries ago -- two wooden masts pointed upward and hoisting claw-shaped sails.
Kane and Finney later found their insistence on keeping to the traditional designs would pay off.
While the Hokule'a was able to maintain its structural integrity under sail in Hawaii winds, canoes that had been rigged with other sail shapes found their masts and other parts of the vessel breaking in strong northern Pacific gusts.
"With the type of rig we have on the Hokule'a, the pressure is diffused," Kane said.
Anthropologists say the development of the double-hulled sailing canoe represents a major achievement of the Polynesians, and precipitated an era of discovery and migration across an area as wide as Russia, extending from Easter Island to New Zealand and Hawaii.
Native Hawaiians reconstructed a semblance of the double-hulled canoe in the Hokule'a amid a renaissance of Hawaii's native culture in the mid-1970s.
Having lost native way-finding skills, they turned to remote Micronesia for the assistance of Satawal islander Mau Piailug.
In his recently published book "Vaka Moana, Voyages of the Ancestors," Finney describes how way-finding and canoe sailing were essential on atolls and islets such as Satawal, where ocean travel was necessary for trade and recovery from deadly typhoons.
Finney notes that Mau used the Satawal star compass as his guide during the first voyage of the Hokule'a from Hawaii to Tahiti.
Hokule'a navigator Nainoa Thompson later adapted the Satawal star compass in the development of a Hawaiian sky guide, including horizon stars for course setting and steering.
Finney said Mau was motivated to teach native way-finding to Hawaiians in the late 1970s because there was not much interest at the time among his own people, and he feared the navigational art would be lost.
On this inaugural trip of the Hokule'a to Micronesia, the Hawaiians are bringing Mau the voyaging canoe Alingano Maisu as a gift.
Aboard the Maisu are two of Mau's sons, Sesario and Antonio, a post-Hokule'a generation who have learned native way-finding.
Billy Richards and John Kruse, two crew members of the Hokule'a on the first trip from Hawaii to Tahiti, will be aboard to visit Mau on Satawal.
Kruse said he felt Mau's greatest gift was showing the importance of passing on knowledge of canoe voyaging to others.
"Mau said, 'I teach you. Now you go out and teach other people.' That's his way of teaching us to give back," Kruse said.
Kruse said he is working with a group on Kauai to build a voyaging canoe, which he hopes to finish by August.
The Polynesian Voyaging Society said that there were about 18 voyaging canoes in the Pacific at last count.
Hokule'a's trip to Micronesia is not only a journey back in time to a sister civilization, but also an affirmation about the need for a diversity of cultures.
Just as with plant and animal species, where diversity plays a key role in the preservation of native forests, indigenous peoples such as the Hawaiians and Micronesians have found answers to preserving their oceangoing culture by sometimes reaching beyond national borders, said anthropologist Patrick Kirch.
"It's a wonderful example. To return to give a gift to Mau -- it's a terrific idea," he said. "It's given young Hawaiians more of a sense of identity of what makes their culture unique.
"Personally, I think it's a really positive thing to really preserve cultural diversity in the age of globalization."
---
Micronesia an ancient cousin of Polynesia
About 2,000 years ago, a group known as the Lapita people migrated from Southeast Asia to Micronesia through the Bismarck Archipelago into areas around Kosrae, Chuuk and Pohnpei and into parts of western Polynesia such as Tonga and Fiji.
"Micronesia and Polynesia are parallel in that sense, and they both trace back to Lapita people," said Patrick Kirch, an anthropologist. "It's like two branches of the family, and they all trace back to the same grandparents."
Kirch said there was no eastward expansion until A.D. 800 to 900, when out of the region of Tonga and Samoa there developed a sophisticated double-hulled canoe capable of long-distance ocean voyages.
"The Lapita people have outrigger canoes, but the really big double-hulled canoes developed in Tonga and Samoa," he said.
Kirch said that out of the Tonga and Samoa area there developed also distinct Polynesian cultural characteristics, such as a common language and the use of basalt stone adzes to cut down tall trees to make double-hulled canoes, some about 100 feet long.
In Micronesia, where the islands were mainly coral atolls and lacked the volcanic soil for tall trees, the islanders relied upon large shells to make implements and a single canoe with an outrigger and single sail, Kirch said.
In his book "On the Road of the Winds," Kirch describes evidence of migration from western Polynesia starting A.D. 800 to 900 east into eastern Polynesia, including Tahiti, the Marquesas and Hawaii, plus Rapa Nui (Easter Island) by A.D. 1000.
Kirch said voyaging Polynesians brought a new level of skill and knowledge to settle faraway places such as Hawaii.
In addition to bringing domesticated animals, the early Polynesians acquired the knowledge to bring plants such as taro, breadfruit and banana to survive voyages of a month or more, then planting them in new sites.
They also brought with them a unified view of the earth and genealogy, with Papa representing Mother Earth and Wakea the male sky and ocean.
Place names echo sites in Polynesia as well, with Kahikinui on Maui facing Tahiti Nui, and Hamoa facing Samoa.
The channel between Maui and Kahoolawe is the Kealaokahiki Channel, or the pathway to Tahiti, and Kahoolawe is now believed to have been a place where navigators acquired their seafaring knowledge.