| | |
| --- | --- |
| | Newswatch |
---
TOUGHING IT OUT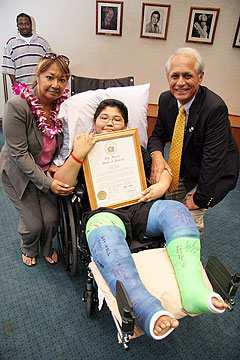 Likelike to close for maintenance
Likelike Highway will be closed in the Honolulu-bound direction from Kahekili Highway to Valley View Drive from 7 p.m. Saturday to 7 a.m. Sunday.
Crews will close the road for tunnel cleaning and other maintenance work, the state Department of Transportation said.
Motorists should plan to use alternative routes such as Pali Highway or the H-3 freeway and allow for extra travel time.
$20,000 in damage from apartment fire
Fire gutted a third-floor apartment at Island West Apartments, 607 N. King St., last night.
The fire caused $10,000 damage to the structure and $10,000 to its contents, fire officials estimated.
Five fire companies worked to extinguish the fire, which began shortly before 6:36 p.m. and was out by 6:46 p.m.
A man was the sole occupant of the apartment. He was treated for smoke inhalation and assisted by the American Red Cross.
Fire investigators are looking into the cause of the blaze.
City officials ID dead Waikiki diver
The city Medical Examiner's Office identified the 23-year-old man who died Sunday while diving off Waikiki as Timothy Wolf of Honolulu.
The Coast Guard said Wolf suffered a heart attack while diving a mile off the beach.
The Medical Examiner's Office said Wolf drowned, but have deferred comments on conditions that might have contributed to his death.
High court disbars Honolulu lawyer
The Hawaii Supreme Court has disbarred former Honolulu attorney William H. Elkner for ethical misconduct.
The effective date was Jan. 17. Some of the misconduct includes incompetent representation, commingling and misappropriating client funds for his own use and failing to cooperate in the court of ethics investigations, according to the court.
Elkner, 51, was admitted to the Hawaii Bar on Oct. 29, 1993. He is a graduate of Vanderbilt University.
100 students to get $2,000 scholarships
Foodland Super Market Ltd. will be awarding $200,000 in scholarships among 100 Hawaii high school students.
The company's "Shop for Higher Education" program lasts through March 27.
Customers at any Foodland or Sack N Save store are asked to pick a high school they wish to support and then designate any points they have earned on their Maika'i card to that school.
The program will distribute 100 scholarships of $2,000 to students at selected schools.
---
SHINING STARS
---
Hawaiian Telcom gives $530,000 to nonprofits
Hawaiian Telcom's Hoolaulima Program
donated more than $530,000 to Hawaii's nonprofit groups in 2006 with corporate grants and matching employee contributions.
The program focuses on organizations involved in education, with an emphasis on the application of technology and work-force development.
For quarterly grant applications, visit the community section at www.hawaiiantel.com.
---
Peter Lung of the World of Feng Shui raised $11,000 for the Rehabilitation Hospital of the Pacific by holding two workshops in January.
---
The Alexander & Baldwin Foundation awarded $10,000 to the Paia Mantokuji Mission for the renovation of its temple in honor its many members who were past and present employees of the East Maui Irrigation Co., Maui Agricultural Co. and the HC&S Co.
The mission celebrated its centennial last year.
---
Junior Achievement of Hawaii received $5,000 from State Farm Insurance and $10,000 from Finance Factors to teach students about business, economics and free enterprise.
---
"Shining Stars" runs Mondays through Thursdays.
| | |
| --- | --- |
| | Police, Fire, Courts |
---
NEIGHBOR ISLANDS
Police arrest suspect, 29, in arson at Kauai home
KAPAA, Kauai » Kauai police arrested a man after an Apopo Road home burned last Saturday, causing $560,000 in damage.
Garret Alisna, 29, of Kapaa was arrested Sunday for suspicion of first-degree arson. Police did not give a possible motive.
They said the fire originated in a back bedroom. Witnesses told police they saw a man leave the residence before the fire was reported.
HONOLULU
Copper wiring stolen from 9 HECO poles
Forty feet of copper wiring was stolen Tuesday from nine Hawaiian Electric Co. poles in Kalihi.
Police said the thief or thieves removed sections of ground copper wiring from the HECO poles sometime before 7:13 p.m. Tuesday on the 1100 and 1400 blocks of Halona Street.
The value of the copper was estimated at $1,000, police said.
Pedestrian, 50, hit by car in Makiki
A 50-year-old woman was in stable condition after she was hit by a car early yesterday.
She was struck at Liholiho Street and Wilder Avenue at 6:16 a.m., said Emergency Services spokesman Bryan Cheplic, and taken to the Queen's Medical Center in stable condition.
Juvenile is held in choking attack
Police arrested a juvenile for allegedly choking an 18-year-old woman Monday.
The attack allegedly took place around 8 p.m. during an argument on South Hotel Street.
Police were called and arrested the suspect on suspicion of abuse.
Neighbor's call leads to arrest in break-in
Quick action by a neighbor helped police catch a man who was allegedly trying to break into a home in Kalihi Tuesday.
Police said that a neighbor saw the suspect at about 5:30 p.m. using a crowbar to break into a 72-year-old man's home, and called police.
Officers arrested the 46-year-old suspect for investigation of first-degree burglary.
WAIKIKI
Woman reported stealing surfer's bag
Police arrested a 28-year-old woman for allegedly stealing a surfer's bag at about 2:50 p.m. Tuesday.
The 42-year-old man left his bag on a table at Waikiki beach and went surfing, police said.
Workers from a nearby surf stand saw the woman take the bag and walk into the Sheraton Moana Surfrider, police said. She was later arrested for investigation of fourth-degree theft.
Man, 18, is accused of stealing men's suit
Police arrested an 18-year-old man Tuesday for allegedly trying to steal a suit.
They said that at about 4 p.m., security officers at an Ala Moana Center store saw the suspect remove a men's suit from the rack and put it in a plastic bag.
The suspect was stopped after he failed to pay for the suit, police said. He was arrested for investigation of second-degree theft.
LEEWARD OAHU
Victim identified in fatal H-1 crash
A man killed Saturday in a crash on the H-1 freeway near Makakilo was identified by the Honolulu Medical Examiner's Office as Royce W. Tomlin, 49, originally of Texas.
Police said Tomlin was driving Waianae-bound in the middle lane when his Ford Escape sideswiped a Ford Expedition, hit the center barrier and overturned.
The 46-year-old driver of the Expedition allegedly fled and was later arrested for investigation of failure to render aid.
Tomlin is the 14th traffic fatality on Oahu, compared with nine at this time last year.
Traffic stop leads to multiple charges
Police arrested a 39-year-old man on suspicion of multiple charges after he was pulled over in a traffic stop.
Police said that at 12:47 a.m. Monday, an officer pulled over a speeding mo-ped at the old Barbers Point Naval Air Station and arrested the driver, Roman Buendia, for outstanding warrants.
Buendia told the officer about a gun in his left front shorts pocket, police said. The officer found a loaded semiautomatic pistol, two packets of what appeared to be crystal methamphetamine and a glass pipe, police said.
The mo-ped was later discovered to be stolen. Buendia was booked on suspicion of a firearm violation, promoting a dangerous drug, promoting drug paraphernalia and auto theft.