First the urine test, then a welfare check
I have a job. I work, they pay me, I pay my taxes and the government distributes my taxes as it sees fit.
To get that paycheck, I am required to pass a random urine test, which I have no problem with. What I do have a problem with is the distribution of my tax money to people who don't have to pass a urine test. Shouldn't one have to pass a urine test to get a welfare check, since I have to pass one to earn it for them?
Please understand, I have nothing against helping people get back on their feet. I do, on the other hand, have a problem with helping someone sit on his or her butt. Can you imagine how much the state of Hawaii would save if people had to pass a urine test to get public assistance checks?
Donald G. Micco
Wailuku, Maui
Is Big Tobacco behind pro-smoking efforts?
We need to question whether defiant bar owners are the main force
pushing to throw away our state's new law protecting workers from exposure to tobacco smoke
. Why would a handful of scofflaw bar owners get the state's most powerful politicians to work against an unmistakably popular and life-saving law? Something bigger must be hiding in the dark. And who's really big? The tobacco industry that news reports tell us was the top contributor in our state's last election cycle, after our workplace smoking protection law was enacted.
That also makes sense since the tobacco industry is the real money winner if smoking comes back into our bars and restaurants. And here and elsewhere around the country before, Big Tobacco has expertly used lobbyists, publicity firms and front groups (like a bunch of smokers and bar owners?) to get its way without showing its face.
If Big Tobacco is playing foul games here again, we deserve to know what's happening before the smoke comes back. We surely know they aren't worried about saving our lives.
Mark Levin
Associate professor,William S. Richardson School of Law
University of Hawaii-Manoa
Palm oil production endangers ape habitat
The plan of BlueEarth Maui Biodiesel LLC to open a refinery (
Star-Bulletin, Feb. 18
) on Maui sounds good until we read further that some of the palm oil would come from the Pacific Rim.
In this context, "Pacific Rim" has to mean Indonesia and Malaysia, where vast areas of rainforest have been cut down to make room for palm plantations supplying the ever-increasing demand for palm oil in various products. A disastrous result is that orangutans are now facing extinction due to loss of habitat.
The timing of the announcement is odd in that just last month, RWE npower dropped its plans to run its power station in Kent, England, on palm oil from Indonesia and Malaysia precisely because of the adverse impact on the environment there (BBC, Jan. 3).
As a proponent of alternative energy sources, I have for years tried to encourage a large nearby institution to convert its vehicles to biodiesel, and I hope its production and use will increase. But as more biodiesel is required, its production must not cause the loss of native forest or the extinction of one of our nearest relatives.
William R. Bailey
Honolulu
McCain is fighting a losing battle
Presidential hopeful Arizona Sen. John McCain had me in shock when his platform centered on increasing the troop levels in Iraq even after the midterm elections revealed America is sick of this war and want it over. Saddam is dead, his two sons are dead, and 50 percent of the "Deck of 52" are dead. After five years of American occupation, enough alright!
Now McCain's outdone himself by another campaign promise to overturn Roe v. Wade, taking away a women's right to choose abortion. Pandering to the religious right, can he be serious? If this Republican wins nomination and the presidency based on these two pledges, after eight tragic, horrible years of Bush & Co., the United States will have sunk to a low decades of Democratic leadership cannot repair.
Paul D'Argent
Lahaina, Maui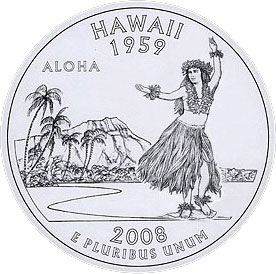 GREG KNUDSEN'S REVISED QUARTER DESIGN
Quarter puts paradise in everyone's pocket
The U.S. Commission of Fine Arts says all five proposals for the Hawaii state quarter are "visually confusing," and that Diamond Head should be the focal point (
Star-Bulletin, Feb. 2
).
There's no need to go back to the drawing board -- a winning design is within the original drawings.
By placing a reversed image of the hula dancer onto the Diamond Head background, we get a simple, uncluttered combination that appeals to residents and visitors alike. (See revised image here.
Hula represents the warmth, beauty and aloha of Hawaii while celebrating the indigenous culture and its unique language, music and dance. Its popularity embraces all of the islands and ethnicities of Hawaii, and it is not politically controversial or divisive. Diamond Head, the most recognizable icon of Hawaii, is a welcoming image for the entire state, not just Oahu.
More than a billion of Hawaii's coins might be produced in 2008. Everyone will want to carry a piece of paradise in their pocket or purse as they dream about the 50th state.
And it only costs a quarter.
Greg Knudsen
Honolulu
Recycling law will cost consumers eventually
Here we go again. The proposed Senate Bill 1702, in an effort to increase the quantity of containers being recycled, will place an undue burden on supermarkets and other retailers. To me, it seems impractical to have a redemption center located in each establishment or at least nearby within 1,000 feet. Aside from the logistical space and sanitation issues, there is a large expense associated with compliance to this bill. As we all know, this expense will naturally be passed on to the buying public in the form of higher prices.
No one can argue that recycling is not a noble cause. We should all be for it. But let us apply some common sense and practical thinking in trying to legislate and enforce this program. What are our priorities?
And, by the way, I still don't understand why the recycling companies do not compensate us for the aluminum, plastic and glass that they are getting for free.
Prior to enactment of the present law, these companies were paying us for these materials. Now all we get is the 5-cent deposit that we paid when we made the purchase. It seems to me that the recycling companies are really making out.
James Nakasone
Mililani
Recycling at stores will benefit merchants
I totally agree with your comments encouraging retailers to take back the beverage containers they sell (
"Our opinion," Feb. 21
). The Senate should act fast on this. It make no sense to spend many dollars on fuel to go to a redemption center to receive pennies in return.
The stand-alone grocery stores' argument of no space doesn't ring true. I am from Oregon. We started the "bottle bill" program in 1971. Outside of every grocery store in the state is a recycling machine the size of a normal soda vending machine. You put in your cans, bottles or plastic containers and it counts them out and gives you a coupon for the full value of what you put in. You then have a choice of going inside the store to cash it or using it as a credit toward your grocery purchases.
Retailers love it because they know you are going to purchase something in the store, and consumers love it because of the convenience factor. Win, win for everyone. Get on board, Hawaii. If your real desire is to recycle and reduce litter, implement this bill ASAP.
Steve Caplan
Honolulu and Lake Oswego, Ore.
Peacemaking effort should be multiplied
Letter writer Don Neill (
Star-Bulletin, Feb. 15
) says it would be impressive if peace activists would talk to "the Islamic factions over there in their own countries." In fact, some people are doing just that. I know Peggy and Art Gish, members of Christian Peacemaking Teams, who are in Iraq attempting to reduce the violence there (
www.cpt.org/iraq/iraq.php
). I do not share their faith, but am in awe of their courage.
They are a tiny group, and have only a small influence. Perhaps if the United States were willing to invest a little in peacemaking we would learn that it is more effective than war.
Steven Howell
Honolulu