---
FAST FACTS HAWAII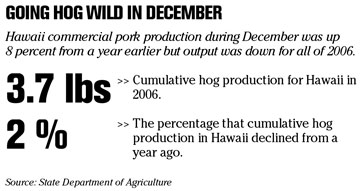 ---
HAWAII
Hawaiian Holdings' stock tumbles 21%
The stock of Hawaiian Airlines' parent plunged 21 percent yesterday a day after the company announced it lost $9.5 million in the fourth quarter and $40.5 million for the year.
Hawaiian Holdings Inc., which on Tuesday closed at a 52-week high of $6.33, fell $1.33 yesterday to $5 on the American Stock Exchange. A total of 1.7 million shares exchanged hands, more than eight times its one-year average daily volume.
Hawaiian blamed its loss on high fuel prices and intense competition in its trans-Pacific and interisland routes.
Cyanotech quarterly loss widens
Cyanotech Corp.
, filing its second quarterly financial statement in the last two days, said yesterday its fiscal 2007 second-quarter loss widened to $572,000 from $297,000 a year earlier.
The Kona-based producer of nutritional products from microalgae had missed three filing deadlines with the Securities and Exchange Commission due to a self-generated probe into inventory accounting. Last Wednesday, the company restated earnings for its last three fiscal years, and on Tuesday submitted a belated fiscal 2007 first-quarter financial report.
In its fiscal second quarter, Cyanotech said revenue slipped 1.7 percent to $2.47 million from $2.52 million as sales of natural astaxanthin products decreased 12 percent. The loss per share in the quarter was 11 cents compared with 6 cents in the year-earlier period.
[HAWAII INC.]
New Hires / Promotions
» Hawaiian Airlines has appointed
Russell Chew
as executive vice president of operations. He replaces
Norm Davies
who is retiring June 30, 2007. Chew will be leaving as chief operating officer for the Air Traffic Organization at the Federal Aviation Administration in Washington D.C.
» The Fairmont Kea Lani Maui has hired Scott Ingwers as hotel manager. He will oversee operations and ensure high standards for the hotel. He previously served as general manager of the Maui Prince Hotel and has more than 18 years of management experience in world class resorts in Hawaii, mainland U.S., and the Bahamas.
» Diagnostic Laboratory Services Inc. has named Alan Visitacion as accounting supervisor. He is a former interim budget director for the County of Maui, and director of fiscal services for Hale Makua Inc. He was also co-owner of PJ's for Draperies Inc. in Kahului, where he oversaw daily operations from 2001-2006.
» Architects Hawaii Ltd. has announced the following promotions: Terry McFarland has been promoted to principal from senior associate. Brian Takahashi has been promoted to senior associate from associate. Ron Dean has been promoted to associate from project architect. Brad Inovejas has been promoted to associate from designer. Lester Ng has been promoted to associate from designer. Glenn Yokotake has been promoted to associate from project architect.
» ResortQuest Hawaii has promoted Wes Murasaki to property director of sales for Kauai and the Big Island from group sales manager. He previously served as director of sales for the Kauai Coconut Beach Resort.
» NorthStar has hired Lindy O'Shea as assistant vice president and director of support services. She will be responsible for multiple divisions of the company including management of administrative staff, and the marketing and recruiting departments. She previously served as lead letter of credit person for Britannia Jeans.
» Prudential Locations has hired Kyle C. Sakoda as sales manager and career coach. He previously served Coldwell Banker as a member of the president's international circle, and has 25 years experience in the corporate industry working in various director and executive level positions for global companies in California, Hong Kong and Singapore.
» Castle & Cooke has promoted Janis K. Kinmore to principal broker for Castle & Cooke Homes Hawaii Inc. She joined in July 1989 and has more than 20 years experience in sales, including project sales spanning back to the Village at Waipio and Cliffside Villages.
» Atlantis Adventures has promoted Yuko Sukawa to guest services manager from guest services supervisor for the company's operations on Oahu. She will oversee all aspects of guest services for Atlantis Submarines and Atlantis Navatek Cruises. She joined Atlantis Adventures in February 1996 as a cruise director and has held several positions during her tenure.
---
NATION / WORLD
Japan's central bank raises key rate
TOKYO » Encouraged by signs of robust economic growth, Japan's central bank raised its benchmark interest rate by a quarter point to 0.5 percent today, judging that price stability and consumer spending would withstand slightly tighter credit.
The Bank of Japan's decision, which came at the end of a two-day monetary policy board meeting, highlights confidence in the continuing moderate recovery in the world's second-largest economy. The vote among the nine-member board was 8-1 in favor of the hike, the bank said in a statement.
"The bank thinks that even if prices drop, that won't cripple economic growth, and conditions were ripe for a rate hike," said Takeo Okuhara, bond strategist at Daiwa Institute of Research in Tokyo. "The bank made the right choice."
Determined to escape decade-long stagnation, the Bank of Japan kept rates at virtually zero since March 2001. The raise to 0.25 percent from zero in July last year was the first hike in six years.
On the Tokyo stock market, the benchmark Nikkei index rebounded temporarily, as relief set in that the next rate hike will not come for a while -- but it finished down 0.14 percent.
Best Buy to expand in Canada, China
Best Buy Co.,
the largest U.S. consumer-electronics retailer, plans to accelerate its expansion by opening 130 new stores over the next year.
About 90 locations will be added in the United States in the 12 months beginning March 4, the company said yesterday. As many as 14 sites will be opened in Canada and as many as 26 in China. It opened about 90 new stores globally the year before.
The new stores will increase Best Buy's retail space by 10 percent to 46 million square feet. There are two Best Buys in Hawaii -- one in Iwilei and one in Aiea.
Best Buy opened on Alakawa Street in Iwilei in the summer of 2005, while the one in Aiea opened in November 2005.
---
BUSINESS PULSE