---
FAST FACTS HAWAII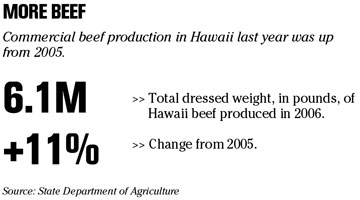 ---
HAWAII
Y. Hata military deal renewed for 2 years
Y. Hata & Co. Ltd.
, a Hawaii-based wholesale food distributor, has won renewal of two multimillion-dollar contracts for food services to the U.S. military.
The U.S. government said yesterday it has awarded Y. Hata another round of two-year contracts including: a $44 million contract to provide food services for the U.S. Navy's sea operations and a $33.6 million contract to supply food for land-based operations for the U.S. Navy and all other military branches as well as civilian agencies in Hawaii.
The contracts are the continuation of two earlier DOD contracts, said Glenn Lum, Y. Hata's director of administration. "Combined, they represent our largest contracts," he said.
The family-owned company started business in a Hilo garage more than a century ago.
Cyanotech posts belated loss
Cyanotech Corp.
, which has missed its deadlines for filing its last three quarterly financial reports due to a self-generated probe into inventory accounting, lost $347,000 in its fiscal 2007 first quarter, according to a belated filing yesterday with the Securities and Exchange Commission.
The Kona-based producer of nutritional products from microalgae reported it swung to a loss in the period ended June 30, 2006, from a net profit of $159,000, or 3 cents a share, in the year-earlier quarter. Cyanotech's loss per share in the fiscal first quarter was 7 cents.
Cyanotech said its revenue decreased 19.3 percent to $2.4 million from $3 million, largely due to a 19 percent drop in sales of its Spirulina products.
Last Wednesday, Cyanotech restated earnings for its last three fiscal years -- constituting both increases and decreases during those periods.
[HAWAII INC.]
New Hires / Promotions
» Pacific Guardian Life Insurance Co. has appointed
Georgette Ching
as district sales manager for its newly opened Kapolei sales office. She entered the insurance and financial services industry in 2001 after serving 17 years as sales and marketing manager of Hawaiian Airlines.
» Outrigger Enterprises Group has hired Burton Kong as marketing projects manager. He will be responsible for promoting the Outrigger and Ohana Hotels & Resorts to consumers and travel agents. He previously served as assistant marketing manager for DTRIC Insurance Company and has more than 15 years experience in marketing and public relations.
» Grant Thornton LLP has announced the following new managers for its Honolulu office: Nicole Wyngaard will manage the tax department. She previously served as tax manager in the Milwaukee office for more than four years. John Russell will manage the advisory practice. He previously managed finance and process-improvement projects at Cisco Systems. Dustin Verity will manage the assurance department. He previously served as assistant controller for Forest City Enterprises Inc.
» Central Pacific Bank has announced the following new hires and promotion: Scott K. Hino has been hired as vice president and financial reporting manager. He previously served as director of finance at Techfarm Management in California and has more than 12 years experience in accounting. Maureen P. Lichter has been hired a vice president and manager of the bank's product management department. She previously served as vice president and director of marketing at Finance Factors and has more than 27 years experience in financial services.
» Aon Consulting has announced the following new hires for its health and welfare practice: Mark Fukuhara has been hired as senior vice president. He previously served as executive director for a large multi-employer health benefits trust in Washington state and has 20 years experience in the healthcare industry. Bryan Aycock has been hired as assistant vice president. He previously served as a design analyst for Apogee Corporate Benefits and Compensation Consulting in Texas and has more than 10 years experience in both Hawaii and the mainland.
» Castle & Cooke has announced the following promotions: Jed Miyazaki has been promoted to assistant director of site construction from site construction engineer. He will oversee the groundskeepers and site construction on Oahu including Mililani, Wai Kaloi, Waipio Point and Kapolei. Jon Shimizu has been promoted to vice president of development from senior project coordinator. He will oversee all residential developments on the island of Lanai.
» Kahala Hotel & Resort has announced the newest members of its sales team: Carol Stierle has been hired as sales manager for the eastern region. She will be based in Connecticut and responsible for all sales in the eastern and southeastern states. She previously served as director of national accounts for Marriott International and has more than 20 years experience in hospitality sales. Rose Kenma has been appointed sales manager, previously serving as conference sales manager at the Kahala. She has 15 years experience in the Hawaii travel industry.
---
NATION / WORLD
HP earnings beat expectations
SAN FRANCISCO »
Hewlett-Packard Co.
's first-quarter profit jumped 26 percent as the company benefited from higher sales of laptop computers, printers and printing supplies during a robust holiday spending season.
The results beat Wall Street's expectations, but left concerns about mounting inventory and investors' assumptions that HP would beat analyst estimates by even more.
HP said yesterday said it earned $1.55 billion, or 55 cents per share, for the quarter ended Jan. 31, compared with $1.23 billion, or 42 cents per share, for the same period last year.
The Palo Alto-based computer and printer maker said revenue for the period was $25.1 billion, compared with $22.7 billion during the same quarter last year.
Fannie Mae withholding bonuses
WASHINGTON » Beleaguered mortgage giant
Fannie Mae
said yesterday it has decided to withhold $44.4 million in bonus money tied to company earnings targets from nearly 50 senior executives after a government-ordered review found they were undeserved on the basis of performance.
The decision by the government-sponsored company as it continues to emerge from a multibillion-dollar accounting scandal was disclosed in a filing with the Securities and Exchange Commission. Federal regulators, who had accused Fannie Mae of serious accounting manipulation over six years aimed at lining executives' pockets, immediately endorsed the move by the company's board of directors.
The so-called performance share plan bonuses for 2001-2004 are being withheld from 46 current and former executives -- including Chief Executive Daniel Mudd and ousted former CEO Franklin Raines.
---
BUSINESS PULSE