Cherry Blossom race issue examined in book
OF THIS BOOK'S four stars -- Los Angeles, Honolulu, San Francisco and Seattle -- Hawaii's capital shines the brightest. Each city boasts a sizable Japanese-American population, and each stages an annual beauty contest for a local Cherry Blossom queen. But Hawaii's is the most varied and interesting.
Rebecca Chiyoko King-O'Riain, a sociologist at the National University of Ireland, is especially interested in what these beauty pageants tell us about our changing attitudes toward ethnicity. Mixed-race beauty queens in particular challenge traditional notions of who is Japanese and who is not.
They also call into question any knee-jerk answers. Is a Japanese-looking hapa who lacks in-depth knowledge of Japanese culture more Japanese than a Caucasian-appearing girl who speaks the language, knows her ancestors and lives the culture?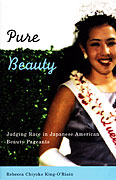 "Pure Beauty: Judging Race in Japanese American Beauty Pageants,"
by Rebecca Chiyoko King-O'Riain (University of Minnesota Press, $20 paperback, $60 hardback)
"Pure Beauty" is available in bookstores or directly from the publisher, www.upress.umn.edu.

If we say yes, aren't we putting an undue emphasis on mere physical appearance at the expense of qualities that are more fundamental and real? But if we say no we could be opening the doors of ethnicity to the point where meaning vanishes. Can we imagine -- would the Japanese community accept -- a blond, blue-eyed Cherry Blossom queen?
There are no easy answers. As King-O'Riain puts it, the queens become "contested symbolic representations" and "touchstones for racial/ethnic community issues."
ON ONE HAND, mixed-raced beauty contestants (such as Catherine Elizabeth Toth, 2001 Honolulu Cherry Blossom queen, whose picture adorns the cover) free us from the bonds of "raciology" and "compulsory raciality." On the other, they propel "a racialized debate about what it means to be Japanese American and about the future of the Japanese American community." (King-O'Riain consistently omits the hyphen from "Japanese American," as though to emphasize the separation of the cultures.)
Negotiating the distance between these poles (physical appearance versus knowledge of the culture) accomplishes what King-O'Riain calls "race work," the process of understanding and creating shifting definitions of race. As this makes clear, the notion is wholly constructed by society. There is no scientific sense in which "Japanese" equates with race.
And here's where Honolulu comes in again. In 1999, Keith Kamisugi, chairman of the Honolulu Japanese Junior Jaycees, changed the local contest's racial eligibility rules from 100 percent to 50. This also had the effect of de-emphasizing physical beauty as a judging criterion and gave greater importance to cultural knowledge, personality and intelligence.
The move put Hawaii on the cutting edge of beauty-pageant reform, making our Cherry Blossom Festival the premier example of its kind in the world. The first multiethnic queen, Val Matsumoto, of Italian-Japanese descent, was elected in 2000. Lisa Okinaga, the first part-Hawaiian queen, was crowned in 2002.
---
Michael Egan is a published author, scholar-in-residence at Brigham Young University Hawaii and adjunct professor of English at Trans Pacific Hawaii College. E-mail him at
features@starbulletin.com