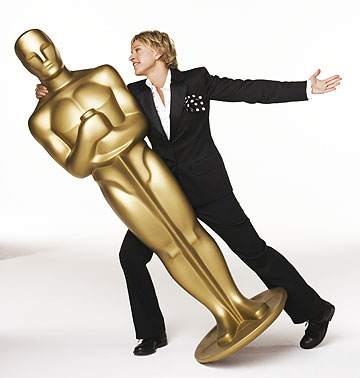 ASSOCIATED PRESS
Oscars: This is it!
Check out these nominees before the Oscars are handed out Sunday
ARE YOU Oscar ready?
The Big Night approaches Sunday, with no clear favorite in the biggest race, best picture. Prime yourself for educated viewing by making sure you've seen all five of the nominated films by Sunday. Five films, five days -- you can do it.
THE 79TH ANNUAL ACADEMY AWARDS
Hosted by Ellen Degeneres
On TV: 6:30 p.m. Sunday, KITV/ABC
Red carpet coverage: Beginning at 3 p.m. Sunday on E!
More Oscar
» Oprah Winfrey lets Oscar-level stars interview each other, 9 p.m. Thursday, KITV/ABC
» "Road to the Oscars," 6 p.m. Sunday, KITV/ABC
» Barbara Walters' Oscar special, 9:30 p.m. Sunday, KITV/ABC

It will take some effort, though. Only two remain in theaters, so if you missed "Babel," "The Departed" or "Little Miss Sunshine" on the big screen, you'll have to buy or rent the DVD. At least that gives you the flexibility to catch up on your own schedule.
See these five and you also get four of the five best-director nominees (No. 5 is Paul Greengrass for "United 93," also available on DVD) and Helen Mirren's favored best-actress performance in "The Queen."
You might also want to take in "Dreamgirls," to see Eddie Murphy and Jennifer Hudson, the favorites for best supporting actor and actress. It's showing at Consolidated Koko Marina and Koolau, and at Regal Dole Cannery. "The Last King of Scotland," with best-actor front-runner Forest Whitaker, is showing at Consolidated Kahala Mall.
---
'Little Miss Sunshine'
Quick take:
A misfit family goes on a road trip to deliver the youngest daughter to a beauty pageant. Chaos, hilarity and family bonding result.
Other nominations: Original screenplay, supporting actor Alan Arkin, supporting actress Abigail Breslin
See it: On DVD or Movies on Demand (for Oceanic Cable digital subscribers)
Warning: Extreme profanity for about half the film, when it abruptly ends, but we won't say why as that would give away a major plot point.
Watch for it: Steve Carell (of NBC's "The Office") runs through hotel corridors to get his niece signed into the pageant on time. It's hilarious although it's hard to say why.
'Letters from Iwo Jima'
Quick take:
The battle of Iwo Jima from the doomed Japanese perspective, based on letters written home by the commander and his foot soldiers.
Other nominations: Director Clint Eastwood, original screenplay, sound editing
See it: At Regal Cinemas Dole Cannery and Consolidated Ward and Kapolei
Warning: It's subtitled, the scenic palette is dark and you won't recognize the actors, so pay close attention or you will miss something major.
Watch for it: The great, understated war-is-hell moment comes when a commander is telling his troops how badly they are outnumbered. Then he shows them a picture of an American Army medic. Target this man, he says. Many soldiers will die to protect him.
'The Departed'
Quick take:
Jack Nicholson is a mob boss with a guy inside the police department; all the while the police have a guy inside his operation.
Other nominations: Director Martin Scorsese, supporting actor Mark Wahlberg, adapted screenplay, film editing
See it: On DVD
Warning: Extreme profanity and violence (but what did you expect?). Plus, Leonardo DiCaprio and Matt Damon should not be allowed to be in movies together. They look too much alike and it can be confusing.
Watch for it: DiCaprio gives a long yellowish envelope to a woman, with instructions to open it if anything happens to him. Can you figure out what happens to the envelope?
'Babel'
Quick take:
A Moroccan boy fires a rifle and accidentally hits an American tourist. This sets off an international incident, but the film is concerned with the smaller, intertwined stories of families in Morocco, Mexico and Japan -- not to mention the wounded woman and her husband.
Other nominations: Director Alejandro González Iñárritu, supporting actresses Adriana Barraza and Rinko Kikuchi, original screenplay, original score, film editing
See it: On DVD beginning today
Warning: Full frontal female nudity and some flashing. Plus, while none of the nominated films is particularly uplifting, this one is a relentless downer, even described as "excruciating."
Watch for it: Jennifer Hudson is said to be a shoo-in for supporting actress, but Adriana Barraza's portrayal of the Mexican nanny Amelia has got to be the closest contender.
'The Queen'
Quick take:
A character study of Queen Elizabeth II, covering the days just after Princess Diana's death.
Other nominations: Director Stephen Frears, actress Helen Mirren, original screenplay, original score, costumes
See it: At Consolidated Aikahi
Warning: Mirren is simply amazing as the queen and probably has a lock on the Oscar, but it's difficult to find a truly sympathetic character in this film. If you're not careful, the one you'll decide to like is Tony Blair.
Watch for it: Not a lot of funny moments in this film, but the Queen Mother's got some good lines. Look for the part where they're discussing Diana's public services and Queen Mum realizes they're using her funeral plan.