---
FAST FACTS HAWAII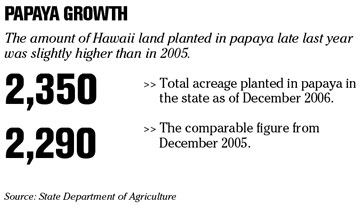 ---
NATION / WORLD
E-Trade lets you trade on global exchanges
NEW YORK »
E-Trade Financial Corp.
today is slated to unveil a global trading platform that makes it the first U.S. discount brokerage to give customers the ability to trade foreign-listed stocks online.
The pilot project, which begins with 1,000 E-Trade customers this week, allows them to buy, hold and sell stocks in Canada, France, Germany, Hong Kong, Japan and Britain. The rollout is expected to take two months before all customers have access, and could one day expand to 42 international markets.
Previously, retail investors who wanted to buy foreign stocks that were not listed on U.S. exchanges as American Depositary Receipts had to call brokers and accept commission fees that topped $100. E-Trade will charge a $20 commission, and also give customers the ability to move U.S. dollar accounts into foreign currencies.
The launch unlocks thousands of stocks previously unavailable to online traders, and pressures top rivals Charles Schwab Corp. and TD Ameritrade Holding Corp. to make similar moves.
BofA tagline has run its course
CHARLOTTE, N.C. » Bank of America is backing away from "Higher Standards" -- at least in its new national advertising campaign.
While the phrase will not entirely disappear from the bank's marketing efforts, the company will introduce a new branding effort and tagline during the Academy Awards broadcast on Sunday night.
"It was part of our DNA and a great foundation," said Catherine P. Bessant, who introduced the "Higher Standards" tagline four years ago when she served as Bank of America's chief marketing officer. But in the last year, the company, installed a new marketing chief and hired the Omnicom Group as its principal advertising agency.
India's Bharti joins with Wal-Mart
NEW DELHI » India's
Bharti Enterprises Ltd.
plans to invest up to $2.5 billion in setting up a nationwide chain of supermarkets and retail shops in partnership with U.S. chain
Wal-Mart Stores Inc.
, a top executive at the Indian company said Monday.
The investment will be spread over the next eight years and create jobs for about 60,000 people, Bharti's Joint Managing Director Rajan B. Mittal told reporters.
Wal-Mart entered into a deal with Bharti late last year to get around the restrictions and access the country's booming retail business.
Under the deal, the U.S. retail giant and Bharti will set up a joint venture to manage procurement, inventories and logistics, while stores will be set up under a franchise agreement.
Volvo bids for Nissan Diesel
STOCKHOLM, Sweden » Truck and bus maker
AB Volvo
today made a $1.07 billion offer to take over Japan's
Nissan Diesel Motor Co.
in which the Swedish company already owns 19 percent, Volvo said.
Nissan Diesel's board supported the $4.52 cash per share offer, which represented a premium of 32 percent based on the Japanese company's average share price during the past three months, Volvo said.
If approved by anti-trust authorities, the deal would be completed by March 29, said Volvo, the world's second-largest truck maker after DaimlerChrysler AG.
Goteborg, Sweden-based Volvo bought a 13 percent stake in Nissan Diesel in March last year from Tokyo-based Nissan Motor Co., and upped its holding to 19 percent in September.
At that time, Volvo said the deal wold help balance the company's offerings of heavy trucks and give it broader reach in Asia.
---
BUSINESS PULSE