Voyaging canoes arrive at first Micronesian stop
Crews will rest before entering Majuro for a welcoming ceremony
MAJURO, Marshall Islands » The voyaging canoes Hokule'a and Alingano Maisu have arrived in waters off Majuro Atoll, taking some rest to prepare for the first of many planned welcoming ceremonies as they travel through Micronesia.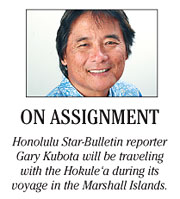 Twenty-six days after leaving Kealakekua Bay on the Big Island, the voyaging canoes and their escort boat Kama Hele safely moored in the Majuro lagoon today (yesterday evening, Hawaii time).
"They're all smiles," said Maisu spokeswoman Pomai Bertelmann, who was aboard a tour boat that met the canoes.
She said the crews were OK but tired after weathering several storms on the way.
"I'm so thrilled inside. I feel like crying," said Kawika Eskaran, one of the builders of the Maisu. "I'm just glad they are safe."
The crews planned to restock their vessels and rest before sailing into Majuro for welcoming ceremonies that will include Kesai Note, president of the Republic of the Marshall Islands.
Anchoring in the calm lagoon of Majuro will provide the crews with much-needed rest after a 2,200-mile journey from Hawaii, according to the Polynesian Voyaging Society.
Crew members aboard the canoes sighted the tops of the coconut trees on the northeastern end of Majuro atoll in the early afternoon and sailed into the lagoon a few hours later.
This will be the first landfall for Alingano Maisu and first landfall for Hokule'a west of the international date line.
The voyage through Micronesia is to honor Mau Piailug of Satawal, who taught Pacific way-finding to native Hawaiians, and to deliver the Alingano Maisu as a gift to him.
The Hokule'a and Alingano Maisu are expected to spend a couple of days on Majuro, where they will take on provisions and some new crew members.
From there the vessels are scheduled to sail west to Ponape, Chuuk, Pulawat, then Satawal. The voyage continues west to Woleai, Ulithi and Yap, then on to the Republic of Palau in mid-March to complete the Micronesian trip.
A Japan leg from March through late May, a 2,675-mile journey, will honor the late King David Kalakaua and his role in opening the doors to Japanese immigration in 1885.
The Hokule'a will sail from Palau to Okinawa, then Kumamoto, Nagasaki, Fukuoka, Yamaguchi, Hiroshima, Uwajima and Yokohama, where Kalakaua signed the immigration treaty.