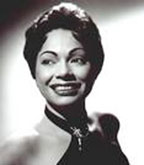 Mary Kaye / 1923-2007
Queen of Las Vegas lounge acts, guitar goddess dies
LAS VEGAS » Mary Kaye, a Hawaiian guitarist and singer who headed the Mary Kaye Trio and kicked off Las Vegas' 24-hour lounge scene, died yesterday of respiratory and heart failure, her nephew told the Associated Press. She was 83.
Kaye, born Mary Kaaihue, was the daughter of Johnny "Ukulele" Kaaihue, and an accomplished guitarist.
"She was the first person to ever have a guitar named after her, which is a Fender Mary Kaye Stratocaster," said her nephew, John Kaye, the administrator of Mary Kaye Trio Enterprises.
Kaye and her trio, made up of older brother Norman Kaye and Frank Ross, began playing deep into the night at Las Vegas' Frontier casino-hotel in the 1950s before such performances were hip, John Kaye said.
"They started the 24-hour gaming and entertainment venues," he said. "Within a matter of 72 hours, everywhere in town built a lounge. It became a mainstay of the Las Vegas night scene."
Norman Kaye, 84, is the only surviving member of the trio, said John Kaye, his son. Ross died in California in 1995. The group recorded 13 albums and 21 singles, made 22 appearances on television and played on four movie soundtracks, John Kaye said. The albums included "Night Life" (1966), "Our Hawaii" (1962), and "A Night in Las Vegas" (1952).