Chapman's extradition not imminent
An attorney for the bounty hunter says appeals will be filed
Bounty hunter Duane "Dog" Chapman is not facing imminent extradition to Mexico to stand trial on a charge stemming from his 2003 capture of a convicted rapist, Chapman's attorneys said yesterday.
"I don't expect an extradition hearing any time soon," said Brook Hart, one of three attorneys defending Chapman against a charge that he unlawfully deprived rapist and Max Factor heir Andrew Luster of liberty. Bounty hunting is illegal in Mexico unless supervised by authorities.
The Associated Press reported a Mexican court rejected Chapman's request for an injunction, clearing the way for the television reality show star to be extradited to Mexico.
VIDEO STATEMENT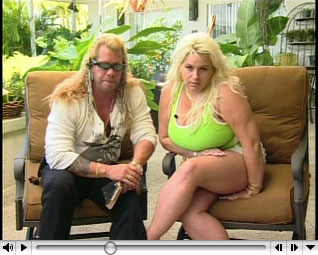 After reading the report, William Bollard, Chapman's California-based lawyer, confirmed at least part of it: that a federal district court judge in Guadalajara is going to deny the request.
"We expect to get the official ruling by next week," Bollard said.
Bollard said that as soon as the court hands down its ruling, they will appeal it to the next higher court.
"Pending all appeals, there will be no action on extradition," he said.
The AP report said Chapman's lawyers argued that their client would not be guaranteed a fair trial in Mexico. The report attributed the statement to Norma Jara, whom the report identifies as a spokeswoman for the second district court in Guadalajara.
Bollard said the legal defense team has never said that, and, on the contrary, "We have always maintained that we are putting our faith in Mexican judicial system."
He said Jara is a low-level employee of the court and is not authorized to speak on behalf of the court.
Still, the report has affected the Chapmans, according to a written statement attributed to Chapman, wife Beth, son Leland and associate Tim Chapman (no relation). Leland and Tim Chapman are also facing prosecution in Mexico.
"This news has caused us great concern and anxiety," according to the statement. "We have always maintained that we would be cleared of the charges, based upon the atrocious crimes of Andrew Luster and because we believed we were within our rights under Mexican law."
Mexican authorities arrested Duane, Leland and Tim Chapman after they captured Luster in Puerto Vallarta in June 2003. The three men returned to the United States two weeks later after a Mexican judge granted their release on bail.
Last September, U.S. marshals arrested the trio for extradition at the request of the Mexican government. U.S. Magistrate Judge Barry Kurren granted the Chapmans their release on bail.
In October a federal appeals court in Guadalajara granted the Chapmans a stay of their criminal case and halted extradition proceedings until further evidence and testimony is gathered.
The Chapmans have maintained they were within their rights in capturing Luster and believed they were under the supervision of a Mexican police officer.
Luster disappeared in January 2003 before a California court convicted him of raping three woman and sentenced him to 124 years in prison. His disappearance set off an international manhunt by police the FBI and bounty hunters hoping to collect some of the bond money.