---
FAST FACTS HAWAII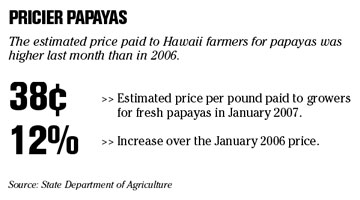 ---
NATION


Top Motorola exec jumps over to Dell

CHICAGO » The head of

Motorola Inc.

's cell phone business resigned yesterday, focusing new attention on a division whose performance has faltered after two years of success fueled by Razr handsets.

The company announced Ron Garriques' departure just before Dell Inc., the world's second-largest computer maker, named him president of a newly created global consumer division.

Garriques took over as head of Motorola's mobile devices business in September 2004, just as its trendsetting Razr was reviving Motorola's fortunes after years of sluggish results.

But the business stumbled the past two quarters, and successors to the Razr have failed to match the ultra-slim phone's success.

Asked if Garriques was encouraged to leave, spokesman Paul Alfieri said: "All I can tell you is that he resigned and we did not make a counteroffer to retain him."
State Farm move upsets Miss. AG
JACKSON, Miss. » Mississippi Attorney General Jim Hood said yesterday he will seek legislation aimed at blocking
State Farm Insurance Cos.
from refusing to write new homeowners and commercial policies in the hurricane-battered state.
Hood's plan would require any company that writes automobile insurance in Mississippi and also writes homeowners policies in other states to offer homeowners and commercial properties throughout Mississippi.
"We're looking at a robber baron in the face that is trying to make an example of Mississippi," Hood said of State Farm.
Hood said his plan is modeled after actions taken by Florida. Florida's legislation primarily deals with preventing policy cancelations and non-renewals, but Hood said a model could be crafted to force companies to write new policies.
State Farm, Mississippi's largest homeowner insurer, said Wednesday it has had enough of the "untenable" legal and political climate in the state and is suspending writing new homeowners and commercial policies.
Ford admits missing sales targets
SAN ANTONIO »
Ford Motor Co.
executives conceded in a report to employees that the company is failing to meet key goals in its turnaround plan, two media organizations reported yesterday.
Ford said in the report, obtained by the Detroit News and later by Dow Jones, that it missed its U.S. retail sales goal for the compact Focus in January by 10,600 vehicles and now expects to miss its retail market-share goals for February and March.
It also will miss its targets for February and March for reduction in material costs by a 15 percent to 20 percent margin, though it hit the goal of $400 million in savings in January, the news organizations reported, citing the report.
Fewer than half the company's employees surveyed are confident in Ford's long-term success, according to the internal memo.
Mills takes $1.64B Simon offer
COLLEGE PARK, Md. » Mall operator
Simon Property Group Inc.
and hedge fund
Farallon Capital Management
said yesterday they will buy struggling mall developer
Mills Corp.
for $1.64 billion after outbidding rival
Brookfield Asset Management Inc.
Mills has 38 malls nationwide, many of them massive regional shopping centers. But the company has struggled in recent years after a decade of rapid growth.
Simon and Farallon offered $25.25 per share in cash for Chevy Chase-based Mills, higher than the $1.56 billion, or $24 per share, tender the partnership made earlier this month.
Mills said yesterday it has terminated a previous $1.35 billion, $21 per share agreement it reached in January with Brookfield, a Canadian conglomerate.
---
BUSINESS PULSE