Matrimonial misadventures
BILLED AS "the first Polynesian comedy," "Samoan Wedding" debuted at last fall's Louis Vuitton Hawaii International Film Festival and then had a solid run in local theaters. The New Zealand-made film was released on DVD this week, and it's easy to see why the movie did as well as it did here.
The title was changed from the original "Sione's Wedding" to something even more generic-sounding, but I guess it would've been too much if the movie's marketers did something along the lines of "My Big Fat Greek Wedding."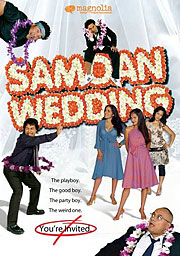 "Samoan Wedding"
(Magnolia Home Entertainment)

Anyway, a more accurate title could've been "Duckrockers," the name of the gang the movie's main characters belong to.
They're just a bunch of burly Samoan guy friends who refuse to grow up -- Albert (Oscar Kightley), Sefa (Shimpal Lelisi), Michael (Robbie Magasiva) and Stanley (Iaheto Ah Hi) would rather play b-ball in the neighborhood park and cruise the bars. Their immature hijinks, unfortunately, have ruined the wedding receptions of friends and relations in the close-knit immigrant community in the capital of Auckland.
Because of their behavior, the religious leader of the community lays down an edict: To attend Michael's brother's wedding, all four had to bring proper dates. The problems are many: Albert's too shy (even to chat up the one woman in his office, Tania, appealingly played by Madeleine Sami), Sefa is too busy carousing to commit to the one true love of his life, Leilani (Teuila Blakely), Michael's too much of a ladies' man and Stanley's having no luck trying to hook up with the "babes" on his cell-phone chat line.
Things get complicated when a distant cousin of Albert temporarily moves in with him and his mum. She's a smart, scheming. absolute hotty named Princess (Maryjane McKibbin-Schwenke), and a bit of a triangle forms among the cousins and the studly Michael, who draws Princess' eye.
As expected, heated words are exchanged among everyone concerned, but things are sorted out in time for the wedding. Even though the film stays pretty much true to formula, it's easy to enjoy the camaraderie between the four guys (all members of the Naked Samoans comedy troupe).
Lelisi and Blakely have some good dramatic moments as the combative couple who ultimately kiss-and-make-up when they learn they're in the family way.
"Samoan Wedding" works as a showcase for what the New Zealand Samoan community can do, and director Chris Graham keeps things moving along at a good clip. The hip-hop soundtrack by the native Dawn Raid Entertainment is an added plus.
The DVD includes a brief behind-the-scenes documentary and a commentary that's more of a casual chat among Kightley, co-screenwriter James Griffen and actor David Fane, who plays Sefa's good-natured and protective older brother Bolo.