---
FAST FACTS HAWAII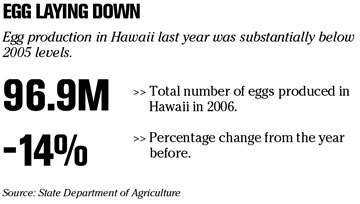 ---
HAWAII
Isle factory jobs fell 5.6% last year
Hawaii lost 5.6 percent of its manufacturing jobs last year, according to the 2007 Hawaii Manufacturers Directory.
The directory, published annually by Manufacturers' News Inc., reported that Hawaii lost 1,545 industrial jobs and 68 plants beginning in January of 2006.
Hawaii is home to 1,265 manufacturing companies employing 25,924 workers compared to 1,333 plants and 27,469 jobs reported a year earlier. Nationally, Hawaii ranks 50th in the nation for its number of manufacturing jobs, about 5,000 jobs behind Alaska, which ranked 49th.
Measured by the number of manufacturing companies, Hawaii ranked 46th.
Hawaii's largest manufacturing sector lies in the food industry, while printing and publishing ranked second, followed by apparel and fabric.
[HAWAII INC.]
BOARD ELECTIONS
» Hawaii chapter of the Counselors of Real Estate has announced its officers for 2007:
Richard A. Stellmacher
, chairman;
Robert C. Hastings Jr.
, vice chairman;
David H. McCoy
, secretary; and
Christine Camp Friedman
, treasurer.
» The Ko'olauloa Educational Alliance Non-profit Corp. has elected Keoki Wallace to the board of directors. He is the public relations manager for Turtle Bay Resort.
AWARDS / CERTIFICATIONS
» TIME Magazine and Goodyear awarded Tony Group Autoplex President
Stan Masamitsu
with the 2007 TIME Magazine Quality Dealer Award. He is one of only 60 automobile dealers nationwide nominated for the 38th annual award.
» Hawaii Self Storage has announced Salt Lake Facility Manager Shaun Salvador as winner of the 2006 Self Storage Manager of the Year. He received the national honor over nearly 100 candidates from across the United States.
NEW HIRES / PROMOTIONS
» Territorial Savings Bank has announced the following promotion and new hire:
Evelyn Sakamoto
has been appointed assistant vice president. She has been with the bank for more than 20 years.
Thomas Slover
has been hired as vice president of branch operations. He will be responsible for policies and procedures, compliance and support. He previously was vice president and manager at Bank of Hawaii's deposit maintenance center.
» The Limtiaco Company has hired Sukil Suh as account executive. He will oversee media relations and strategize editorial direction for client materials, including news releases, brochures, speeches, annual reports, newsletters and press kits. He previously was an account executive at Starr Seigle Communications.
» The Ilikai has hired Maydene Simmons as director of sales and marketing, She will be responsible for creating new marketing strategies and implementing innovative programs and activities to support revenue goals for the hotel. She previously served as regional director of international markets for Starwood Hotels & Resorts and has more than 22 years of industry experience.
» Wincubic has promoted Yoshifumi Furusawa to vice president from creative director. He will oversee the creative department, including the content and production of Aloha Street magazine and its Web site, staffing and scheduling of creative support. He is actively engaged in the marketing of Wincubic.com Inc. and its products. He has 15 years experience in international business.
» Hawaiian Airlines has promoted Ken Rewick to vice president of flight operations. He succeeds Robert Glasgow, who recently retired. He will oversee administrative duties and activities for Hawaiian's pilots, including crew scheduling, pilot flight training and standards and domicile arrangements, as well as the carrier's system operations control center. He joined Hawaiian as a pilot in 1978 and has 18 years of management experience.
NATION / WORLD
Chicago Mercantile Exchange to offer 'hurricane contracts'
CHICAGO » The Chicago Mercantile Exchange, the largest derivatives exchange in the United States, announced yesterday that it is launching contracts that will allow insurers and others to hedge risk against hurricane damage.
The exchange, a unit of CME Holdings Inc., is teaming up with Carvill Group, a reinsurance intermediary that will calculate the contracts' underlying indexes of hurricane data used to calculate damage. Front contracts will expire when a storm makes landfall, with expiration pegged to the index.
CME said contracts for "CME-Carvill Hurricane Index" futures, and options on futures, will begin trading on the floor and on the Globex electronic platform on March 12.
"With these hurricane contracts, insurers and others will be able to transfer their risk to the capital markets and thereby increase their capacity to insure customers," said Felix Carabello, director of alternative investment products at CME. -- Associated Press
Insurer steers clear of Mississippi
BLOOMINGTON, Ill. » Mississippi's largest homeowner insurer said yesterday it has had enough of the "untenable" legal and political climate and is suspending writing new homeowners and commercial policies in a state still struggling to recover from Hurricane Katrina.
A spokesman for State Farm Insurance Cos. said the decision was due in part to the wave of litigation the company has encountered since the Aug. 29, 2005, storm. Mississippi is the latest state along the hurricane-vulnerable Gulf Coast to at least temporarily lose an insurer.
In Florida, several insurers have dropped tens of thousands of policies since the back-to-back storm seasons of 2004 and 2005, when eight hurricanes hit the state. And in Louisiana, many insurers have stopped writing new policies along that state's coastline, said Amy Whittington, spokeswoman for the Louisiana Department of Insurance.
DaimlerChrysler to cut 13,000 jobs
AUBURN HILLS, Mich. » In the next three years, 13,000 Chrysler workers will lose their jobs under a wrenching restructuring announced yesterday that eventually may lead to a DaimlerChrysler divorce.
The Chrysler unit of the German-American automaker said it would cut 16 percent of the U.S. division's worldwide work force, a move it hoped would return its U.S. operations to profitability by next year.
The plan calls for closing the company's Newark, Del., assembly plant, and reducing shifts at plants in Warren, Mich., and St. Louis. A parts distribution center near Cleveland also will be closed, and reductions could occur at other plants that make components for those factories.
---
BUSINESS PULSE