—THE DECISION—
The Big Picture
More than a decade in the making, the first phase of Outrigger Enterprises' $535 million Waikiki Beach Walk project is now nearing completion. The second phase, including Donald Trump's first project in Hawaii, is slated for completion in 2009.
Wyndham Vacation Ownership
195-unit timeshare resort property.
Restaurants in thi s part of the complex include Taormina Sicilian Cuisine, Coconut Willy's Bar & Grill and Beard Papa's Sweets Cafe; shops include Blue Ginger and Maui Divers Jewelry.
Ohana Islander Waikiki
Scheduled for renovation starting in November 2007 as a luxury boutique hotel as part of the project's second phase. Completion is slated for September 2008.
Also houses Quiksilver and the Wyland Gallery.
Embassy Suites
The 219-room Hula Tower and the 202-room Aloha Tower have been renovated for operation by Hilton's all-suite subsidiary. The towers are located atop the Waikiki Beach Walk's entertainment complex.
Outrigger Reef on the Beach
Building-by-building renovations will reduce the number of rooms from 830 to 630 when completed in October 2008.
Also home to Shore Bird Restaurant & Beach Bar, the Ocean House Restaurant, Serenity Spa, Starbucks and Jamba Juice.
Trump International Hotel and Tower
New luxury condotel to be completed in August 2009 as part of the project's second phase. Its 464 units sold out in just eight hours in November for a total of more than $700 million. At least one restaurant is also planned for the site.
Entertainment/Retail Pavillion
Forming a base for the Embassy Suites towers, this complex fronting Lewers Street serves as a focal point for the Waikiki Beach Walk project, with an open-air stage and a variety of shops and restaurants, as well as centralized parking (accessible from Beach Walk Street).
Restaurants here include Roy's Waikiki, the Yard House, Ruth's Chris Steak House and Holokai Grill. Shops include Mana Hawaii, Malibu Shirts and the Tabora Gallery.
---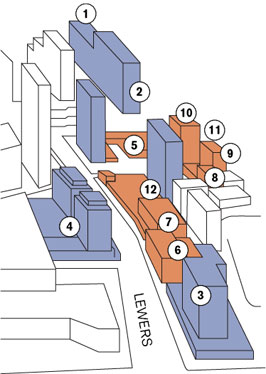 How It Was Before
The Waikiki Beach Walk project aims to revitalize some of Outrigger's oldest properties. Here's what was done and is being done in the area:
Before
Action
After
Status

1. Outrigger Reef on the
Beach Ocean Tower
Renovation
Same
Opening
May 2007

2. Outrigger Reef on the
Beach Pacific Tower
Renovation
Same
Construction starts May 2007

3. Ohana Islander Waikiki
Renovation
Boutique hotel
Construction starts Nov. 2007

4. Ohana Reef Towers
Renovation
Wyndham timeshare
Open

5. Ohana Edgewater Hotel
Demolition
Lobby/Pool/Parking
Open

6. Edgewater Lanais
Demolition
Entertainment/retail
Open

7. Ohana Coral Seas
Demolition
Entertainment/retail
Open

8. Hale Pua Nui
Demolition
Trump tower
Under construction

9. Ohana Reef Lanai
Demolition
Trump tower
Under construction

10. Ohana Royal Islander
Demolition
Trump tower
Under construction

11. Malihini Hotel
Demolition
Trump tower
Under construction

12. Ohana Waikiki
Village & Tower
Renovation
Embassy Suites
Open