—FROM THE EDITOR—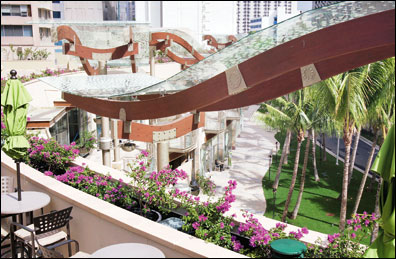 A Way Out Of The
Concrete Jungle
One of the very first jobs I had in Hawaii in the late 1970s was as a delivery driver in Waikiki -- a job that took me through the Lewers-Beach Walk area several times a day. A newcomer to Hawaii at the time, I was struck by the contrast between the aging, closely packed high-rise hotels and the vibrant beauty of the Pacific only a block away. Bob Marley's Jamaican lament "Concrete Jungle" got frequent radio airplay back then, and I couldn't help but think, how appropriate. I wondered if visitors from places like Newark were disappointed with what they found.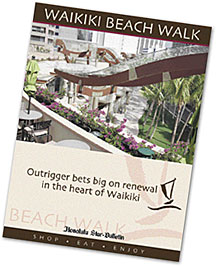 Several decades and several thousand miles away, my family was visiting Pearl Street Mall in Boulder, Colo. There were the inevitable Cheesecake Factory and Starbucks outlets but also dozens of only-in-Boulder shops, eateries and bars that give the town its iconoclastic, slightly surreal character -- in the space of a few walkable blocks. Our cash flowed more freely than planned, but we didn't really mind. For a tourist destination -- as opposed to a tourist trap -- the ideal is not only to extract cash from visitors' wallets; it is to leave them happy about it afterward.
In remaking a large part of the heart of Waikiki, Outrigger Enterprises has spent years and hundreds of millions of dollars to bring its properties into the 21st century. Aging buildings have made way for more open space, with the rest renovated to make the whole complex feel unified and approachable while showcasing more of Hawaii's uniqueness. And if the wave of redevelopment announced since Outrigger began its plans is any indication, plenty of others -- from longtime isle hoteliers like Sheraton to malihini like Donald Trump -- think it has the right idea.
Waikiki Beach Walk isn't the whole answer to problems facing Hawaii's most urban of tourist areas, but it can be part of the solution.
Ken Andrade,



Business Editor