| | |
| --- | --- |
| | Newswatch |
---
Funeral sunday for slain officer
Services for slain Deputy Sheriff Daniel Martin Browne-Sanchez will be held from noon to 2 p.m. Sunday at Borthwick Mortuary. Visitation is from 10 a.m.; casual/aloha attire. A funeral procession will go from Borthwick past the state Capitol.
Browne-Sanchez, 27, was shot and killed Saturday while trying to subdue a man during a robbery attempt at a Kapiolani Boulevard sushi bar where he worked part-time as a bar back.
KALANIANAOLE PIPE-PULLING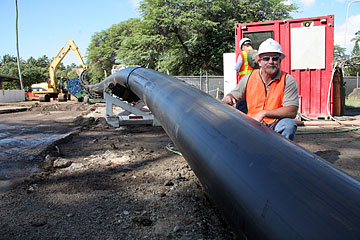 Problem returns new Raptor jets to Hickam
A problem with navigation software forced 12 F-22A Raptor combat jets to return to Hickam Air Force Base on Saturday.
The 12 Raptors -- the Air Force's latest and most expensive jet fighter -- were on their way to Kadena Air Base on what was supposed to be a three- to four-month deployment.
The Air Force did not say whether the problem with the navigation software affected all or just one of the jets, each valued at $136 million.
The single-seat jet fighters are expected to leave Hickam on their first overseas deployment in the next few days.
Besides the 12 Raptors, more than 250 personnel from the 27th Fighter Squadron at Langley Air Force Base in Virginia are part of what the Air Force describes as a regularly scheduled rotational assignment.
Electronic health record system funded
Medicaid and native Hawaiian populations will be the beneficiaries of a $3.18 million federal grant awarded to Hawaii to develop an electronic health care records model that rural health care providers statewide can adopt.
The grant will lay the base for an electronic health care records system that will improve the effectiveness and efficiency of the state Medicaid program, said Lillian Koller, director of the state Department of Human Services, which is administering the grant.
The two-year project aims to train physicians and clinics to use electronic records to reduce medical errors, improve medication management, implement "e-prescribing" and pharmacy filling of orders.
The University of Hawaii Telecommunications and Information Policy Group will develop and operate the system to be used by four Oahu clinics and two health care sites on Kauai, enabling them to access client records for preventive care reminders and medication information through the Internet.
The project is a partnership of the Department of Human Services, Department of Health, UH Telecommunications and Information Policy Group and UH John A. Burns School of Medicine.
Self-storage firm offers college scholarships
Tomorrow is the deadline for applications for nine $1,000 college scholarships offered by Hawaii Self Storage.
Students must be from one of nine eligible high schools, including Aiea, Farrington, Pearl City, Kaimuki, Kapolei, Mililani, Moanalua, Radford or Waipahu.
The scholarships can be renewed for two years toward an associate degree and up to four years for a bachelor's degree as long as the student maintains a cumulative minimum grade-point average of 3.0 each year.
To qualify for the scholarship, students must be Hawaii residents who have been accepted to a recognized degree program at an accredited two- or four-year institution of higher education. They must also be enrolled full time.
For more information, visit www.hawaiiselfstorage.net/communitypride.asp or call 836-1500.
---
SHINING STARS
---
Families, foundations fund Theatre for Youth
The
Honolulu Theatre for Youth
has received several grants for its drama education programs. The
Bretzlaff Foundation
donated $20,000; the Hawaii Community Foundation's
Rev. Takie Okumura Family Fund
, $20,000 for programs on Maui and Oahu; the
McInerny Foundation
, $15,000 for West Hawaii; the
Atherton Family Foundation
, $10,000; and the
Kosasa Family Fund
, $5,000.
---
The Japanese Ministry of Foreign Affairs gave $140,306 to Hawaii's Pacific International Center for High Technology Research. The funds will be used to provide solar electric power to villages in Fiji as part of its Renewable Energy-based Rural Electrification program, and to maintain current systems.
---
The Robert C. and Helen F. Nichols Fund of the Hawaii Community Foundation gave $10,000 to Catholic Charities' General Immigration Services Program to help economically disadvantaged immigrants on the Big Island with English classes, housing, legal and health services, employment and emergency financial and food assistance.
---
The Harry and Jeanette Weinberg Foundation Inc. awarded $1.2 million to the Nanakuli Senior Apartments Inc. to complete its $8.5 million low-income apartment building for 40 seniors in Leeward Oahu.
---
"Shining Stars" runs Monday through Thursday.
| | |
| --- | --- |
| | Police, Fire, Courts |
---
COAST GUARD SINKS BURNED BOAT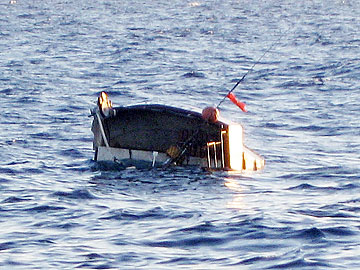 WAIKIKI
Man critically hurt in attack near bar
A 29-year-old man was in critical condition after he was punched outside a Waikiki bar.
Police said the victim was drinking at a Kuhio Avenue bar about 2:30 a.m. Monday and tried to cut in on a group of other customers who were dancing. Witnesses said the victim started to fondle one of the girls in the group, and other members of the group confronted the man.
Security guards escorted the man out of the bar, police said. While the victim was talking to a bar manager, a 24-year-old man allegedly ran across the street and punched the victim in the head, causing him to fall backward and hit the back of his head on the road.
He was taken to the Queen's Medical Center in critical condition. Police arrested the younger man, Ryan M. Carrillo Monday and charged him with second-degree attempted murder.
Bail was set at $100,000.
NORTH SHORE
Aggressive man subdued with Taser
Police used a Taser gun to subdue a disorderly 43-year-old New Zealand man with no local address at a Haleiwa surf shop about 4:30 p.m. yesterday.
Police said the man walked into Planet Surf Hawaii, located at 66-150 Kamehameha Highway. The owner said the man followed him around and became aggressive, punching him in the face.
The owner said the man grabbed a wooden tiki outside and threw it through the window of the shop and then got into a fight with him.
Police arrived at the scene and used the Taser on the man. He was taken to Wahiawa General Hospital, where he was treated for removal of the Taser prongs.
The suspect was arrested for third-degree assault and third-degree criminal property damage.
Police said it was their fourth use of a Taser on the North Shore.
DOWNTOWN HONOLULU
Man arrested in attack with samurai sword
Police arrested a 23-year-old man who allegedly used a samurai sword to threaten and cut a security guard.
The victim, a 29-year-old man, was making checks around Nimitz Highway and Smith Street at about 1:30 a.m. yesterday, when he got into an argument with the suspect, police said.
The suspect then allegedly swung his samurai sword at the guard, cutting his finger. Police arrested the suspect on suspicion of first-degree terroristic threatening.