---
FAST FACTS HAWAII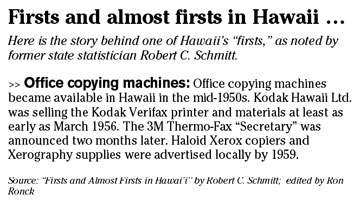 ---
NATION
Valentine's spending likely to fall this year
Jennifer Lopez may have crooned that "love don't cost a thing." But on Valentine's Day, love is big bucks, especially for men, according to a recent survey from
Discover Card
.
Men will shell out on average $117 on their significant other for Cupid's day, while women will spend a tad more than half of that amount on their Valentines.
However, both sexes are planning to spend less this year than in 2006. Last year, men averaged $127, whereas women spent $74.
On the bright side, there may be fewer breakups this Valentine's Day since both sexes mostly see eye-to-eye on gifts. Most men will buy a special dinner, followed by flowers and candy. Coincidentally, women are hoping for these same gifts from their partners.
Women plan on purchasing a dinner at a restaurant, followed by music, books, DVDs or games, all of which are on their honeys' wish lists. An overwhelming majority, 84 percent, intend to buy gifts at a retail location, whereas only one-quarter shop online for Valentine's Day.
Discover Card sponsored the survey which polled by telephone 1,015 adult Americans in January.
Spend money to save money
Spending more on employee wellness programs may spell less turnover and better productivity for smaller companies, according to a recent survey from the
Principal Financial Group
.
More employees took advantage of onsite health screenings last year than in 2005 -- 79 percent of employees participated in such screenings in 2006, up from 68 percent the year before.
Use of onsite fitness facilities also increased. Six out of ten employees said they used this benefit last year, compared to 38 percent in 2005.
"As employers offer more wellness programs at work, employees will use them," said Jerry Ripperger, director of consumer health at the Principal Financial Group. "It's really a win-win. Healthier employees ultimately lead to a healthier bottom line for employers."
More than half of employees said wellness programs offered by their employers encourage harder work and better performance, while 55 percent said they're more likely to stay with that employer.
The Principal Financial Group, a provider of financial products and services, surveyed 1,197 employees and 630 retirees of small and mid-sized businesses in October and November of 2006.
Office crushes fairly common
Want your next big date with the co-worker one cubicle over? You're not alone. The majority of office workers have some kind of crush on a fellow employee, a recent survey from
SnagAJob.com
showed.
Nearly two out of three people admitted having a crush on a fellow employee. Men are most likely the culprits of office puppy love. Seventy-two percent of men like a co-worker, whereas only 60 percent of women do.
But there's no reason to sound an alarm on office infatuation, according to Shawn Boyer, chief executive at SnagAJob.com, a job search company.
"Office crushes are most often harmless distractions but can get complicated should they lead to workplace romances," Boyer said.
Fortunately for office productivity, nearly two-thirds of co-workers plan to keep their crushes to themselves, with lovestruck men more likely to keep their lips sealed than their female counterparts.
SnagAJob.com received more than 800 responses to their office crush survey in January.
---
BUSINESS PULSE