McBriar has a g'day at Aloha
The ex-UH punter from Australia averages 51 yards a punt for the NFC
Mat McBriar spent most of yesterday afternoon sitting on the NFC bench, football in hand, practicing his drop.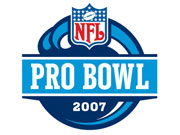 Even as AFC place-kicker Nate Kaeding prepared to hit the winning field goal in the waning seconds of yesterday's Pro Bowl, McBriar let the football fall on his foot a couple of more times, before standing up to see the 21-yarder tumble through the uprights.
If the former University of Hawaii punter was disappointed with the AFC's 31-28 victory before a sellout crowd at Aloha Stadium, he didn't show it. Instead, he shook the hands of many of the players and coaches crisscrossing the stadium floor, before being surrounded by members of the local media hoping to snag one last quote from the man Down Under.
"My Pro Bowl was awesome, man, I had a blast," McBriar said. "It was a great week. I had a lot of fun. I got a little bit of work at my old setting. I had a good time man. It was great coming back here and kicking for the fans."
McBriar did an excellent job adapting himself to his old surroundings as he quickly adjusted to the trades that were whipping across Aloha Stadium from the first quarter on. He had four punts for the afternoon, averaging a whopping 51.0 yards a kick.
Equally impressive was how he allowed guys not used to covering punts the opportunity to get close to the return men. On the four punts, the AFC averaged 9.3 yards a return for a net average of 41.8.
By comparison, the AFC had one punt for 64 yards, but allowed Chicago Bears return man Devin Hester enough room to bring it back 63 yards for a net average of 1.
"The guys kidded me all week to hang it up there," McBriar said.
"It was a lot of fun hanging around the best in the NFL. A dream come true for me. When I was at Hawaii, I never even thought about coming back here and playing in the Pro Bowl. I was just trying to make a team. To be able to be here is something very special for me."
McBriar began his NFL career with Denver, but was traded to Seattle, who released him in 2003. He got a second chance with the Dallas Cowboys in 2004 under the watchful eye of former Dallas Cowboys head coach Bill Parcells. Parcells told anyone who would listen that McBriar had a chance to make it to the Pro Bowl.
Parcells' belief in McBriar was critical to his learning that just booting the ball as far as you can isn't good enough in the NFL. You have to know how to kick in the right direction and you have to learn how to handle the drop. McBriar mastered it under Parcells and needs to continue to hit them high and deep under new head coach Wade Phillips.
"I was very lucky," McBriar said of Parcells' tutelage.
"I was on the cusp of being released from the team. He did stick with me and I'm grateful for that. I feel like I've cemented a spot now in the league. I'm just having a blast now. I hope I can hang around for a bit longer."
As for kicking for a new coach and crew, McBriar is taking a wait-and-see approach. He had a good relationship with Parcells and is indebted to him. He's looking forward to meeting the new staff upon his return to Dallas. But for now, he plans to party with the 20 or so family and friends who cheered loud and long for him during yesterday's game.
"My original goal when I got out of college was just to make it in the league," McBriar said. "It took some time to do that. Now, I can have some fun and be more relaxed because I'm an established kicker. It was great having all my family and friends here with me this week. They were very supportive during the game. I could hear them, actually. I had a blast. I hope I can come back and do it again some day."