Romo gets over his mistakes
The Cowboys' QB leads the NFC back after a rough start
Tony Romo didn't let the Aloha Stadium boos hold him back yesterday.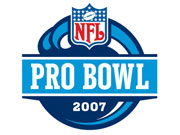 After a sluggish start, the Dallas Cowboys quarterback brought the NFC back from a 14-point deficit to a 28-all tie before the AFC kicked a field goal as time ran out to win the Pro Bowl 31-28.
Romo, after all, had something to prove, not only to his Dallas Cowboys teammates, but also to the NFL-watching world, who remember his late-game playoff blunder that allowed the Seattle Seahawks to eliminate his Cowboys.
Yesterday's comeback gave him a head start on proving that his productive season was not a fluke.
"I always feel that if I have enough time, I can bring the team back," Romo said. "The team today did a great job coming back and giving us a chance to win it."
Romo's start, however, was extremely slow.
He missed open receivers on short routes and couldn't get things rolling.
"In a game like this, you're out there with a whole new offense and you forget what everybody can do," he said.
"So sometimes you're feeling you're back there with your head cut off. It took some time to get comfortable and get the right play calls and get into the flow."
NFC starting quarterback Drew Brees of the New Orleans Saints left the game late in the first quarter with a dislocated elbow and St. Louis' Marc Bulger finished up the first half.
Romo played the whole second half, but his first five drives didn't yield any points as the AFC built a 28-14 lead.
Finally, Romo started to click, but only after some serious misfortune.
He threw one interception (by Baltimore's Ed Reed), heard the boo birds after one miserable series, got sacked two straight times (by San Diego's Jamal Williams and Oakland's Derrick Burgess) to end a promising march, and failed to score on a fourth-and-goal quarterback sneak.
A fumble recovery by Washington's Sean Taylor three plays later led to a TD run by St. Louis' Steven Jackson, allowing the NFC get back in it at 28-20 with 3:02 left.
Romo's biggest play -- after an onside-kick recovery by Ronde Barber -- was a 47-yard underthrown touchdown pass to Arizona's Anquan Boldin.
"When the defender is playing high like that, you want it underthrown," Romo said. "We were trying for the back shoulder. Anquan and I talked about that before the play. That's what we wanted to do and it worked."
Romo was at it again on the next play, hitting Carolina's Steve Smith with a quick pass to the left and Smith worked his way into the end zone for the 2-pointer and a 28-28 tie.
"(We) let him (Steve) go do his thing," Romo said. "The faster you get it to him, the faster he's going to get it in the end zone."
Romo talked about the two straight sacks and what was going through his mind with the ball deep in AFC territory.
"The receivers were all covered up," he said.
"In the red zone, it's tough because there's not a lot in the game plan for that. I didn't want to just throw it up, because you have Ed Reed (who had two interceptions) back there and you don't want him taking it to the house."
Bulger was happy for his NFC teammate.
"He had to make the plays and he did. It's a tribute to these guys for getting us back. We got the onside kick and he was able to make something happen," Bulger said.
Romo, who finished 11-for-19 for 156 yards with one TD and one interception, believes the Cowboys are still on the way up even though coach Bill Parcells is gone.
"I'm excited about next year," he said. "We're ready to go out there and work our butts off and do whatever it takes.
"I haven't met him (new coach Wade Phillips) yet, but I heard he's a good guy."