Palmer picks up MVP honors
The Cincinnati QB will take home a car for leading the AFC on its winning drive
As soon as Carson Palmer was awarded a new Cadillac after winning the Pro Bowl Most Valuable Player award yesterday, Bengals teammate Chad Johnson was already hounding him for the keys.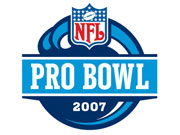 "Yeah, he was trying to get it," Palmer said. "But it's not for sale."
The Cincinnati Bengals quarterback showed he's the better driver anyway. He led the AFC squad down the field on a 67-yard game-winning drive in the final minute of yesterday's NFL Pro Bowl at Aloha Stadium that was capped by a 21-yard field goal from Nate Kaeding to give the AFC a thrilling 31-28 victory.
Palmer completed eight of 17 passes for 190 yards, and connected on two long touchdown throws with Johnson and Indianapolis receiver Reggie Wayne to earn the game's Most Valuable Player award.
"This is a huge honor and very exciting and I feel extremely blessed to be here, let alone for the outcome to be this," Palmer said.
After a scoreless first quarter, Palmer put the AFC on the board on its first drive of the second quarter with a 72-yard bomb to another first-time Pro Bowler in Wayne, who caught the ball and outran Bears cornerback Devin Hester into the end zone.
After a failed drive at the end of the half, the Heisman Trophy winner returned to the field at the start of the fourth quarter and immediately hooked up with Johnson on a 42-yard touchdown pass that gave the AFC a 28-14 lead.
"Both were great routes and long-developing plays and you've got to have the protection up front," Palmer said. "We did a great job of protecting and both of those guys ended up running big routes for us."
The score gave the AFC a two-touchdown lead with 13 minutes remaining and seemed to signal the end of Palmer's day. But after a frantic last-minute comeback by the NFC tied the score at 28, Palmer took the field with 1:48 to go and led the AFC on a 7-play, 63-yard drive that put Kaeding in position to win the game.
"In these games something crazy always happens at the end and sure enough, they made it a game all the way down to the last second," Palmer said.
The award caps a back-and-forth year for Palmer, who rehabilitated his knee back into shape in time to start the Bengals' season opener. Palmer shook off any doubts about any lingering effects from his injury to throw for a career-high 4,035 yards and 28 touchdowns. Cincinnati failed to make a return trip to the playoffs, however, after Palmer led them to the postseason a year earlier for the first time in 15 years -- a thought that was still lingering in Palmer's mind after the game.
"This is a great honor, but my goal is to be in a Super Bowl and win a Super Bowl and that's where my mind is at," Palmer said. "After this week I'm going to start focusing on that again."
To do that, he'll need another big year from Johnson, who made his fourth-consecutive Pro Bowl appearance and caught three passes for 70 yards and the one touchdown. Johnson refused to speak to reporters after the game, but had enough time to try to con Palmer out of his newly won red Cadillac.
"Chad lives in a dream world," Palmer joked. "He tried to make a deal with me if he won (the MVP), I'd get it, and if I won it then he'd get it.
"I wasn't going to make that deal with him."