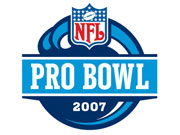 AFC gives NFC the boot
The Chargers' Nate Kaeding ends it with a game-winning 21-yard field goal
For those who believe the Pro Bowl doesn't mean that much to the players and coaches, they didn't see NFC main man Sean Payton racing across the Aloha Stadium floor looking for any and all officials at yesterday's game.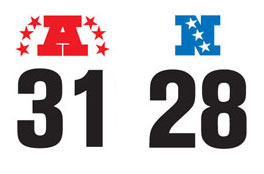 A pass-interference call against Arizona strong safety Adrian Wilson set up a chip-shot field goal by San Diego place-kicker Nate Kaeding to give the AFC a 31-28 victory over the NFC before a sellout crowd of 50,410. What had Payton so hot under the collar was the NFC had just completed a dramatic comeback to score two touchdowns in the closing minutes to tie the game at 28.
The AFC took over with less than 100 seconds remaining and appeared a little rattled by the sudden arrival of the NFC, which spent most of the afternoon trying to get out of its own way. The AFC was up by two touchdowns after Pro Bowl MVP Carson Palmer hooked up with Cincinnati teammate Chad Johnson on a 42-yard touchdown to give his all-star squad a comfortable 28-14 advantage with 12:47 left in the game.
Dallas quarterback Tony Romo, playing the entire fourth quarter, appeared dead in the water, even drawing boos from the Aloha Stadium crowd after he managed one unsuccessful drive after another. But he finally found himself, thanks in part to an AFC turnover that set up a four-play, 11-yard drive that ended with a 4-yard scoring run by Steven Jackson on fourth and 3.
The try for 2 failed as the AFC held a 28-20 lead with 2:54 left in the game. A successful onside kick was recovered by Tampa Bay cornerback Ronde Barber to give the NFC one last shot. Romo took advantage of it as he led the NFC on a four-play scoring drive that ended with him hitting Arizona wideout Anquan Boldin on a 47-yard scoring strike to draw the NFC to within two.
Romo wasted little time on the 2-point conversion, firing a quick pass in the left flat to Carolina receiver Steve Smith, who eluded a couple of AFC defenders to fall into the end zone, tying the game at 28 with 1:48 remaining. But there was still plenty of time for the AFC to score the winning points.
Palmer began the final drive at the AFC 34 by completing two passes to Indianapolis wideout Reggie Wayne for 23 yards. The AFC converted on fourth and 1 on a sneak by Palmer, who then attempted a long bomb to Johnson on a first-and-10 play at the NFC 41. The pass was overthrown, but Wilson collided with Johnson on a bang-bang play in the secondary that the official ruled as a 37-yard pass interference, much to Payton's chagrin.
Two plays later, Kaeding connected on a 21-yard field goal with no time left to seal the deal for the AFC. Palmer was voted MVP despite hitting only eight of 17 passes for 190 yards and two touchdowns, including a 72-yard bomb to Wayne. He couldn't tell what happened on the pass-interference play late, but Johnson could and he agreed with the call.
"It was close," Johnson said. "But this is just a fun game. It's no big deal. We're just out here having some fun and trying to give the fans a show."
But Payton didn't see it that way. He was so upset after the game, he refused to talk to the media for fear he would be fined for criticizing the officials. That didn't stop him as time expired from sprinting across the turf to give any and all men wearing stripes a piece of his mind. It was an X-rated tirade that surprised some by its intensity, especially given the context of this exhibition all-star affair.
AFC head coach Bill Belichick understands the competitive nature of the game. He thought Wilson arrived just a split-second early on the play, but was more interested in praising his team for the way it played for four quarters.
"I tell you what, this is really a fun group to coach," Belichick said. "They were a great group of guys, very cooperative, who played hard until the end. The NFC made a nice comeback, but our guys stayed with it and were able to score late when we needed to.
"It was a close play. Even if it's not called, we're still in good shape to get it close for Nate. These guys are really competitive. That last drive was a great way to end it. Anytime you have that many talented guys on the field, you're going to have a close game. They made a nice comeback, but we were still able to pull it out. I had a great time out there coaching quality athletes like these."
Count Palmer among them. After starting quarterback and Super Bowl MVP Peyton Manning went out after only two series in the first quarter, Palmer took over from there, taking all the snaps in the second quarter and sharing time with Tennessee Titans signal caller Vince Young in the fourth. Belichick turned to Palmer on the final drive because of his experience.
"It was good being in there with the game on the line," Palmer said. "I couldn't tell what happened on the pass play to Chad. It was close on the replay. It's great being named the MVP here. I was disappointed I couldn't play in the game last year (after being injured in the playoffs). It was a long year getting to this point, but what a way to end it. It feels good."
Neither team scored in the opening quarter, but that changed quickly in the second. The NFC scored twice on a pair of 1-yard TD runs by retiring Giants running back Tiki Barber and San Francisco running back Frank Gore. The AFC countered with two huge plays on offense and defense. The first was a 72-yard bomb from Palmer to Wayne. The second was a 70-yard fumble return by Baltimore outside linebacker Adalius Thomas, who scooped up a strange fumble by St. Louis quarterback Marc Bulger.
"I wasn't sure if it was an incomplete pass or not," Thomas said. "I didn't wait for the whistle to blow. I just scooped it up and ran until I got to the end zone. The worst that could happen was the play was dead. It was a great feeling to do something like that in a Pro Bowl."
The third quarter bordered on dull as the AFC put up the only points on a 3-yard run by league MVP LaDainian Tomlinson. Even the fourth had its sleeper moments as Romo tried to find the range after the AFC took a 14-point lead on Palmer's strike to Johnson. But as is usually the case when money is on the line, the players answered the call with a dramatic fourth-quarter run.
"It was a lot of fun watching it from the sidelines," Manning said. "I love playing in this game, being around all the guys. These last two weeks have been the most exciting of my life. This just tops it off in such a good way. Now, I'm going to get a little rest and relaxation, and try to realize what's just happened in my life.
"To beat New England the way we did, then come back to get the Super Bowl and now this nice week in Hawaii. You can't ask for much more than that. I wish I had played a little better, but hey, when you only have a couple of days of practice, you're going to struggle with your timing. It all turned out great."
Things weren't quite as pleasant for Payton and Co. He had to watch his quarterback, Drew Brees, go out in the first quarter with a dislocated left elbow that will sideline Brees for six to eight weeks. The New Orleans quarterback said after the game that the thing that upsets him the most is he won't be able to play golf in Hawaii the next couple of days as planned.
For Tiki Barber, it was his final fling in the NFL. His brother's recovery of the onside kick was huge for the NFC. Tiki just wished he could have gone out with a win.
"I've had a great career," Barber said. "To score a touchdown in my last game was nice. I thought when we scored after the onside kick that we had a chance. It's tough to lose any game on the last play."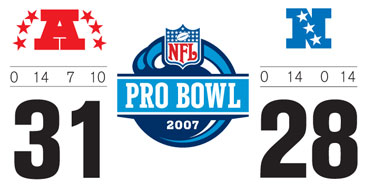 AFC 31, NFC 28
At Aloha Stadium
| | | | | | | |
| --- | --- | --- | --- | --- | --- | --- |
| NFC | 0 | 14 | 0 | 14 | -- | 28 |
| AFC | 0 | 14 | 7 | 10 | -- | 31 |
Second Quarter

NFC
12:24
T.Barber 1 run (Gould kick)
7-0

AFC
11:19
Wayne 72 pass from Palmer (Kaeding kick)
7-7

AFC
7:42
A.Thomas fumble return
7-14

NFC
4:09
Gore 1 run (Gould kick)
14-14
Third Quarter

AFC
9:36
Tomlinson 3 run (Kaeding kick)
14-21
Fourth Quarter

AFC
12:53
C.Johnson 42 pass from Palmer (Kaeding kick)
14-28

NFC
2:54
Jackson 4 run (pass failed)
20-28

NFC
1:48
Boldin 47 pass from Romo (Smith pass from Romo) 28-28

AFC
:00
FG Kaeding
28-31
MISSED FIELD GOAL--AFC, Kaeding 48 (WR).
Attendance: 50,410. Time: 3:30.
OFFICIALS--Referee: Larry Nemmers; Ump: Chad Brown; HL: Ron Phares; LJ: Tom Barnes; SJ Doug Toole; FJ: Tom Sifferman; BJ: Richard Reels.
Team Statistics
| | | |
| --- | --- | --- |
| | NFC | AFC |
| FIRST DOWNS | 20 | 21 |
| TOTAL NET YARDS | 362 | 445 |
| Rushes-yards | 27-71 | 30-120 |
| Passing | 291 | 325 |
| Punt Returns | 1-63 | 4-37 |
| Kickoff Returns | 5-102 | 4-113 |
| Interceptions Ret. | 1-3 | 2-46 |
| Comp-Att-Int | 21-42-2 | 17-39-1 |
| Sacked-Yards Lost | 5-21 | 1-3 |
| Punts | 4-51.0 | 1-64.0 |
| Fumbles-Lost | 3-1 | 4-1 |
| Penalties-Yards | 2-44 | 5-37 |
| Time of Possession | 31:25 | 28:35 |
Individual Offensive Statistics
RUSHING

NFC
No
Yds
Avg
Lg
TD

Jackson
7
26
3.7
11
1

Gore
6
26
4.3
10
1

Romo
2
7
3.5
7
0

Smith
1
5
5.0
5
0

Barber
7
4
0.6
5
1

Strong
2
3
1.5
3
0

Bulger
1
0
0.0
0
0

Driver
1
0
0.0
0
0

Total
27
71
2.6
11
3
AFC
No
Yds
Avg
Lg
TD

Tomlinson
10
51
5.1
18
1

Johnson
6
33
5.5
11
0

Parker
8
19
2.4
7
0

Young
3
15
5.0
13
0

Wayne
1
2
2.0
2
0

Palmer
1
1
1.0
1
0

Moorman
1
-1
-1.0
-1
0

Total
30
120
4.0
18
1
PASSING

NFC
Cmp-Att
Yds
TD
Int

Romo
11-19
156
1
1

Bulger
8-15
133
0
0

Brees
2-7
23
0
0

Barber
0-1
0
0
1

Total
21-42
312
1
2

AFC
Cmp-Att
Yds
TD
Int

Palmer
8-17
190
2
0

Manning
5-12
67
0
0

Young
4-10
71
0
1

Total
17-39
328
2
1
RECEIVING

NFC
No
Yds
Avg
Lg
TD

Boldin
5
86
17.2
47
1

Smith
4
62
15.5
38
0

Williams
3
58
19.3
26
0

Driver
3
38
12.7
15
0

Crumpler
2
50
25.0
35
0

Jackson
2
10
5.0
9
0

Barber
1
8
8.0
8
0

Witten
1
0
0.0
0
0

Total
21
312
14.9
47
1

AFC
No
Yds
Avg
Lg
TD

Wayne
6
137
22.8
72
1

A. Johnson
3
73
24.3
47
0

C. Johnson
3
70
23.3
42
1

Gonzalez
3
35
11.7
35
0

Gates
1
9
9.0
9
0

L. Johnson
1
4
4.0
4
0

Total
17
328
19.3
72
2
INTERCEPTIONS

NFC
No
Yds
Avg
Lg
TD

Pierce
1
3
3.0
3
0

Total
1
3
3.0
3
0

AFC
No
Yds
Avg
Lg
TD

Reed
2
46
23.0
24
0

Total
2
46
23.0
24
0
PUNTING

NFC
No
Avg
Lg
I20

McBriar
4
51.0
54
1

Total
4
51.0
54
1

AFC
No
Avg
Lg
I20

Moorman
1
64.0
64
0

Total
1
64.0
64
0