---
Saints' Brees banged up but doing fine
Drew Brees' day as the NFC's starting quarterback ended early when he dislocated his left elbow and left the Pro Bowl late in the first quarter.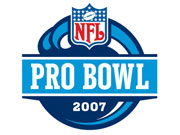 "He had X-rays here (at Aloha Stadium), and it was determined he had a clean dislocation," said Brian McCarthy, an NFL spokesman. "His wife came down to see him in the locker room and they left to go back to the Ihilani (hotel).
"He's more upset that he won't be able to play golf than he is about the injury."
Brees, who led the New Orleans Saints to the NFC championship game against Chicago, went 2-for-7 for 23 yards before the injury, which happened on a hit by Baltimore's Terrell Suggs while throwing an incomplete pass.
Defensive tackle Kris Jenkins of the Carolina Panthers was convinced Brees wasn't hurt too badly.
"I saw him at halftime and he (Brees) told me he was fine," said Jenkins, who finished with two tackles, but took up a lot of space and created havoc in the middle with his 6-foot-4, 335-pound frame.
"We did our best to get back into the game, but we let it slip through our grasp. And I don't think that call was P.I. (pass interference on Arizona's Adrian Wilson, leading to the AFC's game-winning field goal)."
On the video replay, it appeared Wilson bumped receiver Chad Johnson of the Bengals before the ball got there.
Unhappy campers: Even though the game was an exhibition, the mood in the losing NFC locker room was dark and in stark contrast to the winners in the AFC locker room, where the bright TV lights and the smiles of the players were flashing.
NFC coach Sean Payton of the Saints was so ticked off he didn't talk to reporters after the game and stalked out of the locker room. He was apparently upset about the officiating, but didn't want to subject himself to the $15,000 fine that could go with any complaining.
Some other NFC players, who asked not to be identified, were also upset, especially about the fumble by St. Louis' Marc Bulger and ensuing recovery and 70-yard TD runback by Baltimore's Adalius Thomas that gave the AFC a 14-7 lead.
"Somebody blew that whistle and most players took two steps, heard the whistle and stopped," said one player.
The players, when they heard the whistle, assumed it was an incomplete pass.
"I felt we got snubbed on a couple of calls," said another player.
Bulger, who brought his arm up to pass on the play but didn't move it forward, said, "The ball fell out and I think it was a fumble. But they blew the whistle and the worst it should have been was their (possession of the) ball."
Em-Boldin-ed: Arizona's Anquan Boldin (five catches, 86 yards) was ecstatic about his TD reception, despite the loss.
"As a kid, you watch the Pro Bowl and you want to play in it some day. You finally get to play in it and you get in the end zone. I feel blessed."
In contrast, Carolina's Steve Smith (four catches, 62 yards) was ho-hum about his day.
"We lost, they won," he said. "There were good calls, there were bad calls. I'm just here to play football."
Hester, the Pester: Chicago's Devin Hester worked his return magic again yesterday, but not for a touchdown like he did six times during the regular season and once in the Super Bowl.
With the NFC trailing 28-14, Hester's 63-yard return, in which he started right and went way left before reversing back to his right, had the sellout crowd going nuts in the fourth quarter.
"I was just trying to pick up our momentum," he said. "We were lacking momentum at that point. I wanted to give a spark and show that we were still capable of winning. It took time to set up the blocks and find my surroundings.
"(The loss) is OK. We'll be back next year and we'll be able to win it."
Reed picks off two: Baltimore Ravens safety Ed Reed tied a Pro Bowl record with two interceptions, both of them coming inside the AFC's 2-yard line.
On the opening drive of the game, the NFC tried a little trickery as running back Tiki Barber took a pitch from Brees and tried to throw a pass to Green Bay wide receiver Donald Driver that was picked off by Reed. After escaping Driver's grasp, Reed returned the ball 26 yards before recovering his own fumble.
"It was a simple plan on defense to just keep everything in front, so I wasn't going to get fooled," Reed said.
Reed tied the record by intercepting a Tony Romo pass midway through the quarter, which almost won the three-time Pro Bowler his first MVP award.
"I got a couple votes you know, but this is a game for the offense," Reed said. "Carson (Palmer) made those two great throws and we needed the points."
The last good-bye: The realization hit everyone at the 2-minute warning, when a video ode to Barber's career was played up on the Aloha Stadium big screen: This year's Pro Bowl really was Tiki Barber's last game. The crowd responded with warm applause with each new highlight from Barber's 10-year New York Giants career. He was on the field, awaiting the next play, during the timeout, and the crowd's response grew until it became a standing ovation from nearly 50,000 fans.
After the game Barber jogged off the field for the last time, surrounded by cameras and reporters and well-wishers. It was over, his last football game. After six 1,000-yard seasons, more than 15,000 total yards, three Pro Bowl selections, one Super Bowl run, this was it.
"I was glad I got to be teammates with my brother," he said. He and his twin, Ronde, were in the Pro Bowl together again. It was the perfect ending, even with yesterday's loss.
He ran off the football field for the last time. He would talk about travel, and not getting beat up for a living, and, really, growing up for the first time.
"It's easy to play a kid's game," he said yesterday, after leaving football behind. "It'll be nice to live life."