Mold delays Wyland Waikiki hotel -- again
The opening of the Wyland Waikiki hotel has been delayed indefinitely after signs of mold were discovered in some of its bathrooms.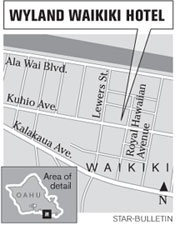 The 404-room hotel, which is managed by Hilton Hotels Corp. under the Doubletree brand, opened 36 rooms on two floors last October but was closed shortly thereafter when mold was discovered in a "handful" of rooms, said Cynthia Rankin, regional director of public relations for Hilton Hawaii.
Unlike the Kalia Tower at the Hilton Hawaiian Village -- which was found in 2002 to have mold infestation throughout the building, leading to tens of millions of dollars in legal claims -- the scope of the Wyland Waikiki's problem is limited, she said.
The mold at the Wyland hotel was a result of plumbing leaks and related water and moisture damage, said Gary Seibert, area vice president and managing director for Hilton Hotels in Hawaii.
"As a precaution, and to prevent recurrence, and to ensure a consistent positive experience for our guests and team members, we and the owner decided it would be best to temporarily suspend operations until the situation was fully rectified," Seibert said in a statement.
The owner, Chicago-based Lodging Capital Partners LLC, is overseeing repairs including shower pan replacements in the guest rooms, he said.
Steve Kisielica, one of the founders of Lodging Capital Partners, did not return calls for comment.
Hilton does not have a firm reopening date, but said it anticipates that renovations will be completed soon. The company also would not say how much the repairs will cost.
However, the Waikiki boutique hotel at 400 Royal Hawaiian Ave., at Kuhio Avenue, is estimated to be losing anywhere from $90,000 to $100,000 each day it is closed, based on an average $300 daily room rate and 75 percent occupancy.
Marine life artist Wyland, a minority owner in the property, along with San Diego-based eRealty Cos. and Diamond Hotels and Resorts Inc., sold the hotel to Lodging Capital Partners last year for $94 million.
The hotel, furnished with art by Wyland and other artists, was expected to complete a $30 million renovation and open immediately following the sale to Lodging Capital Partners last July.
Room rates at the Wyland hotel, which is being repositioned to target the upscale market, are expected to be between $300 and $1,000 per night.
Real estate firm eRealty bought the hotel in 2005 for a reported $38 million from Japan-based Katokichi Co. Ltd. The property was formerly the Ohana Waikiki Surf, a budget hotel managed by Outrigger Hotels & Resorts.
Meanwhile, the hotel has secured vendors Kimo Bean Coffee Co., Wyland Gallery and a spa and restaurant whose names Hilton would not disclose until an agreement is finalized.
"Hopefully they get the issue resolved soon, for our sake," said Philip Miyoshi, chief operating officer of Kimo Bean, adding that he anticipates the coffee shop will be ready to open sometime in March.