---
FAST FACTS HAWAII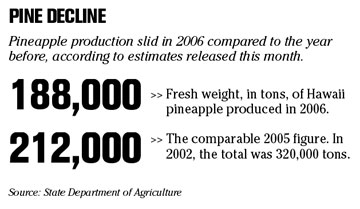 ---
HAWAII
Hawaiian Holdings board member quits
Don Carty, the former chairman and chief executive of
American Airlines
' parent, has resigned from the board of directors at
Hawaiian Holdings Inc.
for personal reasons.
Carty, who had been on the board of Hawaiian Airlines' parent since July 2004, had served as chairman of the audit committee and as a member of the compensation committee.
His resignation does not reflect any disagreement with Hawaiian Holdings, according to yesterday's filing with the Securities and Exchange Commission.
NATION
Stunt costs network chief his job
ATLANTA » The head of the
Cartoon Network
resigned yesterday over a publicity stunt that caused a terrorism scare in Boston.
In a memo to staff members, Jim Samples, general manager and executive vice president, said he regretted the incident and felt "compelled to step down, effective immediately, in recognition of the gravity of the situation that occurred under my watch."
Dozens of blinking circuit boards showing a cartoon character giving the finger were planted in 10 cities as part of a guerrilla marketing campaign to promote the cartoon "Aqua Teen Hunger Force." In Boston, the discovery of the devices Jan. 31 led police to shut down bridges and highways and send in the bomb squad.
Eddie Bauer CEO calls it quits
REDMOND, Wash. » The chief executive of struggling clothing retailer Eddie Bauer resigned yesterday, a day after shareholders rejected the company's proposed sale to two private equity firms.
Fabian Mansson served as president and CEO for more than four years, the company said. The financial terms of his departure were not immediately disclosed.
Eddie Bauer Holdings Inc. said board member Howard Gross would serve as interim CEO.
On Thursday, shareholders turned down the company's proposed sale to a holding company owned by affiliates of Sun Capital Partners Inc., of Boca Raton, Fla., and San Francisco-based Golden Gate Capital
Bank of America to cooperate
CHARLOTTE, N.C. »
Bank of America Corp.
said yesterday it has entered into a "leniency agreement" with the U.S. Department of Justice related to an investigation into the municipal derivatives industry.
The Charlotte-based bank said the agreement will keep the department from bringing any criminal antitrust prosecution against the company in the matter in return for its continuing cooperation. The bank said it was receiving the special treatment because it went to the department with information about bidding practices in the bond industry before the government began its investigation last year.
Former Coca-Cola secretary jailed
ATLANTA » A former
Coca-Cola
secretary who was convicted of conspiring to steal trade secrets from the beverage giant was ordered to jail Friday over concerns that she could be a flight risk.
U.S. District Judge J. Owen Forrester told Joya Williams that her behavior since her arrest in July has showed that she "would do anything to avoid going to jail." Williams, 41, who had been free on bond pending sentencing, was immediately taken into custody.
Federal prosecutors filed papers Tuesday asking for the immediate jailing of Williams after investigators found clothing, prescription medication, papers and other personal items in her Mustang following a fire that destroyed her apartment a week ago. The fire, which started in Williams' apartment but was ruled accidental, occurred nearly 90 minutes after she was found guilty in federal court in Atlanta.
---
BUSINESS PULSE