VALENTINE'S DAY
Etiquette for living
A multicultural Valentine's experience awaits at "Optimysstique: Aphrodisia"
On Valentine's Day next week, the alternative scene tribe will gather downtown to celebrate and nurture the romantic side of you. "Optimysstique: Aphrodisia" combines the creative and organizational talents of a couple of free spirits, namely musician Jerome James and the entrepreneurial organic cooking-yoga instructor Cab Spates.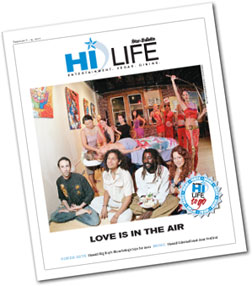 Besides music, spoken word, dance and fashion, patrons can expect such delights as yoga, massage, qi gong meditation, acupuncture and aromatherapy. You can also partake in Spates' gustatory offerings of freshly shucked oysters, raw chocolate shakes, herbal tonics with lilikoi, noni and grapefruit, and other "exotic local organic cuisine." And the space will hold an exhibit by Dhyana Zagri called "Way of the Wind Horse," described as "an artful expression of wisdom and love." (Zagri might do some live painting at the event.)
"People have already been asking me if they should come with dates," Spates said earlier this week at Ong King Art Center, the venue for "Optimysstique: Aphrodisia." "We welcome anyone coming with significant others, friends or even favorite relatives. It's all about learning how to develop the etiquette of how to live, with a larger focus on all of humanity."
'Optimysstique: Aphrodisia'
Time: 6 p.m. to 1 a.m. Feb. 14, Valentine's Day, at Ong King Art Center, 184 N. King St.

Admission: $10 (you can bring your own libations, for a corkage fee; additional charges for food and massages)

Call: 637-2117 or online at ongking.com
"We're all part of this world cultural vibe," said Bobbi Blackford, owner-designer of the downtown fashion-art shop Bad Sushi, which specializes in fanciful Asian and Southeast Asian women's wear and accessories with a little kung fu attitude on the side. The shop will stage a fashion show that will also incorporate the whimsical wardrobe of A Fairy Princess Affair. Co-owner Vicki Liao's business specializes in handmade and customized princess costumes, and princess parties for children.
Spates and James first got acquainted through Spates' earlier "Optimysstique" event at Waimea Valley. "Coincidentally, we were both thinking of doing a Valentine's Day event at the art center," James said.
"It feels serendipitous that we would work together on this," Spates said. "We want to give people a good reason to come out to this. It's all about better living, with the entertainment we're offering instrumental to that philosophy. ... It's integrating different cultural elements -- African, European, Chinese, Hawaiian -- with a sense of sustainability found in organic food.
"We hope we'll be providing an interactive and educational setting Valentine's Day night."