| | |
| --- | --- |
| | Newswatch |
---
Ceremony honors city worker for saving baby
City waste water employee Andrew Kauanoe is being hailed as a hero for literally breathing life back into the baby of a couple visiting from Japan who got into a car accident on Jan. 23 in Punaluu.
Kauanoe was driving a city tanker truck that morning when he witnessed the car cross the center line and crash. He helped pull the couple out of the car, and the woman said their baby was still inside.
"The baby was in a car seat but was right between the back seat and the front seat. When I took the baby out and gave it to the mother, the baby had lacerations and she said the baby wasn't breathing," Kauanoe recalled during a ceremony honoring him yesterday at Mayor Mufi Hannemann's conference room.
Kauanoe gave the baby mouth-to-mouth resuscitation. "I blew a couple of times and the baby started crying," said Kauanoe, a Waimanalo resident who has worked for the city for 30 years.
Neighbors came out to help and Kauanoe, who called 911, made sure that police were on their way before driving off in his 60-foot tanker, which was blocking the roadway.
But Kauanoe kept his deed to himself -- at least for a while.
"He didn't bother to tell his supervisor," Hannemann said in presenting Kauanoe with a commendation. "We sort of found this out secondhand. This is why we want to acknowledge Andrew today."
Hannemann noted that Kauanoe "could've just kept going. ... He could've said, 'You know, I'll leave it to somebody else.' "
Instead, the mayor said, Kauanoe "stopped, got out of that tanker rig and really went beyond the call."
Look out for Jellyfish this weekend
The city's Ocean Safety Division is warning the public of the coming influx of box jellyfish this weekend. To avoid being stung, stay out of the water, the Ocean Safety Division advises. The jellyfish are expected to arrive Saturday and peak in numbers Sunday. A jellyfish influx routinely follows about 10 days after a full moon. They are often found in the pond areas of Waikiki Beach, Ewa of the Kapahulu groin, and sometimes in near-shore waters of Hanauma Bay, Pokai Bay, Makaha Surfing Beach and Waimea Bay.
SURFER GETS SOME AIR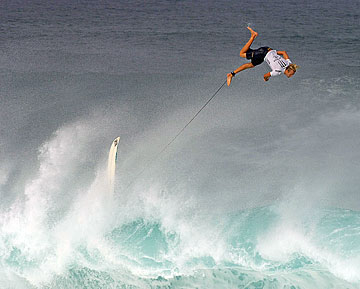 ---
SHINING STARS
---
OHA grant will help Laie students fly to U.S. 'Space Camp' in Huntsville, Ala.
The
Office of Hawaiian Affairs
awarded
Laie Elementary
School
a $10,000 grant to support travel costs for the school's trip to "Space Camp" at the U.S. Space and Rocket Center in Huntsville, Ala.
In May about 24 sixth-graders from Laie and six students from Kahuku High and Intermediate will participate in the intensive math and science camp at the center, accompanied by six teachers, the principal and a parent. The OHA grant will partially cover travel costs for 20 participants of Hawaiian ancestry.
---
Mid-Pacific Institute students will represent Hawaii for the third year in a row in the National WorldQuest Competition in Washington, D.C., in March. Team members Jane Moore, Carolyn Pearce, Eliot St. John, and Melissa Yoshimoto placed first among 45 high school teams at the Pacific and Asian Affairs Council/Hawaii State Chevron Academic WorldQuest Competition. Punahou came in second, and the Education Laboratory School and another Mid-Pac team tied for third.
The contest quizzes students on their knowledge of current events, people in the news, the geography of Africa, international humanitarian relief organizations, the Arab-Israeli conflict and Southeast Asia.
---
"Shining Stars" runs Monday through Thursday.
| | |
| --- | --- |
| | Police, Fire, Courts |
---
HONOLULU
Injured man dies 2 weeks after accident
A 90-year-old Honolulu man died Thursday from injuries sustained nearly two weeks earlier when he was hit by a car in Liliha, police and the city Medical Examiner's Office said yesterday.
William Shimabuku died of blunt-force head injuries sustained in the Jan. 19 accident, according to the Medical Examiner's Office.
Shimabuku had been taken to the hospital in serious condition, but was later released. He was in a crosswalk on Liliha Street near the H-1 eastbound onramp when he was hit by a car driven by a 20-year-old Honolulu man, police said. The driver was not arrested.
An autopsy Monday confirmed the cause of death as being related to the accident.
Seven of the 10 people killed in Oahu traffic accidents so far this year have been pedestrians.
2 men arrested in strangulation death
Police arrested two men in connection with the strangulation of a 58-year-old man in a Kapiolani Boulevard apartment.
Sistine Rangamar, 27, and Curtis Ray Brooks, 32, were arrested at 9:50 p.m. Monday for investigation of second-degree murder.
Ted Hiroshi Arifuku was found dead Jan. 15, lying face down with his hands tied behind his back. The Medical Examiner's Office later said Arifuku was strangled and ruled the death a homicide.
Police initially sought Rangamar for questioning . Brooks, described as a transient, was arrested for a second time in the case. He was initially arrested late last month on suspicion of second-degree murder, but was excluded as a suspect. Police did not provide further information on why he was arrested a second time.
Suspect arrested in home robbery
Police arrested a 43-year-old man for allegedly robbing a 54-year-old Makiki woman he met on the bus and tricked into letting him into her apartment.
Police said the man offered to walk the woman home at 7:10 a.m. yesterday after they got off the bus.
When they arrived at her Makiki apartment at Davenport and Pensacola streets, the man asked to use her bathroom, and she allowed him in.
Once inside, the man used two knives to threaten the woman, police said. He took two guitars from the apartment and fled, police said.
The woman chased the man, and he ran by the Hawaiian Mission Academy, ran through someone's yard and allegedly pulled clothes off a clothesline to change his appearance.
Witnesses identified the suspect, and he was arrested on suspicion of first-degree robbery.
NEIGHBOR ISLANDS
Visitor from California drowns off Kauai
PRINCEVILLE, Kauai » A California woman drowned Monday on Kauai.
Debra Appell, 53, of Santa Maria, Calif., was snorkeling at Hideaways Beach, near the Princeville Hotel, about 4 p.m. when she was swept out by the strong current and dangerous surf, officials said. Appell's husband swam out and brought her to shore.
Bystanders and medical personnel performed cardiopulmonary resuscitation on Appell at the scene, but were not able to resuscitate her. Appell was transported to Wilcox Hospital, where she was pronounced dead.
Woman is charged in alleged stabbing
Big Island police charged a 29-year-old Hilo woman yesterday with second-degree attempted murder for allegedly stabbing a 40-year-old woman.
South Hilo patrol officers arrested Diane T. Klegner just before 6 p.m. Monday after responding to a report of a fight at an apartment complex in lower Waiakea Uka.
Police found a 40-year-old woman stabbed several times.
Two bystanders restrained Klegner, who was allegedly responsible for the stabbing, until officers arrived, police said.
The victim was taken to Hilo Medical Center in serious condition, but was released later that evening, police said.
Klegner was being held in lieu of $250,000 bail .