---
FAST FACTS HAWAII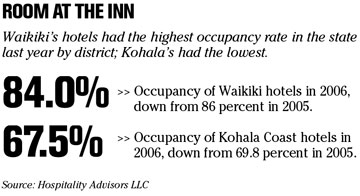 ---
HAWAII
Local manager wins national award
The manager of a Salt Lake self-storage facility has won a national industry award, and landed on the cover of its trade magazine. Shaun Salvador, who runs the Salt Lake facility of
MW Group Ltd.
subsidiary Hawaii Self Storage, was selected from nearly 100 candidates for national Self Storage Manager of the year for 2006, run by Self Storage Now magazine. Hawaii Self Storage said Salvador boosted revenues by nearly $500,000 and maintained 95 percent occupancy at the Salt Lake facility in 2006.
Times Supermarket president retires
Times Supermarkets president Roger Godfrey has retired, the company said yesterday.
His retirement was effective on Jan. 25, although he has agreed to serve as a consultant on corporate issues until April 17.
The company did not disclose a timetable for choosing a successor. Chairman and CEO John Quinn and vice president Glenn Evans will handle the president's duties in the interim.
Godfrey was named president in 2002, following Times' acquisition by PAC Inc., based in Stockton, Calif. Times Super Market Ltd. formerly belonged to the Teruya family.
"Times will continue to serve the community as one of Hawaii's oldest and best known local grocery companies on Oahu," said Times in a statement.
Godfrey did not return calls for comment from the Star-Bulletin by press time.
Hawaiian Air load factor slips
Hawaiian Airlines said yesterday its load factor decreased in January from a year earlier despite carrying more passengers on its flights.
The carrier, which increased trans-Pacific and interisland service from January 2006, said the percentage of seats filled fell 3.5 points to 84.0 percent from 87.5 percent a year earlier, although the number of passengers it carried increased 12.2 percent to 546,164 from 488,634.
Revenue passenger miles, or the total miles flown by paying passengers, rose 7.9 percent to 623.3 million last month from 577.9 million a year ago, while available seat miles rose 12.3 percent to 741.7 million from 660.2 million.
The airline reports only its systemwide numbers and does not break out figures for its interisland and trans-Pacific routes.
NATION / WORLD
Ford to bring back Taurus name
DETROIT »
Ford Motor Co.
will rename its slow-selling Five Hundred model the Taurus, a name Ford previously used for a car that became the nation's top-seller, two company officials said yesterday, who asked that they not be identified because the official announcement had not yet been made.
The Taurus, considered by some the car that saved Ford, revolutionized the way autos look and feel when it was introduced in 1985. The automaker ceased production of the Taurus in October after 21 years and sales of nearly 7 million, perplexing many industry analysts and former Ford executives who said the brand name had great value.
The Five Hundred, built on Volvo architecture, will get a new, more powerful engine and some cosmetic updates for the 2008 model year, when the name change likely is to take place.
Toyota reports 7.3% rise in profit
TOKYO » Toyota, hot on the heels of General Motors to become the world's No. 1 automaker, reported a 7.3 percent jump in quarterly profit yesterday on booming sales in North America and Europe that offset sluggish demand in Japan.
Toyota Motor Corp. recorded group net profit of 426.8 billion yen ($3.6 billion) in the three months ended Dec. 31, up from 397.6 billion yen the same period the previous year.
Quarterly sales climbed 15.2 percent to 6.15 trillion yen ($51.2 billion) from 5.33 trillion yen a year ago, as the remodeled RAV 4 sport utility vehicle and Camry mid-sized sedan sold briskly in North America, and demand was strong for the Yaris compact in Europe, Toyota said.
Toyota, Japan's biggest automaker, has long beaten struggling General Motors Corp. in profitability, but it still trails GM in annual global vehicle production.
---
BUSINESS PULSE