IN HONOLULU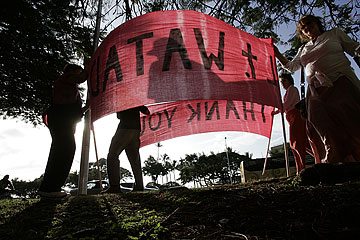 Court-martial judge bars experts
The court rejects defense witnesses who would testify about the war's legality
» Isle demonstrators back GI's refusal
FORT LEWIS, Wash. » The judge in the case against the first U.S. officer court-martialed for refusing to ship out for Iraq barred several experts in international and constitutional law from testifying yesterday about the legality of the war.
1st Lt. Ehren Watada, 28, of Honolulu is charged with missing movement for refusing to ship out with his unit, the 3rd Brigade, 2nd Infantry Division. He also faces charges of conduct unbecoming an officer for accusing the Army of war crimes and denouncing the administration for conducting an "illegal war" founded on "lies."
As the court-martial got under way, military judge Lt. Col. John Head excluded virtually all the planned defense witnesses. Head previously ruled that Watada's attorney, Eric Seitz, could not debate the legality of the Iraq war in court.
If convicted, Watada could receive four years in prison and a dishonorable discharge. He has requested that his case be heard by a military panel of officers, the equivalent of a jury.
IN FORT LEWIS, WASH.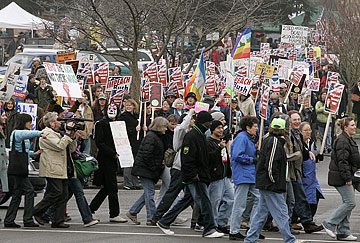 At one point, Seitz suggested Head could be committing judicial misconduct if he denied Seitz an opportunity to ask panel members biographical questions to determine any bias.
"If you are going to tie my hands and you are going to script these proceedings, then in my view we're all wasting our time," Seitz said.
The judge said Seitz would be allowed time to question panel members individually.
Panel selection began in the afternoon, with the defense and prosecution questioning a pool of 10 officers: a colonel, two lieutenant colonels, three majors and four captains.
Seitz appeared intent on discovering whether any members had any preconceived notions about officers who have refused to deploy with their units and, based on that, whether they felt any soldier who did should be removed from the military.
In addition to questions about their educational background and hobbies, Seitz asked what, if anything, they had read or seen about Watada's case and whether they would be compelled to administer a certain kind of punishment based solely on the charges if his client were to be convicted.
Potential panel members also were asked if there was anything about Watada's actions that, given their own experience, would affect their ability to remain impartial while hearing the case.
Ultimately, seven of the officers were selected to serve on the panel.
Although other officers have refused to deploy to Iraq, Watada is the first to be court-martialed. In 2005, Army Sgt. Kevin Benderman, an enlisted man, served 13 months in prison and was given a dishonorable discharge after refusing to go to Iraq.
Outside the base, a small group that included actor Sean Penn demonstrated in support of Watada. A few others demonstrated against him, including one man who carried a sign calling Watada a "weasel."
Watada, who joined the Army in March 2003, has called the Iraq war "a horrible breach of American law" and said he has a duty to refuse illegal orders.
Army prosecutors have argued that Watada's behavior was dangerous to the mission and morale of soldiers in Iraq.
"He betrayed his fellow soldiers who are now serving in Iraq," Capt. Dan Kuecker said at one hearing.
Today, prosecutors are expected to call on at least three witnesses as they try to prove that Watada's speech amounted to misconduct.
Seitz said late yesterday he would call two witnesses, Watada and a character witness, an Army captain who has known Watada for about two years. The captain has been brought back from service in Iraq to testify, the lawyer said.
---
Isle demonstrators back GI's refusal
About 40 people displayed their support for Army Lt. Ehren Watada yesterday outside the Prince Kuhio Federal Building.
And their signs mirrored the sentiments of demonstrators outside Fort Shafter Army headquarters and near Fort Lewis, Wash., where his court-martial began yesterday.
There was a hometown feel to the Honolulu "Mahalo Peace Vigil," where some sign-holders said they know the Kalani High School graduate who faces prison for refusing to deploy to Iraq with his unit.
"Ehren did an Eagle Scout community project at our Kaimuki neighborhood park in the early '90s," said Albert Rich, now a Big Island resident. "I was impressed with him then, and I'm even more impressed with him now."
Rich held one corner of a banner proclaiming, "Thank you Lt. Watada." A few pau hana commuters honked horns in support, and an occasional dissenting shout was heard from passing vehicles.
"I think he's galvanized a lot of people," said Joan Rich, of Honolulu, holding the other banner corner. "He's very brave." She said she and her ex-husband were drawn to demonstrate because of their earlier encounters, when Watada helped develop a view lookout at Mauumae Park on 16th Avenue.
"I'm here to voice my deep concern about the war in Iraq ... about how we got into it, the way it's been conducted and the assumptions the war makes," said the Rev. Wally Fukunaga, a United Church of Christ minister and board member of the Japanese American Citizens League, a sponsor of the demonstration.
The Bush administration puts forth the idea of "military might as a moral authority of some sort," said Fukunaga, whose sign read, "Refuse Illegal War."
University of Hawaii ethnic-studies professor Jon Okamura said that although the judge rejected defense witnesses yesterday who would argue about the legality and constitutionality of the war, the issue will not go away if Watada is convicted.
"I think he knew he was likely to be convicted," Okamura said. "His stand has a much larger significance than whether or not he goes to jail. Look at the long-term effect -- that's what turned the tide in the Vietnam War. Opposition began with students, radicals, but eventually you got the middle class -- mothers -- involved, which didn't seem possible in 1965."
Charlie Luce of Veterans for Peace pointed out that American opposition to the Vietnam war escalated until "Congress finally refused to fund the war."
Mary Ellen Haley of Seattle said she and her husband, David, "backed Ehren even before he was charged." Watada and their son were roommates at Whitworth College in Spokane, Wash. "We've been marching against war since we were in college in the '60s," said David Haley.
"I think history will be very kind to Lt. Watada," said Karin Gill, of CodePink Hawaii: Women for Peace, which co-sponsored the demonstration. It will be repeated daily during the Watada trial.