A continuing saga
A documentary on the Chinese experience in Hawaii urges younger generations to pursue the values of their heritage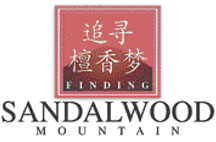 FINDING SANDALWOOD MOUNTAIN
Screening:
7 p.m. Saturday and Feb. 24
Place:
First Chinese Church of Christ, 1054 S. King St.
Admission:
Free, but ticket required
Reservations:
593-9046
---
THE DOCUMENTARY film "Finding Sandalwood Mountain: The Chinese Migration to Hawaii" started simply enough with the desire of producers Greg and Fawn Andermann to learn more about the Chinese experience in Hawaii. Over four years the project took on a life of its own, such that the couple now views it as a catalyst for encouraging understanding between the United States and China, and changing the world, for the better.
The couple had been living here for 20 years but were stumped whenever their work for China News Service brought them into contact with visiting dignitaries, government officials and business representatives from China, who often inquired about the local Chinese population.
"They wanted to know who they were and how they came here," said Greg, and the couple suddenly found themselves on a mission to find the answers.
What they found was a success story often repeated in newspaper accounts, local fiction and theater, of immigration triggered by China's social upheaval, of early hardship in an unfamiliar land followed by the rise of a merchant and political class, leading to today's enduring cultural influence.
Viewers are introduced to such prominent Chinese individuals as businessman Chun Ah Fong; 'Iolani-educated political leader Sun Yat-Sen, often referred to as the father of modern China; and the first Asian-American U.S. senator, Hiram Fong, in some of his last interviews.
In most accounts the story ends there with the futures of those of Chinese descent happily secured. What is new is a sense of a continuing saga. Connecting the dots, the Andermanns convey a sense of a new beginning and call for fourth- and fifth-generation Chinese in Hawaii, whose comfortable lives were made possible through the labors of early pioneers, to become pioneers in what the national media has dubbed "the Chinese Century."
"Finding Sandalwood Mountain" is being screened in its complete 95-minute format Saturday at the First Chinese Church of Christ. Shorter versions are slated to appear on PBS Hawaii later this year.
"We also want to get it on something like History, Discovery or National Geographic, as well as China Central Television, because the Chinese are very curious about Hawaii," said Andermann, whose work as president/CEO of the nonprofit China Light Media Foundation often brings him to China.
So much was gleaned in the course of research that the Andermanns plan to produce two more documentaries, the next featuring the return of Chinese and Western expatriates to a booming Shanghai.
The scope of the story has resulted in a film with a split personality. Although it starts out reflecting its title, it travels beyond Hawaii to examine the impact of Hawaii's Chinese on China.
"Do you know how many families sold their land and homes to fund Sun Yat-Sen's campaign to topple the Manchu Dynasty?" Andermann asks.
Among those who helped Sun Yat-Sen was City Mill founder Chung Kun Ai. Leigh Wai Doo, CEO of Palolo Chinese Home, also tells of how his great-grandfather sold family land in Waialua to buy eight planes that would become the basis of China's air force.
"We talked to a lot of families and realized there was something really different for the Chinese in Hawaii compared to the Chinese experience in other parts of the world, that allowed them to become successful so quickly," Andermann said.
In his view, acceptance was due to the Hawaiian culture that welcomed everyone, and the missionary influence in providing education to help Chinese boys and girls adapt and flourish in a new society.
Where Chinese on the U.S. mainland in the early 19th century were subject to exclusion laws that essentially left them enslaved, Hawaii's Chinese population had the freedom to start businesses and buy land.
"There's something about the Chinese experience that's indicative of Chinese culture. There's a tremendous survival ethic, a tremendous work ethic, not just to work for themselves, but to take care of future generations."
It's that work ethic, coupled with China's current rapid growth, that seems to be feeding this country's paranoia about China's global ambition. That led Andermann to found the China Light Media Foundation, a non-profit, faith-based educational organization that promotes intercultural relations between our two countries.
"I realized there was a moral message implied (in the Chinese success)," Andermann said. "We should be looking at what we can do to help China. The third and fourth generations have been blessed to have had parents and grandparents that worked so hard for them. That blessing -- the gift of knowledge, understanding and support -- should not end there, but be passed on. That's what's lacking in the world today.
"China has been through hell and has grown up way too fast," he said, such that the nation's business leaders are living lives enviable in the West. But without a decent welfare system, "a vast majority of China's people are not keeping up. Many are living on a dollar a week. It puts people in a position of struggling for survival. If people have a sense of, 'I will take what I can take where I can get it,' where does that leave us in the future? Do we want a China that does not have the ideals and values that we have in the West?"
Andermann's theory for dealing with China is to share the aloha spirit with the aim of helping China to become a benevolent global citizen.
"We in Hawaii should position ourselves as a go-between for China and the rest of the United States. We have the opportunity to be China's partner. If we're going to ignore China or be fearful of China, in the end we're going to lose."
---
The Andermanns produced the film through their production company A2Media, in conjunction with the Hawaii Chinese History Center and China Light Media Foundation. The film was financed in part with support from Hawaii National Bank, K.J. Luke Foundation and Gee Hing Chinese Co. Charitable Trust. Additional sponsors are being sought for TV broadcasts. Call 927-7850.