---
FAST FACTS HAWAII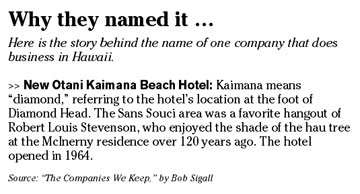 ---
NATION


Young people raid 401(k)s most often

A depressingly large number of people are busting open their retirement piggy banks when they leave a job.

A Hewitt Associates study of 2004 customer data found that 45 percent of departing workers took a cash distribution from their 401(k) accounts, with the rest rolling the money over into another account or leaving it in the former employer's plan. Vanguard Group's 2005 data show 27 percent of participants cashing out completely.

Young people are making this move most often. About 66 percent of those under 30 cashed out, Hewitt says, while 35 percent did among Vanguard's sample.

The potential of having to pay income tax plus a 10 percent penalty for breaking into the 401(k) may not be a deterrent. Stephen Utkus of Vanguard's Center for Retirement Research notes that the taxes and penalty may not even add up to the employer match younger workers have received for their contributions. They may think they're still coming out ahead by cashing out and hitting the beach.
Coffee a high priority for many
What would you do for a cup of joe? Some coffee drinkers would go that extra mile for the fix, according to a recent survey. Forty-two percent would trade in the morning paper, television or radio for a cup, while one in five would swap lunch for coffee. Twelve percent would give up three hours of sleep and one in 10 would skip brushing their teeth.
The survey found that two-thirds of Americans identify themselves as coffee drinkers, and nearly half drink at least one cup every day.
Men drink more cups per day than women, while people in the Northeast consume more coffee than drinkers in any other region.
Thirty-seven percent of coffee drinkers ages 18 to 24 drink the caffeine booster to help them accomplish tasks, presumably after a late night out on the town.
OnTech Operations Inc., a manufacturer of self-heating containers, surveyed 1,015 adults by telephone in January.
Chipotle lets the dogs in
DENVER » A new $50 million office building is going to the dogs.
Chipotle Mexican Grill signed on as anchor tenant in the downtown Denver office building, but a condition of the lease agreement required that dogs be allowed.
Chipotle signed a 43,000- square-foot lease for the new building under construction in lower downtown. The energy-efficient building will include 21 luxury condominiums, as well as 100,000 square feet of office space. It will open in the fall of 2008.
While every office deal negotiates things such as lease rates and tenant-improvement packages, one thing that makes the building -- known as Opus -- "the leader of the pack" was its willingness to allow dogs in the building.
Experts estimate the 10-year lease deal is worth about $15 million.
The company's current office is dog friendly, but all the dogs must be housebroken and well-behaved before they are allowed in the office.
---
BUSINESS PULSE