| | |
| --- | --- |
| | In the Military |
---
Senate reconfirms Eikenberry for NATO
The U.S. Senate on Jan. 26 confirmed the re-appointment of Karl W. Eikenberry as a three-star lieutenant general and assignment as deputy chairman of North Atlantic Treaty Organization Military Committee in Belgium. Eikenberry, who served several tours in Hawaii, is currently serving as commander of Combined Forces Command-Afghanistan.
Eikenberry previously was director of strategic planning for the U.S. Pacific Command at Camp Smith in Hawaii. He took charge of the Afghan operation in November 2003.
Eikenberry served from September 2002 to September 2003 as head of the U.S. military's office for military cooperation, which is charged with establishing the Afghan national army.
From September 2000 to May 2001, Eikenberry was the 25th Division's assistant commanding general. He was reassigned to the Pentagon in July 2001 and later was chief of the office of military cooperation at the U.S. Embassy in Kabul.
DEPLOYING A KISS GOODBYE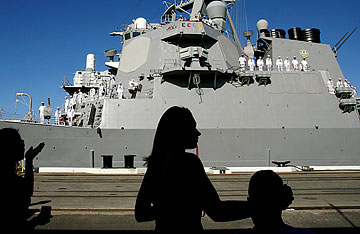 "In the Military" was compiled from wire reports and other sources by reporter
Gregg K. Kakesako
, who covers military affairs for the Star-Bulletin. He can be reached by phone at 294-4075 or by e-mail at
gkakesako@starbulletin.com
.